Donate now to support the LLIFLE projects.
Your support is critical to our success.
Accepted Scientific Name: Lithops bromfieldii
Notes Mesembryanthemum [H.M.L. Bolus] 2: 452. 1934 [23 May 1934]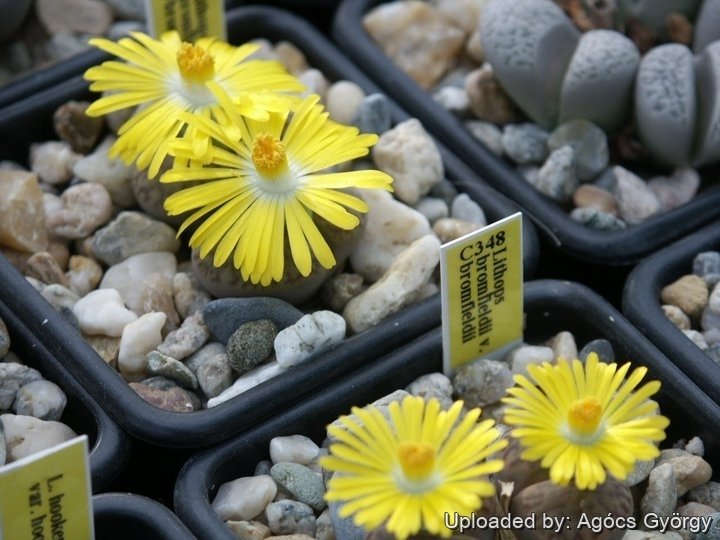 Lithops bromfieldii C348 20km East of Upington, Cape Province, South Africa Photo by: Agócs György
Origin and Habitat: 20km East of Upington, Cape Province, South Africa.
Synonyms:
See all synonyms of Lithops bromfieldii
Accepted name in llifle Database:
Lithops bromfieldii
L. Bolus
Notes Mesembryanthemum [H.M.L. Bolus] 2: 452. 1934 [23 May 1934]
Synonymy: 26
Cultivars (2):
Description: Lithops bromfieldii is a non-halophytic, medium sized Lithops, easily recognised by the bullate yellow-brown markings of the dark-green window, pinkish-grey facial colour and the many dark to blood-red rubrications. This species is quite variable and the colours and face pattern varies in plant from different provenance. As with many other Lithops species, several varieties have been described on the basis of variation in the colour of the tops of the leaves, the status of these uncertain, but all conforms to the typical Lithops morphology: two thick, fleshy windowed leaves separated by a crack from which a yellow flower appears. The windowed part allows light into the inner portion of the leaf where the process of photosynthesis is carried out.
Desmond Cole field number C348: This population distinguishes for having variable, dark brown to milky green leaves.

Subspecies, varieties, forms and cultivars of plants belonging to the Lithops bromfieldii group
Bibliography: Major refences and further lectures
1) Heidrun E. K. Hartmann "Aizoaceae F – Z" Springer 2002
2) Desmond T. Cole & Naureen A. Cole, Uwe Beyer, Yves Delange "Les Lithops" SUCCULENTES Spécial 2008 AIAPS (now Terra seca). I 2008
3) Desmond T. Cole & Naureen A. Cole "LITHOPS Flowering Stones" Cactus & Co. Libri. 2005
4) Yasuhiko Shimada"The Genus Lithops" Dobun Shoin. 2001
5) Rudolf Heine "Lithops - Lebende Steine" Neumann Verlag. 1986
6) Bernd Schlösser "Lithops – Lebende Steine" Praktische Anleitung für die Zimmerkultur. Bussiness Point MEDIA. 2000
7) Steven A. Hammer "Lithops – Treasures of the veld" British Cactus and Succulent Society. 1999
8) Gordon D. Rowley "The illustrated encyclopedia of succulents" Crown Publishers, 01/Aug/1978
9) David L. Sprechman "Lithops" Associated University Presses, Inc. 1970
10) Gert Cornelius Nel "Lithops: Plantae succulantae, rarissimae, in terra obscuratae, e famailia Aizoaceae, ex Africa australi" Hortors Limited, South Africa, 1946
11) Achim Hecktheuer "Mesembs, mehr als nur Lithops" Books on Demand GmbH Norderstedt. 2008
12) Werner Rauh "Die grossartige Welt der Sukkulenten" Hamburg and Berlin: Verlag Paul Parey, 1966
13) Stuart Max Walters "The European Garden Flora: Dicotyledons (Part I)" Cambridge University Press, 1989
Cultivation and Propagation: In the winter season the plant doesn't need watering, the plant in this time extracts water from the outer succulent leaves, allowing them to shrivel away, relocating water to the rest of the plant and to the new leaves that form during this period. This plant is best for a well lit area (Bright shade to full sun). Water sparingly only when warm, no water when cold.