Donate now to support the LLIFLE projects.
Your support is critical to our success.
Accepted Scientific Name: Aloe brevifolia Mill.
Gard. Dict., ed. 8. in errat. 1768 [16 Apr 1768] Mill.
Aloe perfoliata var. d (Aloe brevifolia) Photo by: Valentino Vallicelli
This is one of the best pot aloes and one of the more cold and moisture tolerant aloes. Should be able to withstand light frosts. In time it offsets to form a large cluster of heads and is a long blooming species.
Origin and Habitat: Aloe brevifolia is a coastal species and grows just north of Cape Agulhas, to the east of Cape Town (from Bredarsdorp to the Riversdale area).
Altitude range: It occurs from near sea level to about 150 metres.
Habitat: In nature Aloe brevifolia gets most of its rain in winter (375-400 mm per annum). Grows on koppies, rocky ridges and slopes in heavy clay in stony ground. The surrounding vegetation is fynbos. In the wild, this diminutive species is rapidly disappearing. Small populations are found growing on inaccessible rocky slopes and cliffs, especially near the coast, but it is thought that these are merely relics of what was once a much wider distribution. There are several subspecies, which are now separated from each other by farmland and other development. Plants are sensitive to frost and cannot survive for long under Highveld winter conditions. If fire is too hot and occurs in flowering time, the inflorescences will be burnt and no seed will be set. As a protective mechanism, Aloe brevifolia's fire survival strategy is to grow in rocky habitats that often escape the fire due to sparse vegetation cover.
Synonyms:
See all synonyms of Aloe brevifolia
Common Names include:
ENGLISH:
Blue aloe, Short-leaf aloe
AFRIKAANS (Afrikaans):
Kleinaalwyn
ARABIC ( لعربية ):
ألوي بريفيفوليا
RUSSIAN (Русский):
Алоэ коротколистное
SWEDISH (Svenska):
Kortbladig aloe
UKRAINIAN (Українська):
Алое коротколисте, Алое бревіфолья
Description: Aloe brevifolia is a compact, stemlesss rosette succulent. It has a warty appearance and can get nice and pink in the winter, it's however a variable plant. Forms compact mounds up to 40 cm in diameter with 10 or more rosettes. It was introduced into cultivation at the beginning of the eighteenth century. The dense clumps of rosettes of small deltoid glaucous blue leaves with distinct teeth and cartilaginous surface prickles in median line distinguish this species from all others in southern Africa. Aloe brevifolia is often confused with Aloe nobilis, but the latter is a green that reddens to orange, and rosettes are slightly larger.
Derivation of specific name: The name "brevifolia" means "short-leaf" in Latin.
Rosettes: Very compact 8-10 cm in diameter with 30–40 leaves that build up on each other to about 30 cm tall. It suckers very close to 'mother' plant.
Stems: Almost stemless, old plants with a stem a few centimetres long, 1-15 mm in diameter below the rosette of leaves.
Leaves: 6-10 cm long and 2-2.5 cm wide at the base, narrowed gradually to the apex, 6-8 mm thick in the middle, pale waxy blue-green or grey, very glaucous, without either spots or distinct lines, fat, lanceolate-triangular, sharp toothed with little soft to horny white teeth 2-3 mm long, on the margin. The spines can line the keel on the upper part of the back of the leaves which have a firm spine, but rarely on the front. In full sun they take on tinges of purple and pink. The sap is clear.
Inflorescence: Peduncle stout, simple, unbranched, about 30-40 cm long, with many deltoid empty bracts. Raceme dense, conical, simple, 15-22 cm long . Pedicels 12-25 mm long; bracts deltoid, rather shorter than the pedicels.
Flowers: Bears typically tubular Aloe flowers, yellow to scarlet in many shades. Perianth cylindrical, pale red or red with green at the base, 30–40 mm long. Tube cylindrical, shorter than the segments. Stamens equalling the perianth. Style considerably exserted.
Blooming season: Spring (in habitat from October to November)
Subspecies, varieties, forms and cultivars of plants belonging to the Aloe perfoliata/mitriformis group
Notes: This species is often used in crosses since it's so durable and prolific.
Bibliography: Major references and further lectures
1) J. G. Baker "Flora Capensis" 1897
2) J.P. Roux "Flora of South Africa", 2003
3) Raewyn Adams "Aloes A to Z" Lulu.com, 2015
4) Young In Park, Seung Ki Lee "New Perspectives on Aloe" Springer Science & Business Media, 27 September 2006
5) Debra Lee Baldwin "Succulents Simplified: Growing, Designing, and Crafting with 100 Easy-Care Varieties" Timber Press, 21 May 2013
6) Wikipedia contributors. "Aloe brevifolia." Wikipedia, The Free Encyclopedia. Wikipedia, The Free Encyclopedia, 10 Aug. 2015. Web. 15 May. 2016.
7) Bornman, H. & Hardy, D.S. "Aloes of South African veld." Voortrekkerspress, Johannesburg. 1971
8) Smith, G.F. & Van Wyk, B. "Aloes in Southern Africa". Struik, Cape Town. 2008
9) Court, D. "Succulent flora of Southern Africa", revised edn. Balkema Publishers, Netherlands. 2000
10) Jeppe, B. "South African aloes". Purnel, Cape Town.1969
11) Van Wyk, B.-E. & Smith, G. "Guide to the aloes of South Africa", edn 2, first impression. Briza Publications, Pretoria. 2003
12) Vathiswa Zikishe, Custodians of Rare & Endangered Wildflowers (CREW) February 2010. "Aloe brevifolia." PlantZAfrica. retrieved. 15 May 2016 from <http://www.plantzafrica.com/plantab/aloebrevbrev.htm>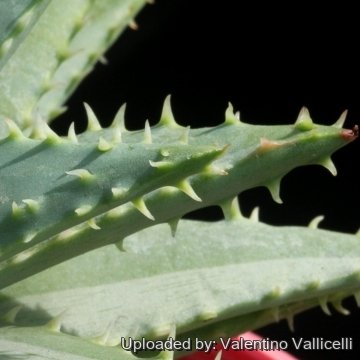 Aloe perfoliata var. d
(Aloe brevifolia)
Photo by: Valentino Vallicelli
Aloe perfoliata var. d
(Aloe brevifolia)
Photo by: Valentino Vallicelli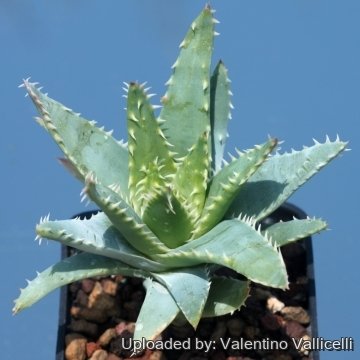 Aloe perfoliata var. d
(Aloe brevifolia)
Photo by: Valentino Vallicelli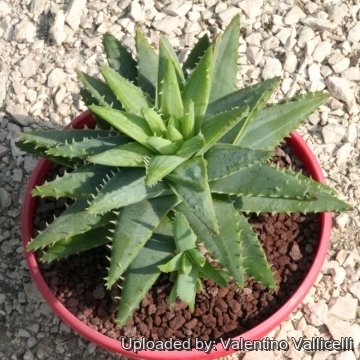 Aloe perfoliata var. d
(Aloe brevifolia)
Photo by: Valentino Vallicelli
Aloe perfoliata var. d
(Aloe brevifolia)
Photo by: Cactus Art
Send a photo of this plant.
The gallery now contains thousands of pictures, however it is possible to do even more. We are, of course, seeking photos of species not yet shown in the gallery but not only that, we are also looking for better pictures than those already present.
Read More...
Cultivation and Propagation: Aloe brevifolia is considered a Dwarf Aloe. Likes a very well drained soil in partial sun, but the leaves are more colourful in full sun. It is one of the more cold and moisture tolerant aloes. It can also took the rainy periods fine too without becoming mushy and dying. Frost resistant, min temp -4 -7° C. This dwarf aloe is increasingly popular as an ornamental plant for pots and rockeries.
Exposure: In cultivation it should be planted in a reasonably sunny position.
Soils: Grow it in well-drained soil. Prefers alkaline soil.
Water requirements: It requires only moderate watering and should not be kept perpetually damp. It should be remembered that it is adapted to the Mediterranean climate of the Western Cape, with its winter rainfall regime.
Uses:: In warm climates it can be massed for use as a ground cover, or used as a clump amongst other plants. Because of its size it makes a excellent edging plant in the dry garden. It also does well as a potted specimen.
Propagation: Seeds and offsets. To harvest offsets from a clumping aloe, cut small ones loose from the edge of the cluster at ground level, rather than from the center, which might damage tightly packed leaves and create a gap that compromises the mound's symmetry. It is easily rooted in potting soil with warmth.