Donate now to support the LLIFLE projects.
Your support is critical to our success.
Since 4 Aug 2013
Haemanthus coccineus Photo by: Raimondo Paladini
Origin and Habitat: Haemanthus coccineusSN|32992]]SN|32992]] is widespread throughout the winter rainfall region in Southern Africa - from the southern parts of Namibia, to South Africa in the Cape Peninsula, to the Keiskamma River in the Eastern Cape.
Altitude range: The plant adapts to a wide range of altitudes, being found from coastal dunes to 1,200 metres high mountains.
Habitat and ecology: It is found in Renosterveld and Fynbos habitats. It grows in a wide range of soils derived from sandstones, quartzites, granites, shales and limestones. It can be a 'gregarious species' found in clumps of hundreds, from the under the shelter of other shrubs on flat land, to in shady ravines and rock crevices. They favour fairly protected sites such as rock crevices and shaded kloofs or the shelter of shrubs and bushes. Like many other amaryllids, Haemanthus coccineusSN|32992]]SN|32992]] has adapted to the dry period of the year by resting underground in the form of a large bulb. All above-ground parts dry out during this time to help prevent moisture loss through transpiration. Just before the rainy season is due to start, the flowerhead appears. It will survive annual rainfall ranging from 100–1,100 millimetres. Sunbirds, noctuid moths and bees are the probable pollinators. Although the berries are fleshy, they are not eaten by animals. Once the seed has matured, the flowerhead topples over and the seed germinates immediately. Seeds have a very short viability period. By flowering and seeding in autumn, which coincides with the first rains, the seedling has a full rainy season to develop sufficiently to withstand its first dry period underground.
Synonyms:
See all synonyms of Haemanthus coccineus
Common Names include:
ENGLISH:
Shaving Brush, Salmon-coloured Blood Flower, Pincushion, Paintbrush Lily, Paintbrush, King-of-candia, Blood Flower, April Fool
AFRIKAANS (Afrikaans):
Velskoensole, Velskoenblare, Velskoenblaar, Skoensole, Skeerkwas, Seeroogblom, Rooikwas, Poeierkwas, Misryersblom, Misryblom, Maartblom, Koning-van-kandië, Bobbejaansool, Bloedblom, Bergajuin
ARABIC ( لعربية ):
زهرة الدم القرمزية
PUNJABI Shahmukhi script ( پنجابی ):
رت پھل
ZULU (isiZulu):
Uzeneke
Description: Haemanthus coccineusSN|35335]]SN|32992]] is a small perennial, geophytic, bulbous plant 6-20 cm tall with scarlet flowerheads like bright shaving brushes popping up from underground bulbs in late summer. This same species has a large number of variations and was described under a host of unnecessary names of no value, which reflects more on taxonomic disorganisation than species variability. The flowerheads of Haemanthus coccineus, with cup-shaped scarlet spathe valves and dense bunches of 25-100 coral to scarlet flowers on them. The real flowers are within the spathes and only the yellow stamens are visible. The flowers are soon followed by translucent, fleshy berries. There are usually two large leaves per bulb, and occasionally three, which appear after flowering. Together with Haemanthus sanguineusSN|32992]]SN|35335]] (Jacq.), this was the first Haemanthus to be introduced to European horticulture as an ornamental plant. The brilliant flowerheads account for its early appearance in Europe, being described by Carolus Linnaeus in 1762.
Derivation of specific name: The epithet 'coccineus' is the Latin word for red or scarlet.
Blooming season: Late summer (in habitat February and April).
Bulbs: Solitary or (usually) clumped, laterally compressed bulb may be.
Leaves: Mostly 2 leaves per bulb, but occasionally 3. The leaves vary considerably in shape, size, colour and markings. They are elliptical to broadly or narrowly tongue or strap- shaped (lingulate), (25-)80-150(-210) mm wide, most often more-or-less barred with red or dark green on the underside. They may be prostrate, recurved or stand suberect. Usually the leaves occur after flowering but may rarely occur simultaneously with the flower. Leaves die down in spring and the bulb lies dormant during summer.
Flowers: The flowers emerge usually before the leaves appear. The peduncle is occasionally unmarked, but is most often more-or-less streaked or spotted. The flowerhead comprises 6-9 stiff, red spathe valves surrounding the 25-100 coral to scarlet flowers. The valves are mostly fleshy and may stand erect or sometimes be somewhat lax.
Fruits (berries:Translucent, fleshy containing 1-3 dark wine-coloured seeds. The berries may be white to pale or deep pink in colour.
Bibliography: Major references and further lectures
1) Snijman, D.A. & Victor, J.E. 2004. Haemanthus coccineus L. National Assessment: Red List of South African Plants version 2015.1. Accessed on 2016/06/05
2) "Haemanthus coccineus" in: Plantzafrica <http://www.plantzafrica.com> Jane Forrester, Harold Porter National Botanical Garden November 2003 <http://www.plantzafrica.com/planthij/haemancoc.htm> Web. 04 June 2016
3) Cowling, R. & Pierce, S. "Namaqualand-a succulent desert." Fernwood Press, Vlaeberg, Cape Town. 1999.
4) Duncan, G.D. "Grow bulbs." Kirstenbosch Gardening Series, National Botanical Institute, Cape Town. 2000
5) Duncan, G.D. "Grow nerines." Kirstenbosch Gardening Series, National Botanical Institute, Cape Town. 2002
6) Duncan, Graham. "Haemanthus and their cultivation". Plantsman, 4(4): 220-226. 2005
7) Manning, J., Snijman, D. & Goldblatt, P. "The colour encyclopaedia of Cape bulbs." Timber Press, Portland, Cambridge. 2002
8) Pauw, A. & Johnson, S. "Table Mountain-a natural history". Fernwood Press, Vlaeberg, Cape Town.1999
9) Smith, C.A. "Common names of South African plants". Memoirs of the Botanical Survey of South Africa No. 35. 1966.
10) Van Wyk, B-E. & Gerike, N. "Peoples plants. A guide to useful plants of southern Africa." Briza Publications, Pretoria. 2000
11) Van Wyk, B-E. , Van Oudshoorn, B. & Gerike, N. "Medicinal plants of South Africa". Briza Publications, Pretoria.1997
12) <http://web.archive.org/web/20070305182556/http://www.rhs.org.uk/publications/plantsman/1205/Haemanthus.pdf>
13) Snijman, DA "A revision of the genus Haemanthus L. (Amaryllidaceae)." J. S. Afr. Bot. Supplementary volume 12, NationalBotanical Gardens, Cape Town 1984.
14) Hessayon, D.G. "The Bulb Expert." Transworld Publishers Ltd. Londres, 1999
15) Urs Eggli "Illustrated Handbook of Succulent Plants: Monocotyledons" Springer Science & Business Media, 06 December 2012
16) Wikipedia contributors. "Haemanthus coccineus." Wikipedia, The Free Encyclopedia. Wikipedia, The Free Encyclopedia, 7 May. 2016. Web. 5 Jun. 2016.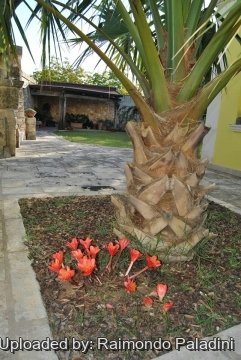 Haemanthus coccineus
Photo by: Raimondo Paladini
Send a photo of this plant.
The gallery now contains thousands of pictures, however it is possible to do even more. We are, of course, seeking photos of species not yet shown in the gallery but not only that, we are also looking for better pictures than those already present.
Read More...
Cultivation and Propagation: Haemanthus coccineusSN|32992]]SN|32992]] is most highly recommended for cultivation due to its combined attributes of visual floral appeal and reliable flowering performance. It is a winter-growers, generally easily cultivated and long-lived.
Soil: The growing medium must drain sharply e.g. a mixture of equal parts of coarse river sand or grit, and finely sifted compost. This species is not particularly fussy as to soil pH.
Pot culture: This species multiply readily, and need a large sallow pot about 30 cm in diameter pot, but bulbs like to be slightly pot-bound and prefer to remain undisturbed for at least five years or until growth and flowering performance deteriorate. In cold climates terracotta pots are appropriate but in warmer parts these dry out too rapidly and plastic containers are more suitable.
Bulbs are best planted with the top of the neck at soil level.
for as much of the day as possible.
Fertilization: Supplementary feeding is not recommended for Haemanthus
as their nutritional requirements are sufficiently catered for in the compost component of the growing medium. Fertilisers high in nitrogen are, in fact, detrimental as they
promote excessive leaf growth at the expense of flowers. This results in plants becoming more susceptible to disease.
Watering needs: Heavy drenching at well-spaced intervals that allows the medium to dry out almost completely, is always preferable to frequent superficial watering. It respond strongly to a single heavy drench in early autumn, often sending up its flowerbuds within a matter of days. Watering should then be witheld until after flowering, applying a drench every 10 days or fortnight. It must be given a completely dry dormant period for optimum results.
Hardiness: All Haemanthus species are frost tender and make excellent subjects for a cool glasshouse in cold climates. In temperate gardens and warmer parts of the southern hemisphere are ideally suited to raised beds or rock garden pockets in full sun, while most other winter-growers do best in pots.
Light requirements: Morning sun and afternoon shade, or bright light
Pests and diseases: All Haemanthus are highly susceptible to attack by mealybugs that hide and multiply between the bulb tunics especially when grown in containers under glass. Slugs and snails are partial to the foliage. Fungal rotting of roots and bulbs is almost always the result of overwatering during the growing period, an insufficiently well-drained growing medium, or failure to dry out the soil adequately over the appropriate dormant period. The roots may also become
infested with nematodes, which are best controlled by soil sterilisation.
Traditional uses: Fresh leaves were applied as a dressing to septic ulcers and sores and also to the pustules of anthrax. A diuretic was made from the sliced bulb boiled in vinegar and mixed with honey. Asthma was also treated with this mixture. The bulb contains coccinine which is an alkaloid with a known convulsive action.
Propagation: Haemanthus can be propagated by seed and offsets, and from bulb and leaf cuttings. Propagation by seed is the most reliable manner in which to increase stocks, but seed have a very short viability period, as they are non-dormant, sow them immediately in deep seed trays or pots. Use a sharply drained medium of equal parts of coarse river sand or grit and finely sifted compost. Position the seeds individually on the surface to provide sufficient space around each seedling, then simply press them into the medium to lie just below soil level. Place containers in a protected, semi-shaded position and water heavily every 10 days using a fine rose. Germination takes place within two months and seedlings should remain undisturbed for two growing seasonsbefore planting them individually into permanent pots at the start of their third season. Detach offsets from the mother bulb
by gentle tugging, not forcible pulling, and treat any damaged surfaces with a fungicide. Replant as soon as possible to prevent the perennial fleshy roots from drying out. Haemanthus can also be grown from offsets or from scales.