Donate now to support the LLIFLE projects.
Your support is critical to our success.
Mammillaria lenta Photo by: Gennaro Re
This is an attractive and rewarding cactus with dense criss-crossing white spines The slow growth rate but offsetting habit and unusual large flowers make it one of the most sought-after species and it is often a show winner.
Origin and Habitat: Coahuila, Mexico. (Type locality near Viesca). The species appears over a range of approximately 16,000 km2. Mammillaria lentaSN|1132]]SN|1132]] has a small number of subpopulations and is quite rare.
Altitude range. 900-1.800 metres above sea level.
Habitat: It grows and clumps in cracks on steep calcareous rock, in semi-desert shrublands. There is some illegal collecting, but it is not a significant threat. Goat overgrazing and trampling also represents a minor threat to this species.




Synonyms:
Common Names include:
SPANISH (Español):
Cabeza blanca
Description: Mammillaria lentaSN|1132]]SN|1132]] is a very slow growing succulent that branches basally to form quite large flat-topped mounds of off-white to white with age. Some plants will begin to offset when just a few cm across, while others are more reluctant to produce offsets. Slower growing than the somewhat similar M. plumosa.
Roots: Large, tuberous.
Stems: Flattened globular (or small columnar in cultivation) without latex., almost hidden by the white delicate spines, bright green to yellow green, typically (3-) 5 to 10 cm in diameter, 1 – 2 (or more) cm high. Offsets may be produced low on the plant, or unusually high near the growing tip.
Tubercles: Slender conical, somewhat firm. In the axil there is short, persistent wool and occasionally a single bristyle.
Areoles: Naked.Parastichy number: 13 - 21.
Radial spines: 30 - 40, dense, fine, soft and close together giving the effect of looking like a bird's nest glassy white to slightly yellow, 3 - 7 mm long.
Central spines: Absent.
Flowers: Produces rings of large pure white flowers with a purplish-pinkish stripe, 20(-25) mm long and 25 mm in diameter. Stigmas are a bright olive-green. Perianth segment pointed.
Blooming season: April/May. Flowering may be reluctant unless it is placed in a warm position with high light levels.
Fruits: Clavate, red, up to 10 mm long.
Seeds: Dull black, diameter approx 1 mm.
Notes: This species has been referred to as related to Mammillaria sphacelataSN|9372]]SN|9372]] which is also found in the same type locality.
Bibliography: Major references and further lectures
1) Fitz Maurice, B & Fitz Maurice, W.A. 2013. Mammillaria lenta. The IUCN Red List of Threatened Species. Version 2015.2. <www.iucnredlist.org>. Downloaded on 16 July 2015.
2) Nathaniel Lord Britton, Joseph Nelson Rose "Cactaceae: Descriptions and Illustrations of Plants of the Cactus Family" vol. 4 The Carnegie Institution of Washington, Washington 1923
3) David Hunt, Nigel Taylor "The New Cactus Lexicon" DH Books, 2006
4) John Pilbeam (1999) "Mammillaria The Cactus File Handbook" Nuffield Press.
5) Edward F. Anderson "The Cactus Family" Timber Press, 2001
6) James Cullen, Sabina G. Knees, H. Suzanne Cubey "The European Garden Flora Flowering Plants: A Manual for the Identification of Plants Cultivated in Europe, Both Out-of-Doors and Under Glass"Cambridge University Press, 11/August/2011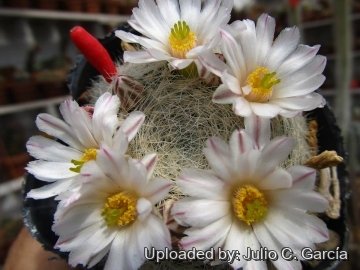 Mammillaria lenta
Photo by: Julio C. García
Mammillaria lenta
Photo by: Alexander Arzberger
Mammillaria lenta
Photo by: Cactus Art
Mammillaria lenta
Photo by: Julio C. García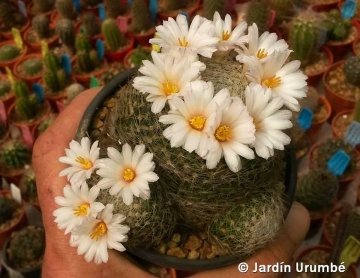 Mammillaria lenta
Photo by: Alexander Arzberger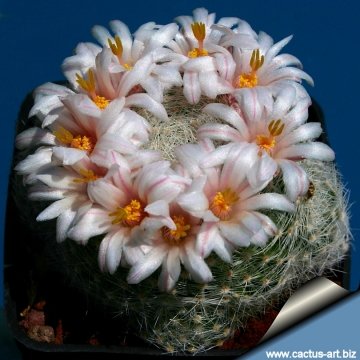 Mammillaria lenta
Photo by: Cactus Art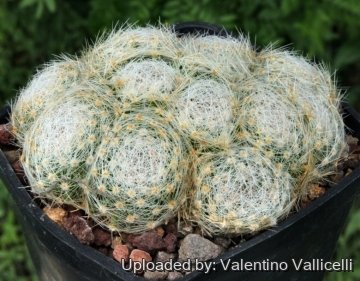 Mammillaria lenta
Photo by: Valentino Vallicelli
Mammillaria lenta
Photo by: Julio C. García
Cultivation and Propagation: It is a slow growing species. Use a pot with good drainage and a very porous mineral-based potting mix. Potted plants are quite wet-sensitive and easy to rot if over-watered, especially in winter. Water sparingly during the growing season; keep very dry in winter. Feed with a high potassium fertilizer in summer.
Usually it is recommended to over-winter this plant in a bright and warm greenhouse with at least 8-10° C , but it has proved to be quite frost resistant (if kept dry, it's hardy as low as -5° C). Outside full sun or afternoon shade, inside it needs bright light, and some direct sun. Some plants will offset readily, and clumps can be produced in a very few years.
Propagation: By direct sowing after last frost, or by cuttings or grafting.
Your Photos
---

by Alexander Arzberger
by Valentino Vallicelli
by Cactus Art
by Cactus Art
by Cactus Art