Donate now to support the LLIFLE projects.
Your support is critical to our success.
Since 4 Aug 2013
sponsored link
Accepted Scientific Name: Echinopsis maximiliana Heyder ex A.Dietr.
Allg. Gartenzeitung (Otto & Dietrich) (Otto & Dietrich) 14: 250. 1846 Otto & A.Dietr.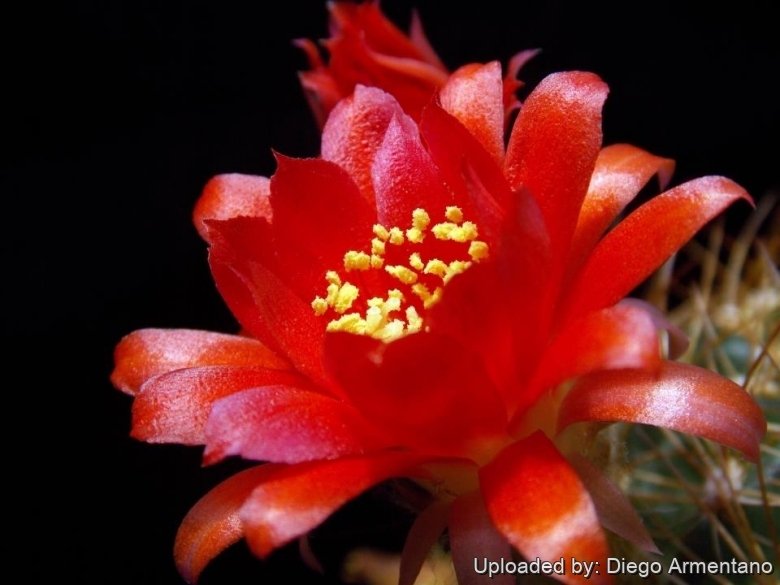 Lobivia maximiliana (Echinopsis maximiliana) Photo by: Diego Armentano
Origin and Habitat: Echinopsis maximilianaSN|13469]]SN|13469]] occurs in Bolivia and Peru.
Altitude range: 3,200 to 4,600 metres above sea level.
Habitat and Ecology: It occurs in high-altitude grasslands (Puna). Echinopsis maximilianaSN|13469]]SN|13469]] has a wide distribution and is locally abundant. It is not exposed to any major threat. There is cattle and llama grazing in the area, but this activity is not expected to significantly affect the species.
Synonyms:
See all synonyms of Echinopsis maximiliana
Common Names include:
RUSSIAN (Русский):
Эxинопсис Максимилиана
Description: Echinopsis maximilianaSN|13469]]SN|13469]] is a widespread and very variable cactus species commonly forming clusters. It has dark green globular to short cylindrical heads about 5 cm in diameter; each head has up to 20 ribs. The spine colour varies from off-white and yellow to brown. The flowers are very beautiful, orange-red a with orange-yellow throats and long lasting. Three subspecies are recognized (Hunt et al. 2006), namely the nominate form, subsp. caespitosa (J.A.Pupus) M.Lowry and subsp. westii (Hutchison) M.Lowry.
Stems: Depressed-spherical, to obovoid, to short cylindrical, grass green to dark green, shiny, 7-20 cm high and 5(-7.5) cm in diameter.
Ribs: 12-20 (or more), straight, acute, with hatchet-shaped tubercles between the areoles.
Areoles: Whitish with little wool, to 2 cm apart.
Spines: Extremely variable, usually not clearly differentiated as central and radials.
Radial spines: 4-12, to 1.25-5 cm long, curved, unequal, brownish yellow.
Central spines: Absent or 1(-2), to 7 cm long, curved.
curved, unequal, brownish to yellowish, 3-5 cm long. central absent or 1, to 7cm, upcurved.
Flowers: Funnel-shaped, scarlet with orange-yellow throats, 5-8 cm long and in diameter, sometimes the inner tepals tipped darker. Innermost tepals somewhat reduced, more or less erect. Stamens bunched round the style. Tube very hairy.
Fruits: Reddish green, hairy, to 1.2 cm in diameter.
Subspecies, varieties, forms and cultivars of plants belonging to the Echinopsis maximiliana group
Bibliography: Major references and further lectures
1) Lowry, M., Ostalaza, C., Cáceres, F. & Roque, J. 2013. Echinopsis maximiliana. The IUCN Red List of Threatened Species 2013: e.T152125A599858. http://dx.doi.org/10.2305/IUCN.UK.2013-1.RLTS.T152125A599858.en. Downloaded on 03 March 2016.
2) Hunt, D., Taylor, N. and Charles, G. (compilers and editors). "The New Cactus Lexicon." dh Books, Milborne Port, UK. 2006
3) Edward Anderson "The Cactus family" Timber Press, Incorporated, 2001
4) James Cullen, Sabina G. Knees, H. Suzanne Cubey "The European Garden Flora Flowering Plants: A Manual for the Identification of Plants Cultivated in Europe, Both Out-of-Doors and Under Glass" Cambridge University Press, 11/Aug/2011
5) N. L. Britton, J. N. Rose: "The Cactaceae. Descriptions and Illustrations of Plants of the Cactus Family." Vol 3, The Carnegie Institution of Washington, Washington 1922
6) Walter Rausch "Lobivia: The Day Flowering Echinopsidinae from a Geographical Distribution Point of View", Volumes 1-3 R. Herzig, 1975
7) Hecht, "BLV Handbuch der Kakteen", 290 (as Lobivia chrysochete) & 294 1982
8) Haustein, "Der Kosmos-Kakteenfuhrer", 159 1983
9) Cullmann et al., "Kakteen", edn 5, 198 1984
10) Brian Lamb "Letts guide to cacti of the world" Letts, 17 October 1991
Cultivation and Propagation: It is a summer grower species that offers no cultivation difficulties. It has a fairly large tap root, and should be kept in a deep pot with a very draining mineral substrate. Water regularly in summer (but do not overwater ) keep dry in winter. Feed with a high potassium fertilizer in summer. Repot yearly until reaching about 100 mm in size, then every two or three years will suffice. Repotting is best done at the end of winter but can be done at other times. Do not water for a couple of weeks after repotting to reduce risk of root rot via broken roots. Repotting will increase size of stems. It is quite cold tolerant if kept dry (hardy to -5° C). Outside it need a bright exposure, full sun or half shade in summer, inside it needs bright light, and some direct sun.
Propagation: Seed, grafting, cutting.