Donate now to support the LLIFLE projects.
Your support is critical to our success.
Accepted Scientific Name: Copiapoa cinerea (Phil.) Britton & Rose
Cactaceae (Britton & Rose) 3: 86. 1922 [12 Oct 1922] Britton & Rose
Copiapoa cinerea var. albispina Photo by: Valentino Vallicelli
Synonyms:
See all synonyms of Copiapoa cinerea
Description: Copiapoa cinerea is one of the most famous and admired species of cacti with chalky/white stems covered with wool at the apex, which contrasts well with the sparse, jet-black spines. Copiapoa cinerea var. albispina is a white spined form, quite unusual and rarely seen in cultivation. It is a solitary, or slowly offsetting, globular to columnar cactus.
Stems: Up to 1,2 m tall, 10-20 cm in diameter. In cultivation the white waxy bloom is often not produced, revealing a brownish epidermis.
Ribs: 12-30 broad, obtuse.
Central spines: 1 or 2 up to long, terete, glassy white;
Radial spines: 5-7.
Flowers: Yellow funnelform, 1,5 to 2,5 cm in diameter, occasionally with a pink or reddish tint. The Ovary is naked; it needs a lot of sunlight to bloom, so it's pretty rare to have blossoms when in cultivation in greenhouses.
Fruits: 1,5 to 2 cm long.
Seeds: Black and shining.
Subspecies, varieties, forms and cultivars of plants belonging to the Copiapoa cinerea group
Bibliography: Major references and further lectures
1) Edward Anderson "The Cactus family" Timber Press, Incorporated, 2001
2) James Cullen, Sabina G. Knees, H. Suzanne Cubey "The European Garden Flora Flowering Plants: A Manual for the Identification of Plants Cultivated in Europe, Both Out-of-Doors and Under Glass" Cambridge University Press, 11/Aug/2011
3) David R Hunt; Nigel P Taylor; Graham Charles; International Cactaceae Systematics Group. "The New Cactus Lexicon" dh books, 2006
4) N. L. Britton, J. N. Rose "The Cactaceae. Descriptions and Illustrations of Plants of the Cactus Family." Volume 4, The Carnegie Institution of Washington, Washington 1923
5) Urs Eggli, Leonard E. Newton "Etymological Dictionary of Succulent Plant Names" Birkhäuser 2004.
6) F.Ritter "Kakteen Südamerika" 3: 1072 1980.
7) Graham Charles "Copiapoa" Cirio Pub. Services, 1999
8) Adriana Hoffmann "Cactáceas en la Flora Silvestre de Chile" 1st edition, 1989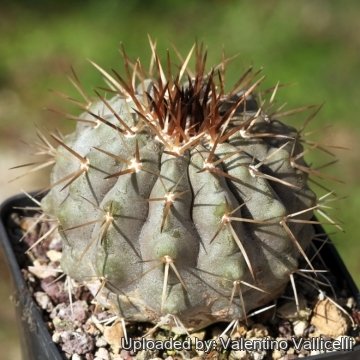 Copiapoa cinerea var. albispina
Photo by: Valentino Vallicelli
Send a photo of this plant.
The gallery now contains thousands of pictures, however it is possible to do even more. We are, of course, seeking photos of species not yet shown in the gallery but not only that, we are also looking for better pictures than those already present.
Read More...
Cultivation and Propagation: his extremely slow growing cactus is kept for the beauty of its form. It must be protected from excessive heat and sun in summer, and seems to do best in cultivation with a bit of shade. It requires light but regular waterings in summer, but let the soil mix dry between waterings, Prone to rot if over-watered. Needs good drainage. Keep warm and dry in winter (10°C) to avoid rot. Not highly tolerant of a great deal of frost. (Frost tolerance 0°C)
Propagation: Grafting or by cuttings from adult plants.