Donate now to support the LLIFLE projects.
Your support is critical to our success.
Stenocactus sulphureus Photo by: Peiffer Clement
Origin and Habitat: Tribe Cacteae, Subtribe Echinocactinae
Origin: Mexico (Hidalgo)
Synonyms:
Common Names include:
ENGLISH:
Brain Cactus
Description: Plants solitary, very spiny globose to subglobose,
Stem: Light green, 7-10 cm in diameter, depressed at the apex.
Ribs: Numerous, 26-40, thin, undulating with only few areoles.
Central spines: 1, erect, up to 5 cm long.
Radial spines: 7-8, white or yellowish with brownish tip, becoming grayish white, awl shaped, to 2.5 cm long.
Flowers: Small , funnelform, typically sulfur yellow but also pinkish-white with darker midribs, to 2.5 cm long and 3.8 cm in diameter; floral tubes long.
Blooming season: Spring to late summer and last 3-4 days.
Remarks: The plants found in in cultivation are quite variable for spine size, ribs number and colour of the flowers. Salm-Dyck say that it is closely related to Stenocactus anfractuosus.
Stenocactus sulphureus
Photo by: Peiffer Clement
Stenocactus sulphureus
Photo by: Cactus Art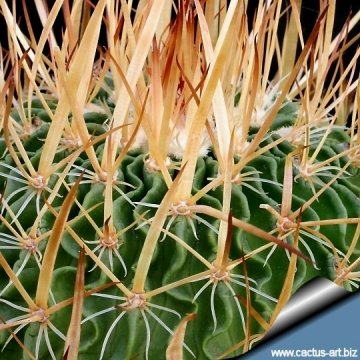 Stenocactus sulphureus
Photo by: Cactus Art
Send a photo of this plant.
The gallery now contains thousands of pictures, however it is possible to do even more. We are, of course, seeking photos of species not yet shown in the gallery but not only that, we are also looking for better pictures than those already present.
Read More...
Cultivation and Propagation: Easy to to care and flower. It needs regular cacti soil with good drainage.
Propagation: Seeds (usually) Exposure: It likes strong sunshine but is tolerant and do well with light shade during the hot Summer months, allow to dry between watering. It should not be watered at all in winter. Frost Tolerance: does not tolerate intense or prolonged cold (hardy to -5°C if kept dry)