Donate now to support the LLIFLE projects.
Your support is critical to our success.
Since 4 Aug 2013
Sclerocactus spinosior Photo by: Prof. Ilham Alakbarov
Origin and Habitat: Sclerocactus spinosior is endemic to southwestern Utah (Beaver, Juab, Millard, Iron and Sevier Counties), United States.
Altitude range: This species grows at elevations of 1,500 to 2,000 metres above sea level. (The subsp. blainei can be found in Nye and Lincoln Counties, Nevada, at elevations of 1,450 to 1,850 metres above sea level).
Habitat and ecology: The species occurs in pinyon-juniper, sagebrush, and shadscale communities. Soils are typically igneous or calcareous gravels. The species is locally abundant, however the subpopulations are scattered. The population size is of thousands of individuals. The current population trend is stable. Mining and grazing are moderate threats in portions of the species range. The species is found in trade but the species is not particularly popular.
Synonyms:
See all synonyms of Sclerocactus spinosior
Accepted name in llifle Database:
Sclerocactus spinosior
(Engelm.) D.Woodruff & L.D.Benson
Cact. Succ. J. (Los Angeles) 48(6): 131. 1976 [May-Jun 1976]
Synonymy: 6
Accepted name in llifle Database:
Sclerocactus spinosior subs. blainei
(S.L.Welsh & K.H.Thorne) Hochstätter
Succulenta (Netherlands) 74(1): 43 (1995)
Synonymy: 8
Common Names include:
ENGLISH:
Desert Valley Fishhook Cactus, Desert Valley Fish-hook Cactus, Spinier devil's-claw cactus, Great basin eagle-claw cactus, , Engelmann fishhook cactus
Description: Sclerocactus spinosior (desert valley fishhook cactus) is a rare cactus species usually solitary with spines frequently obscuring stems. This well-armed cactus is densely covered with creamy-white to black, flattened, flexible, and sometime hooked spines. The flowers are reddish purple to lavender and close to 4 cm across. Subspecies blainei has longer, white, ribbon-like spines.
Stems: The stem of a mature plant is, depressed globose to somewhat elongate, (2-)4-15(-23) cm long, and (1-)4-10(-15) cm in diameter, usually unbranched, light green to dark green, and glaucous.
Ribs: 13-14, distinctly tuberculate.
Central spines: (2-)4-6, 1-2 sometimes hooked. Lower central spines (1-)3, dark coloured (reddish, to black, less often tan to brown), one (or two) hooked, 2-4 cm long. Lateral central spines usually 2, whitish, tan, red, or reddish brown, terete, 1-3 cm long. Upper central spines 1(-3) white, flattened, flexible, 20-60 mm long, 0.7-1.6 mm wide.
Radial spines: 6-10(-12), white, spreading, 1-3.5 cm long, 0.3-1 mm wide, tipped white or dark.
Flowers: Narrowly funnelform to campanulate, reddish purple to violet or lavender, 2-5 cm long and 1-4 cm in diameter. Outer perianth segments with greenish brown or reddish brown midstripes and pink, violet-pink, or reddish purple margins, usually oblanceolate, 10-20 mm long, 4-7 mm wide, usually mucronate, margins nearly entire. Inner perianth segments reddish purple to lavender, oblanceolate to narrowly oblanceolate, 15-25 mm long, 6-8 mm wide, margins paler, nearly entire. Filaments yellow, green, red-violet, or pink. Anthers yellow. Styles minutely and sparsely papillate.
Blooming season: Late spring (Apr-May).
Fruits:, Green to pink or pale red, barrel-shaped, 9-13 mm long, 8-12 mm wide, dry dehiscent along 2-4 vertical splits. Scales few, membranous.
Seeds: Black, 2-2.5 mm long, 2.5-3 mm broad. Testa with rounded papillae.
Taxonomy note: The classification of Sclerocactus spinosior is controversial, according to Hunt et al. (2006) S. spinosior subsp. blainei (S.L.Welsh & K.H.Thorne) Hochstätter should either be considered a separate species or S. pubispinus should also be included as a subspecies according to J. Porter and C. Butterworth. However, in this assessment two subspecies are recognized, the nominate form and subs. blainei. Sclerocactus spinosior exhibits considerable morphologic variation across the range. Some plants look like Sclerocactus blainei, Sclerocactus pubispinus, and Sclerocactus nyensis. DNA study from the chloroplast genome of species of Sclerocactus provide evidence that Sclerocactus spinosior - but not the southwestern population, Sclerocactus nyensis - and Sclerocactus pubispinus, Sclerocactus schlesseri, and Sclerocactus blainei share several mutations unique in the genus. This at once provides evidence for the common ancestry of Sclerocactus spinosior, Sclerocactus pubispinus, Sclerocactus schlesseri , and Sclerocactus blainei, and of the independence (species status) of Sclerocactus nyensis. DNA analyses provided evidence that S. nyensis is the sister taxon to Sclerocactus papyracanthus.
Subspecies, varieties, forms and cultivars of plants belonging to the Sclerocactus spinosior group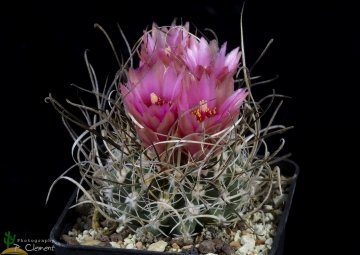 Sclerocactus spinosior SB1068 (Steven Steve Brack) Coconino County, Arizona, USA
Photo by: Peiffer Clement
Sclerocactus spinosior
Photo by: Peiffer Clement
Cultivation and Propagation: Sclerocactus spinosior is very rare in cultivation, it is difficult to grow on its own roots and to propagate, but continues to be a particular prize among specialist collectors. Mature individuals easily rot and die especially after planting. The seeds germinate with extreme difficulty and a low rate of success, seedlings do not do well either, and more die each year.It is extremely xerophytic and adapted to very dry soils, but plants grafted on hardy stock (Opuntia humifusa, Echinocereus triglochidiatus etc...) are relatively easy to grow and no special skill is required, they can stay in a non heated greenhouse. (min tem -20°C). For the heated glasshouse Eriocereus jusbertii is the recommended stock. However, the grafted plants lose their natural appearance. Sclerocactus spinosior is not reliably hardy in zone 5 (-20 to -28°C) but can be grown in protected microclimates, such as near the south side of a heated building.
Propagation: Seeds are extremely difficult to germinate (only 2-3 percent of seeds germinate). The germination is really difficult and if some seedling finally sprout, as they start to grows they disappear one by one. Grafting is often used to speed growth rate and to create a back-up for plants in collection.