Donate now to support the LLIFLE projects.
Your support is critical to our success.
Accepted Scientific Name: Mammillaria haageana subs. conspicua (J.A.Purpus) D.R.Hunt
Mammillaria Postscripts 6: 9 (1997)
Mammillaria conspicua (Mammillaria haageana subs. conspicua) Photo by: Raffa C. Garcia
Tecamachalco, Puebla, Mexico.
Origin and Habitat: Mexico in the states of Puebla, Oaxaca, and Morelos.
Synonyms:
See all synonyms of Mammillaria haageana
Description: Mammillaria haageanaSN|20850]]SN|20850]] subs. conspicua, better known as Mammillaria conspicuaSN|20872]]SN|20872]], can be distinguished from other forms of the Mammillaria haageanaSN|20850]]SN|20850]] complex because is often solitary and has larger stems up to 10-11 cm in diameter.
Habit: Plants usually solitary. Each head is surrounded by a complete ring of star-like pink flowers. There are ample variations among plants from different origin.
Stem: Globularor somewhat elongate in age, glaucous green, up to 15 cm high, 10-11 cm in diameter, apex wolly.
Sap: Without latex.
Tubercles: Small, (3-)5-6 mm hight, crowded, conical/pyramidal, four-angled basally.
Axil: Slightly woolly only on new growth, later naked.
Areoles: Small, 2-3 mm, short-elliptic, when young a little woolly, in age glabrate.
Radial spine: 10 to 25, smooth, rigid, acicular, straight or slightly curved, white, radiating, bristly, 3-6 mm long.
Central spine: Usually 2, slender, rigid, straight, not hooked, erect, divergent, dark tipped, turning grey as the ages 6-10 mm long.
Flower: Deep magenta-pink to pale pink, funnel-shaped.
Blooming season: Spring.
Fruit: Red, pinkish at the base, about 1 cm long.
Seed: 1 mm long.
Subspecies, varieties, forms and cultivars of plants belonging to the Mammillaria haageana group
Bibliography: Major references and further lectures
1) Hernández, H.M., Cházaro, M. & Gómez-Hinostrosa, C. 2013. Mammillaria haageana. The IUCN Red List of Threatened Species. Version 2014.3. <www.iucnredlist.org>. Downloaded on 31 January 2015.
2) John Pilbeam "Mammillaria The Cactus File Handbook" Cirio Pub. Services, 01/December/1999
3) Edward Anderson "The Cactus family" Timber Press, Incorporated, 2001
4) James Cullen, Sabina G. Knees, H. Suzanne Cubey "The European Garden Flora Flowering Plants: A Manual for the Identification of Plants Cultivated in Europe, Both Out-of-Doors and Under Glass" Cambridge University Press, 11/August /2011
5) David R Hunt; Nigel P Taylor; Graham Charles; International Cactaceae Systematics Group. "The New Cactus Lexicon" dh books, 2006
6) Urs Eggli, Leonard E. Newton "Etymological Dictionary of Succulent Plant Names" Birkhäuser 2004
7) Ulises Guzmán, Salvador Arias, Patricia Dávila "Catálogo de cactáceas mexicanas. Universidad Nacional Autónoma de México" Mexiko-Stadt 2003
8) Hunt, D. "A new review of Mammillaria names." British Cactus and Succulent Society. Oxford. 1987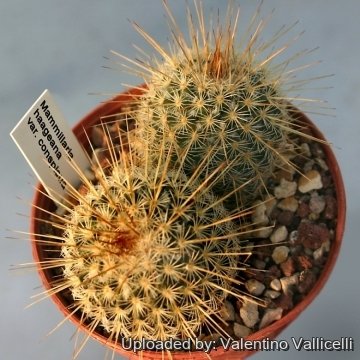 Seedlings in 5.5 cm pot.
(Mammillaria haageana subs. conspicua)
Photo by: Valentino Vallicelli
Send a photo of this plant.
The gallery now contains thousands of pictures, however it is possible to do even more. We are, of course, seeking photos of species not yet shown in the gallery but not only that, we are also looking for better pictures than those already present.
Read More...
Cultivation and Propagation: Mammillaria haageanaSN|20850]]SN|20850]] subs. conspicua is a free-flowering and relatively easy plant to grow.
Exposition: Full sun to light shade.
Watering: Water regularly in summer but do not over-water. Keep dry in winter. Hardy down to -4°C.
Growing tips: It is better that they be repotted regularly. Repotting will increase the number and size of stems, and will increase the number of flowers produced. Repot yearly until it reaches about 3 cm in size, then every two or three years will suffice. Repotting is best done at the end of winter, but it can be done at other time, too. Do not water for a couple of weeks after repotting, in order to reduce risk of root rot via broken roots.
Propagation: Seeds or offsets if available.