Donate now to support the LLIFLE projects.
Your support is critical to our success.
Tephrocactus weberi var. dispar
[Basionym: Opuntia weberi var. dispar. A.Cast.& H.V.Lelong 1935-1936]
Family: CACTACEAE
Accepted Scientific Name: Tephrocactus weberi (Speg.) Backeb.
Kaktus-ABC [Backeb. & Knuth] 106 1935 Backeb., F.M.Knuth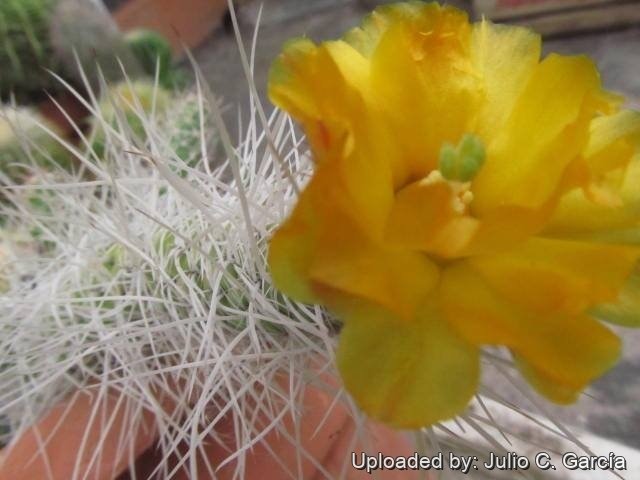 Tephrocactus weberi var. dispar Photo by: Julio C. García
Origin and Habitat: Tephrocactus weberi is endemic to Argentina, where it can be found in the provinces of Catamarca, Salta, La Rioja, San Juan and Tucumán (the var. dispar is found only near Amaicha in the province of Tucumán).
Altitude range: It occurs from 500 to 2,200 metres above sea level.
Habitat and Ecology: This cactus grows on dry, stony hills in monte habitat. This species has a wide distribution, is locally abundant, is present in many protected areas and is not affected by any threat.
Synonyms:
See all synonyms of Tephrocactus weberi
Accepted name in llifle Database:
Tephrocactus weberi
(Speg.) Backeb.
Kaktus-ABC [Backeb. & Knuth] 106 1935
Synonymy: 13
Description: Tephrocactus weberi is a small shrubby species branching both basally and above that will eventually develop into a moderately large, open clump up to 20 cm tall and will reward the patient gardener with a display of yellow flowers in summer. It is quite variable.
Stem segments: Cylindrical 3-10 cm long and 2 cm thick.
Tubercles: Closely set, well distinct but not raised.
Areoles: Small with few pale red glochids.
Spines: 5-10, more or less flexible, needlelike, rather interlacing, up to 5 cm long, yellow or reddish, upper ones more erect, lower ones usually thinner and add-pressed against the stem surface.( the varieties "deminutus" and "dispar" have creamy-white bristly spines)
Flowers: From stem tips, bright lemon yellow or (less frequently) golden yellow up to 3 cm long, pericarpels tuberculate, bristly and short; style yellow; stigma green to reddish. An orange flowering forms "var. deminutus" is reported from near Salta and a pink flowering population has been found in San Juan, on the southern part of the taxon areal.
Fruits: Flattish, tuberculate, dry, thin walled and bristly.
Seeds: margin is extended into large lobes resembling human ears
Remarks: As in other tephrocacti, "Tephrocactus weberi" propagates itself by fragmentation of its joined stems, although the joint are not as easily caducous as in other taxa (e.g., Tephrocactus articulatus).
Subspecies, varieties, forms and cultivars of plants belonging to the Tephrocactus weberi
Bibliography: Major references and further lectures
1) Urs Eggli, Leonard E. Newton "Etymological Dictionary of Succulent Plant Names" Birkhäuser 2004
2) David R Hunt; Nigel P Taylor; Graham Charles; International Cactaceae Systematics Group. "The New Cactus Lexicon" dh books, 2006
3) Edward Anderson "The Cactus family" Timber Press, Incorporated, 2001
4) James Cullen, Sabina G. Knees, H. Suzanne Cubey "The European Garden Flora Flowering Plants: A Manual for the Identification of Plants Cultivated in Europe, Both Out-of-Doors and Under Glass" Cambridge University Press, 11/August /2011
5) Lowry, M. 2013. Tephrocactus weberi. The IUCN Red List of Threatened Species. Version 2014.3. <www.iucnredlist.org>. Downloaded on 13 February 2015.

Tephrocactus weberi var. dispar
Photo by: Valentino Vallicelli
Tephrocactus weberi var. dispar
Photo by: Julio C. García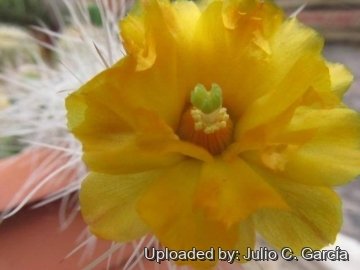 Tephrocactus weberi var. dispar
Photo by: Julio C. García
Tephrocactus weberi var. dispar
Photo by: Valentino Vallicelli
Tephrocactus weberi var. dispar
Photo by: Valentino Vallicelli
Send a photo of this plant.
The gallery now contains thousands of pictures, however it is possible to do even more. We are, of course, seeking photos of species not yet shown in the gallery but not only that, we are also looking for better pictures than those already present.
Read More...
Cultivation and Propagation: It is easy to grow but usually couldn't get very tall as segment kept falling apart. It is fairly cold resistant and hardy to -9°C depending on the clone, Need full sun, (with insufficient illumination stems get thinner as a result of the lack of sun) The main growing period is spring. It might produce some new segments in the autumn too. Needs good drainage.
Propagation: Propagation is through segment cuttings, or occasionally seeds. Cuttings, it suckers profusely and is very easy to grow by just knocking off one of the 'joint' and stuffing it in the ground.
Note: The little glochids at the areoles are quite a nuisance, and it is best to use gloves to handle this plant.