Donate now to support the LLIFLE projects.
Your support is critical to our success.
Accepted Scientific Name: Mammillaria stella-de-tacubaya Heese
Gartenflora 53(8): 214 (-215). 1904 [15 Apr 1904]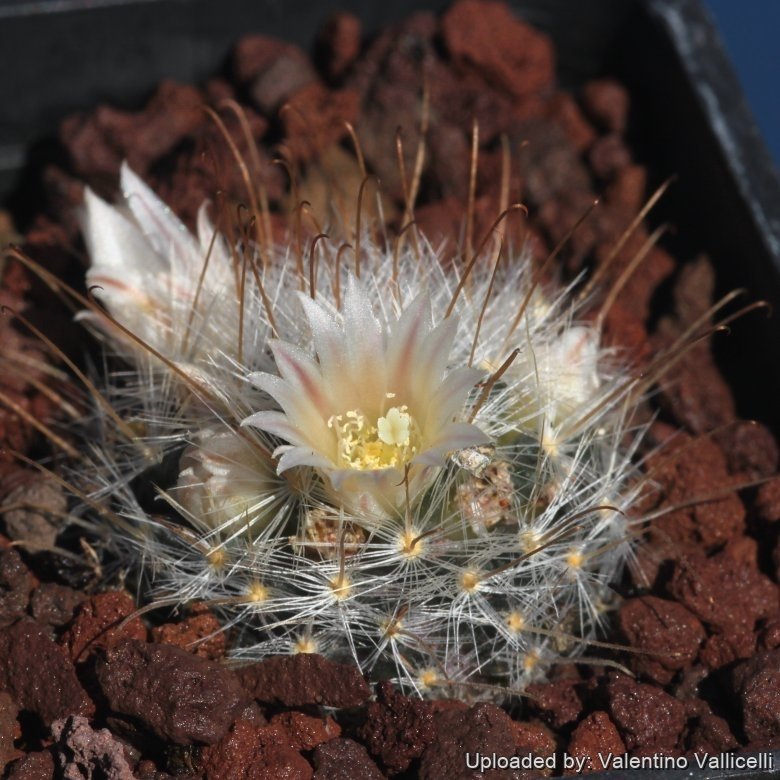 Mammillaria chica Photo by: Valentino Vallicelli
Origin and Habitat: Mountains south of San Pedro close to Torreon, Amparo, comprising Cerro Bola, Villa Real, Viesca, Villa Carranza in the Mexican state of Coahuila
Habitat: It grows mainly in crevices in step cliff along with other succulents like Coryphantha durangensisSN|10064]]SN|10064]], Ferocactus hamatacanthusSN|3403]]SN|3403]], Thelocactus bicolorSN|3420]]SN|3420]] and Mammillaria gasserianaSN|9179]]SN|9179]].
Altitude: Approx 1100-1400 m a.s.l.
Synonyms:
See all synonyms of Mammillaria stella-de-tacubaya
Description: Mammillaria chica is a tiny controversial species with hooked central spines in immature seedlings, but no central spines in the mature specimens (Reppenhagean 1991). It was then dismissed by Charle Glass and Fitz and Betty Fitz Maurice as a variant form of Mammillaria gasserianaSN|12603]]SN|9179]] with no central spines, except in the seedling stage. Both Hunt and E.F.Anderson refers this taxon to synonymy with Mammillaria stella-de-tacubayaSN|9381]]SN|9381]] and other synonymized it with Mammillaria tepexicensisSN|9179]]SN|12603]], creating a taxonomig nightmare. And also the photographies of this species available on the net show a great variability in spination especially regarding the presence and size of hooked spines in adult plants. However, there remains a considerable confusion surrounding the true identity of this species. Whatever view one adopts, it is worth a place in every Mammillaria collection.
Subspecies, varieties, forms and cultivars of plants belonging to the Mammillaria stella-de-tacubaya group
Bibliography: major references and further lectures
1) David Hunt, Nigel Taylor "The New Cactus Lexicon" DH Books, 2006
2) John Pilbeam (1999) "Mammillaria The Cactus File Handbook" Nuffield Press.
3) Edward F. Anderson "The Cactus Family" Timber Press, 2001
4) James Cullen, Sabina G. Knees, H. Suzanne Cubey "The European Garden Flora Flowering Plants: A Manual for the Identification of Plants Cultivated in Europe, Both Out-of-Doors and Under Glass" Cambridge University Press, 11/ago/2011
5) Nathaniel Lord Britton, Joseph Nelson Rose "Cactaceae: Descriptions and Illustrations of Plants of the Cactus Family" Courier Dover Publications, 1963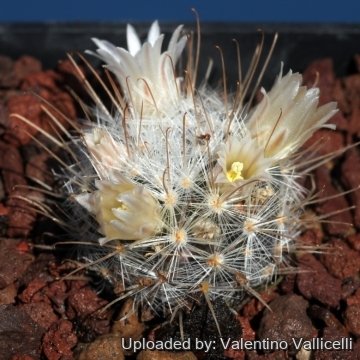 Mammillaria chica
Photo by: Valentino Vallicelli
Mammillaria sp. Rio Nazas (M. chica?)
Photo by: Valentino Vallicelli
Cultivation and Propagation: This plant has not the fame to be easy to cultivate, but in good conditions with very careful application of water and excellent ventilation, it grows without difficulty. Be careful to encourage slow growth, but if you succeed in growing a colony of stems, then the results will repay all the growing efforts.
Growing rate: It is a slow growing species that will make clumps given the best conditions, but rewards the patient grower with a beautiful displays of flowers since from an early age.
Soil: Requires excellent drainage provided by a very permeable open cactus soil (With not less than 50% grit content). Avoid the use of peat or other humus sources in the potting mixture.
Repotting: Repot every 2-3 years. Use small sized pots.
Feeding: During the beautiful season enrich the soil using a fertilizer rich in potassium and phosphorous, but poor in nitrogen, because this chemical element doesn't help the development of succulent plants, making them too soft and full of water.
Watering: Water should be carefully applied and only when the soil is dry to the touch, as this cliff-dwelling species is very prone to root rot. Allow soil to drain thoroughly before watering again. Additionally, water should not be applied from above, as the feathery spines will retain water and add to rotting problems, but in good conditions with excellent ventilation, in bright light, it usually grows without particular difficulty. Do not water in the winter.
Light: Outside full sun or afternoon shade, inside it needs bright light, and some direct sun. Direct sun encourages flowering and heavy spine production.
Hardiness: Protect from frost. But it's hardy to -5°C if kept dry. A winter rest that allows the plant to shrivel (perhaps losing up to 25% of its summer height) will encourage flowering and long time survival.
Pests & diseases: It may be attractive to a variety of insects, but plants in good condition should be nearly pest-free, particularly if they are grown in a mineral potting-mix, with good exposure and ventilation. Nonetheless, there are several pests to watch for:
- Red spiders: Red spiders may be effectively rubbed up by misting the vulnerable plants every day
- Mealy bugs: occasionally they develop aerial into the new growth among the wool with disfiguring results, but the worst types develop underground on the roots and are invisible except by their effects.
- Scales: Scales are rarely a problem.
- Rot: it is only a minor problem with cacti if the plants are watered and "aired" correctly. If they are not, fungicides won't help all that much.
Propagation: Direct sow after last frost or (rarely) cuttings. Seeds germinate in 7-14 days at 21-27° C in spring, remove gradually the glass cover as soon the plants will be well rooted (ca 1-2 weeks) and keep ventilated, no full sun for young plants!