Donate now to support the LLIFLE projects.
Your support is critical to our success.
Accepted Scientific Name: Parodia formosa F.Ritter
Succulenta (Netherlands) 1964: 57 1964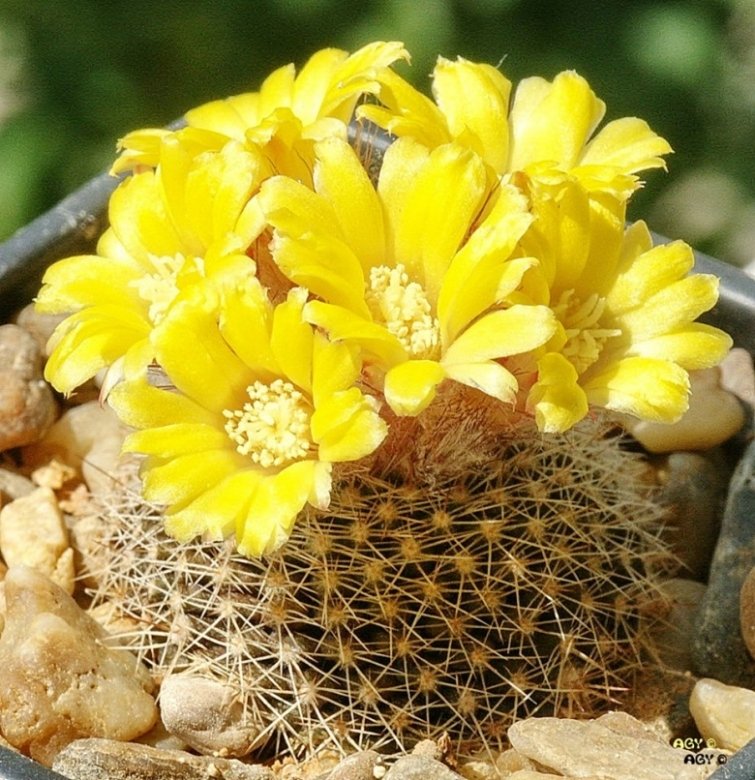 Parodia winbergii Photo by: Agócs György
Origin and Habitat: Valle Grande to San Francisco, Jujuy, Argentina
Altitude range: 1200-1900 metres above sea level.
Synonyms:
See all synonyms of Parodia formosa
Accepted name in llifle Database:
Parodia formosa
F.Ritter
Succulenta (Netherlands) 1964: 57 1964
Synonymy: 13
Description: Parodia winbergii is one of the varieties of Parodia formosa which is a widespread and morphologically variable taxon. It is a small globular cactus distinguished from the type species for its dwarf fresh green stems with yellow to red-brown bristle like spines, and many yellow flowers, but most botanist agree on the fact that all the varieties described until now should all be included in the Parodia formosa. Flowers appear most heavily in spring and summer from the top. Parodia winbergii belongs to a group of very easily cultivated plants, decorative with pleasing appearance of stem and flower alike.
Subspecies, varieties, forms and cultivars of plants belonging to the Parodia formosa group
Parodia formosa

F.Ritter

: is a solitary globular cactus with ribs divided in spiralled tubercles and short, white spines. Flowers yellow to orange. Distribution: Jujuy and Tucumán (Argentina), and in Tarija and Santa Cruz (Bolivia). It may also occur in Salta.

Parodia winbergii

Weskamp

: has dwarf fresh green stems with yellow to red-brown bristle like spines, and many yellow flowers. Distribution: Valle Grande to San Francisco, Jujuy, Argentina.
Bibliography: Major references and further lectures
1) Weskamp W. 1996 "Parodia winbergii Weskamp spec. nov." Kakt. And. Sukk. 47. (7): 157-159 (1996)
Cultivation and Propagation: Parodia winbergii is an easy to grow tropical cactus, more cold tolerant than most and less fussy regarding soil conditions.
Growth rate: It is a relatively rapidly growing and easily flowering species that will make clumps given the best conditions.
Soils: It likes very porous standard cactus mix soil.
Repotting: Use pot with good drainage.
Watering: Water regularly in summer, but do not overwater (Rot prone), keep dry in winter.
Fertilization: Feed with a high potassium fertilizer in summer.
Hardiness: Reputedly sensitive to frost, but less so if kept on the dry side prior to, and during, cold weather (hardy to -5° C for short periods). However warmth throughout the year will increase the grower's success (8-12°C during rest season).
Exposition: Outside bright but partially filtered sunlight or afternoon shade, inside it needs bright light, and some direct sun. Subject to sunburn if exposed to direct sun for too long. Tends to bronze in strong light, which encourages flowering and heavy wool and spine production.
Uses: It is an excellent plant for container growing. It always looks good and stays small. It look fine in a cold greenhouse and frame or outdoor in a rockery.
Pests & diseases: It may be attractive to a variety of insects, but plants in good condition should be nearly pest-free, particularly if they are grown in a mineral potting-mix, with good exposure and ventilation. Nonetheless, there are several pests to watch for:
- Red spiders: Red spiders may be effectively rubbed up by watering the plants from above.
- Mealy bugs: Mealy bugs occasionally develop aerial into the new growth among the wool with disfiguring results, but the worst types develop underground on the roots and are invisible except by their effects.
- Scales: Scales are rarely a problem.
- Rot: Rot is only a minor problem with cacti if the plants are watered and "aired" correctly. If they are not, fungicides won't help all that much.
Propagation: Direct sow after last frost. Seeds germinate in 7-14 days at 21-27° C in spring, remove the glass cover gradually as the plants develops and keep ventilated, no full sun for young plants!