Donate now to support the LLIFLE projects.
Your support is critical to our success.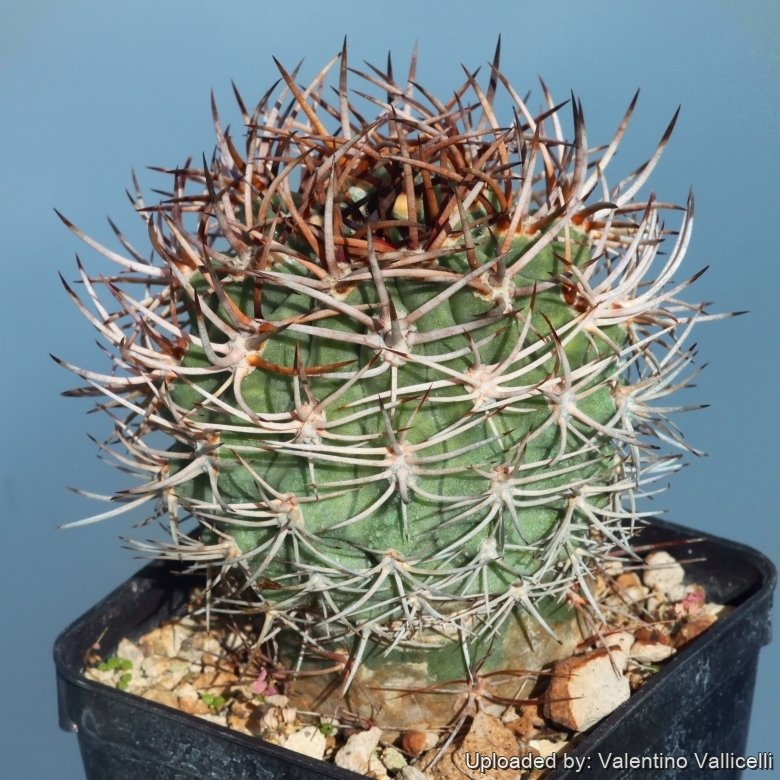 Eriosyce rodentiophila Photo by: Valentino Vallicelli
Origin and Habitat: Northern Chile, Antofagasta, along the coast from north of Taltal south to below Chanaral. (north of the Eriosyce aurata areal)
Habitat: Eriosyce rodentiophila grows in a harsh environment, comprising interior valleys and coastal mountains up to 10 km inland in open, fully exposed and very stony areas on slopes facing north, but with protection from direct sun through coastal fog (camanchaca). The climate is very dry, summer is hot, with extremely rare rainfall in winter. The dry season lasts 8-12 months and in some years it is possible to have no rainfall at all. Rainfall less than 100 mm per annum. The plants obtain water mainly from condensation. In the same area it is possible to find the rare Eriosyce esmeraldana.
Ecology: The seeds of this plant are not wind dispersed like those of most Eriosyce, but seeds are spread by animals as suggested by the fleshy fruit walls and rodents seem particularly fond of this fruit species.
Synonyms:
See all synonyms of Eriosyce rodentiophila
Common Names include:
SPANISH (Español):
Sandillon De Los Ratones
Description: Eriosyce rodentiophila it is a solitary (never clustered) barrel shaped cactus.
Stem: Globose to shortly columnar with time, 12-32 cm in diameter, with stem apex covered by white wool.
Roots: Fibrous, produced from short tuberous root.
Ribs: 18-35, obtuse, strongly notched to form tubercles.
Spines: Numerous, thick, curved upwards, dull ivory to horn coloured, becoming grey.
Central spines: 4-8,30-50 mm long.
Radial spines: 12-15,20-30 mm long.
Flowers: Borne on older areoles at the woolly top of the plant, campanulate, cream coloured or reddish, 2.5-4 cm long, 2.2-3 cm in diameter; pericarpels and floral tubes covered by white wool and with stiff bristles.
Fruits: Very different from those of Eriosyce aurata, with a fleshy, juicy and acid wall, reddish yellow, 25-30 mm long, covered with few white wool and not dehiscent. (Eriosyce rodentiophila is the only Eriosyce with fruits that do not split open! On the contrary Eriosyce aurata fruits are thin-walled, heavily woolly green and dehiscing from a basal pore).
Subspecies, varieties, forms and cultivars of plants belonging to the Eriosyce rhodentiophila group
Bibliography: Major references and further lectures
1) James Cullen, Sabina G. Knees, H. Suzanne Cubey "The European Garden Flora Flowering Plants: A Manual for the Identification of Plants Cultivated in Europe, Both Out-of-Doors and Under Glass" Cambridge University Press, 11/Aug./2011
2) David Hunt, Nigel Taylor "The New Cactus Lexicon" DH Books, 2006
3) Edward F. Anderson "The Cactus Family" Timber Press, 2001
Eriosyce rodentiophila
Photo by: Valentino Vallicelli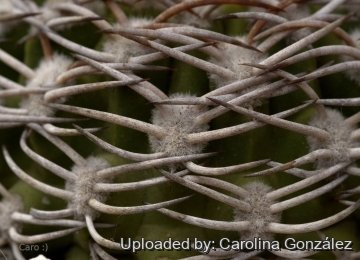 Eriosyce rodentiophila
Photo by: Carolina González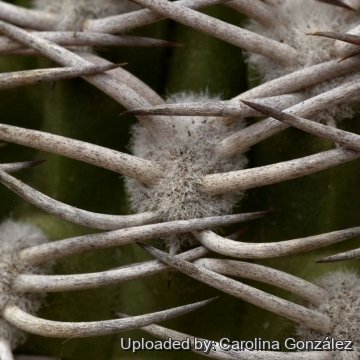 Eriosyce rodentiophila
Photo by: Carolina González
Send a photo of this plant.
The gallery now contains thousands of pictures, however it is possible to do even more. We are, of course, seeking photos of species not yet shown in the gallery but not only that, we are also looking for better pictures than those already present.
Read More...
Cultivation and Propagation: It is a very slow growing and extremely rot prone species if kept in a non ventilated place.
Soils: Require a very fast mineral draining drying soil (70-80% grit and 20-30% of land soil).
Watering Needs: Extremely root prone, needs good drainage, waterings should be rather infrequent in summer (do not overwater), to keep the plant compact and not become excessively elongated and unnatural in appearance. Keep dry in winter, or when night temperatures remain below 10° C.
Exposure: Requires strong sun exposure to develop good spinal growth (maximum brightness, sunlight accepted), but tolerate light shade.
Hardiness: Good heat tolerance. Hardy to at least -5°C for a short period but cannot tolerate long standing freezing temperature, and for an healthy cultivation ensure a minimum temperature of 5° C. Assure a good ventilation. USDA Hardiness Zone 9b and 11.
Propagation: Usually propagated from Seeds. (seldom produces offsets). Contrary to what is often observed with the seeds of Eriosyce aurata, seeds of Eriosyce rodentiophila germinate readily with good yields. The seedling growth is rapid. But the seedling are often grafted because the plants on their own roots (especially the bigger ones) are extremely prone to root rot. In fact the best and older specimens are the grafted ones.