Donate now to support the LLIFLE projects.
Your support is critical to our success.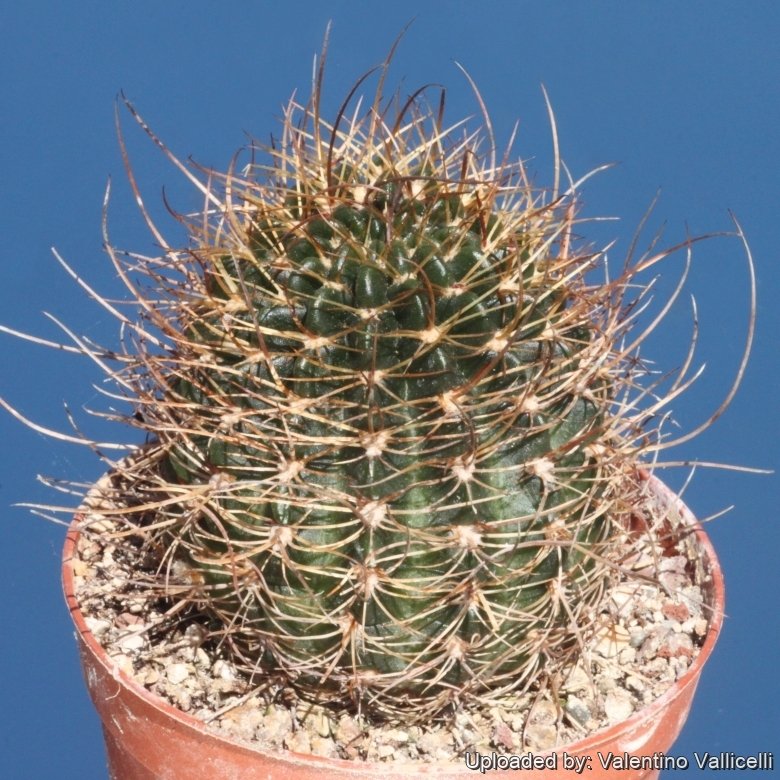 Echinopsis hertrichiana Photo by: Valentino Vallicelli
Origin and Habitat: Cuzco. South-east Peru. Lobivia hertrichiana has a very restricted range (extent of occurrence is approximately 20km2) and is only known to occur in two locations: Pisac (Valle de Vilcanota, Urcos, Ocongate, ruinas de Intihuatana), and Huambutio (Urubamba, Ollantaitambo). It is not commonly found. It was once more abundant than at present.
Altitude range: It is present at altitudes between 3,000 and 3,500 m asl.
Habitat and Ecology: This species occurs on steep rocky or sandstone slopes in inter-Andean valleys. One of the locations is near Inca ruins, which are frequently visited by tourists, who disturb the habitat and also collect and use this species as an ornamental. Both of these threats are causing an ongoing decline in the species.
Synonyms:
See all synonyms of Echinopsis hertrichiana
Description: Echinopsis hertrichiana (Lobivia hertrichiana) is a small, particularly beautiful lobivia, this cactus is solitary or clump-forming, with spherical bodies about 6 cm long and up to 10 cm thick with about 11-20 notched ribs. The yellowish spines are so interlocking that they almost cover the stem. This cactus is popular because of its large, brilliant red flowers occurring in clusters at the top of the stems.
Derivation of specific name. This member of the Cactaceae family was given this name by the American botanist and curator of the Huntington Botanical Gardens in California; William Hertrich (1878-1966).
Stems: Globose, glossy green, simple at first, later clustering, individual stems to 10 cm in diameter.
Blooming season: Early summer. Quite often they will open for several days in succession, closing at night.
Ribs: 11(-22), straight or oblique, rounded to acute, deeply furrowed.
Areoles: Round, white.
Spines: Variable, straw coloured, to 3 cm long.
Central spine: One, curved upward, to 2.5(-3) cm long.
Radial spines: 6-8(-20), spreading, yellowish brown, to 1.5 cm long.
Flowers: Fairly large, rotate, c. 5-6 cm long, 4-7 cm in diameter, various shades of red, often with whitish throats, but there are varieties with orange, pink or yellow flowers.
Fruits: Small, globose.
Bibliography: Major references and further lectures
1) Edward Anderson "The Cactus family" Timber Press, Incorporated, 2001
2) Hunt, D., Taylor, N. and Charles, G. (compilers and editors). 2006. "The New Cactus Lexicon". dh Books, Milborne Port, UK.
3) Backeberg, "Die Cactaceae" 1959
4) Cullmann et al., "Kakteen", edn 5, 1984
5) Margaret Martin, Peter Chapman "A gardner's guide to cacti and succulents: how to grow these fascinating plants in the home and greenhouse: featuring 150 species" Salamander Books, Limited, 1988
6) Bill Keen "Cacti and succulents: Step-by-Step to Growing Success" Crowood, 18 October 2011
7) Gerhard Gröner "Beautiful Cacti: A Basic Grower's Guide" Sterling, 1992
8) James Cullen, Sabina G. Knees, H. Suzanne Cubey "The European Garden Flora Flowering Plants: A Manual for the Identification of Plants Cultivated in Europe, Both Out-of-Doors and Under Glass" Cambridge University Press, 11/Aug/2011
9) Faucon, F. 2005. "Echinopsis hertrichiana". Phoenix Available at: http://www.desert-tropicals.com/Plants/Cactaceae/Lobivia_allegraiana.html. (Accessed: 28th February).
10) Ostalaza, C., Roque, J. & Cáceres, F. 2013. Echinopsis hertrichiana. The IUCN Red List of Threatened Species 2013: e.T152296A620351. http://dx.doi.org/10.2305/IUCN.UK.2013-1.RLTS.T152296A620351.en. Downloaded on 21 March 2016.
11) Ostolaza Nano, Carlos "Todos los cactus del Perú" Ministerio del Ambiente, 2014 retrieved 20 March 2016 from <http://www.minam.gob.pe/diversidadbiologica/wp-content/uploads/sites/21/2014/02/document.pdf>
12) Urs Eggli, Leonard E. Newton "Etymological Dictionary of Succulent Plant Names". Springer, Berlin/Heidelberg 2010
Cultivation and Propagation: Echinopsis hertrichiana is a summer grower species that offers no cultivation difficulties.
Water requirements: Water regularly in spring and summer on sunny days (but do not overwater), keep dry in winter
Soils: This pretty lobivia is rather more moisture- and temperature- sensitive than many, so make sure that the potting mixture is very well drained by adding one part of sharp sand or perlite to three parts of a standard material.
Fertilization. Feed with a high potassium fertilizer at the beginning of the growing season, but continuing to use this fertiliser through the season will not suit the majority of succulent plants, as it will promote 'soft' growth that is susceptible to disease
Exposures. Need a bright exposure, full sun or half shade in summer.
Hardiness: It is quite frost resistant if kept dry (hardy to -12° C).
Pests and diseases: Take care Spines can hide mealy bugs.
Propagation: Direct sow after last frost.Stems can be removed for propagation in spring, but let them dry for a few days before potting.