Donate now to support the LLIFLE projects.
Your support is critical to our success.
= Ferocactus hamatacanthus var. davisii (Houghton)
[as: Brittonia davisii Houghton 1931]
Accepted Scientific Name: Ferocactus hamatacanthus (Muehlenpf.) Britton & Rose
Cactaceae (Britton & Rose) 3: 144. 1922 [12 Oct 1922] Britton & Rose
Hamatocactus hamatocanthus var. davisii (Ferocactus hamatacanthus var. davisii) Photo by: Valentino Vallicelli
This form differs for having very clear and very shining flowers.
Origin and Habitat: Tamaulipas, Mexico.
Synonyms:
See all synonyms of Ferocactus hamatacanthus
Common Names include:
ENGLISH:
Yellow turk's head
Description: Ferocactus hamatacanthusSN|3403]]SN|3403]] var. davisii is one of the many geografical form of the widespread and morphologically variable Ferocactus hamatacanthusSN|3403]]SN|3403]]. Many of its morphological and geographical variant was early classified as different independent species, but nowadays all this plant are considered part of a multiform species, where each form is linked to others by populations of plants with intermediate characteristics. Ferocactus hamatacanthusSN|3403]]SN|3403]] var. davisii has very clear (almost white) and very shining flowers.
Habit: Solitary, or sparsely clumping.
Stems: Spheric to ovoid, dark green 10-30 × 7.5-20 cm.
Ribs: typically 13 ( to 17), undulate to deeply crenate, tuberculate.
Areoles: 1-3 cm apart, young ones with yellow felt.
Spines: 12-16 per areole; Central spines up to 4 per areole, curved or slightly hooked, principal central spine thin more or less flattened, 5-10 cm long and 0,4-3 mm across, more or less flexible.
Flowers: White to very pale yellow with a typical silky shine, 6-7,5 long and 7-9 cm in diameter. Stigma lobes 8-10.
Fruits: Green, yellow-green, or olive, 20-45 long and 10-35 mm across.
Seeds: About 1 mm.
Blooming season: Early summer to autumn in succession.
Subspecies, varieties, forms and cultivars of plants belonging to the Ferocactus hamatacanthus group
Bibliography: Major references and further lectures
1) Edward Anderson "The Cactus family" Timber Press, Incorporated, 2001
2) James Cullen, Sabina G. Knees, H. Suzanne Cubey "The European Garden Flora Flowering Plants: A Manual for the Identification of Plants Cultivated in Europe, Both Out-of-Doors and Under Glass" Cambridge University Press, 11/Aug/2011
3) David R Hunt; Nigel P Taylor; Graham Charles; International Cactaceae Systematics Group. "The New Cactus Lexicon" dh books, 2006
4) Urs Eggli, Leonard E. Newton: "Etymological Dictionary of Succulent Plant Names" Springer, Berlin/Heidelberg 2010
5) N. L. Britton, J. N. Rose: "The Cactaceae. Descriptions and Illustrations of Plants of the Cactus Family." Volume III, The Carnegie Institution of Washington, Washington 1922
6) Brian Loflin, Shirley Loflin "Texas Cacti: A Field Guide" Texas A&M University Press, 26/Oct/2009
7) Albert Michael Powell, James F. Weedin "Cacti of the Trans-Pecos and Adjacent Areas" Texas Tech University Press, 2004
8) Del Weniger "Cacti of Texas and Neighboring States: A Field Guide" University of Texas Press, 1984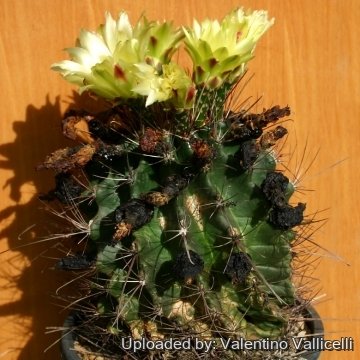 - The old dried fruits persist for a long time on the plant.
(Ferocactus hamatacanthus var. davisii)
Photo by: Valentino Vallicelli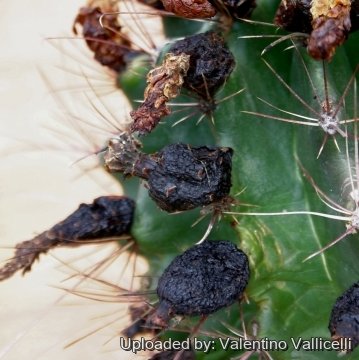 Hamatocactus hamatocanthus var. davisii
(Ferocactus hamatacanthus var. davisii)
Photo by: Valentino Vallicelli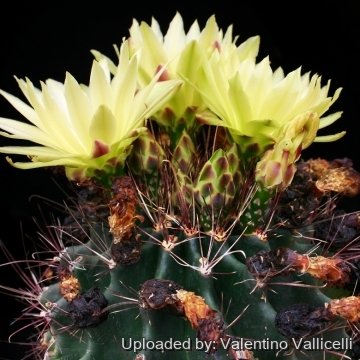 Hamatocactus hamatocanthus var. davisii
(Ferocactus hamatacanthus var. davisii)
Photo by: Valentino Vallicelli
Send a photo of this plant.
The gallery now contains thousands of pictures, however it is possible to do even more. We are, of course, seeking photos of species not yet shown in the gallery but not only that, we are also looking for better pictures than those already present.
Read More...
Cultivation and Propagation: This species is easy and well worth growing. Require little care once they have reached a nice flowering size. Hamatocactus sinuatusSN|3415]]SN|3415]] is suited for any rich, well drained soil in full sun throughout the year (But do better with some light shade in summer). Pot culture: grow best in a well-drained container filled with a porous cactus soil mixture that doesn't contain too much humus. To insure robust plants water and fertilize during the aestival growth cycle, this plant need plenty of water (indicatively to about once a week) But needs to be avoided wetting the bodies of these plants while they are in sunlight. A wet cactus in the sun light can cause sun burning which can lead to scars or even fungal infections and death. Care must be taken to prevent sooty mould forming on the sugary secretions from near the areoles.
Frost Tolerance: In winter keep completely dry at 5°C this usually aids in maintaining a healthier plant, but it is hardy to -7°C.
Propagation: Seeds or cutting. Seeds are the typical way of reproducing. These cacti will easily grow from seeds and some from cuttings. Seeds can be sown in the spring or summer in well-drained pots of soil for cacti and sow the seeds thinly on top. Cover them with a bit of fine quartz grit. Moisten and lay a piece of glass across the top. The pots should be set in a warm greenhouse until they start to sprout after which the glass should be progressively removed so they can receive full light and air. It isn't good to keep the glass over the seedlings. The seedlings well developed can be planted separately in small pots.
Cuttings made from pieces of the stem of any size can be detached and laid aside for a few days to allow a protective "skin" to form over the cut. They can then be planted in pots. Place them in a spot where they'll receive sun and do not water until the soil becomes fairly dry. After a while the soil can be moistened regularly but never kept constantly saturated.