Donate now to support the LLIFLE projects.
Your support is critical to our success.
= Ferocactus cornigerus (DC.)
[Basiaonym: Echinocactus cornigerus DC. 1828]
Accepted Scientific Name: Ferocactus latispinus Britton & Rose
Cactaceae (Britton & Rose) 3: 143. 1922 [12 Oct 1922] Britton & Rose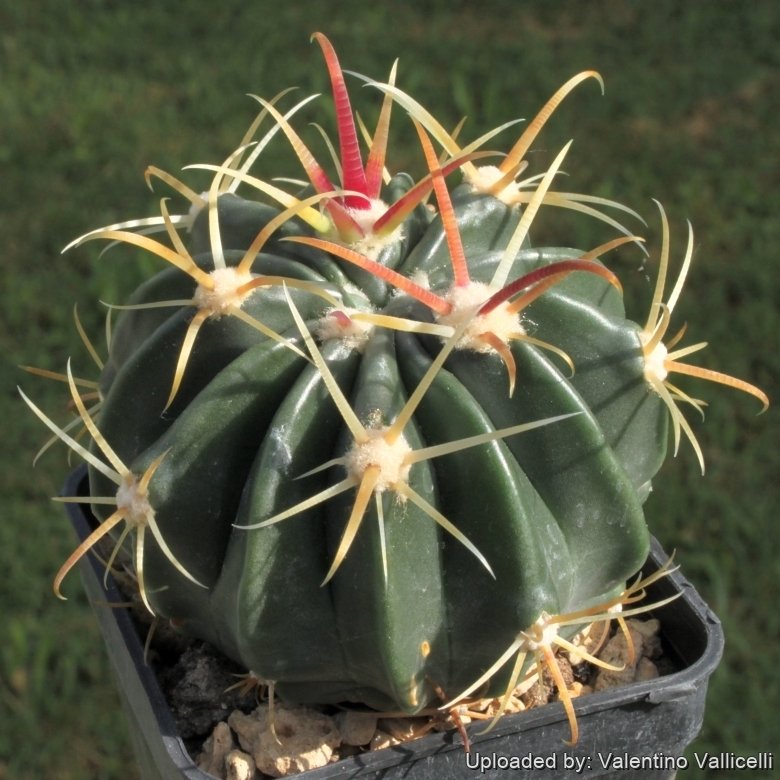 Echinocactus cornigerus (Ferocactus cornigerus) Photo by: Valentino Vallicelli
Origin and Habitat: This species has an extensive distribution in the dryer areas of central and southern Mexico (Coahuila, Nuevo Leon, and south)
Synonyms:
See all synonyms of Ferocactus latispinus
Common Names include:
ENGLISH:
Candy Cactus, Crow's Claw Cactus, Devil's Tongue Barrel
Description: Ferocactus corniger and Ferocactus latispinusSN|4259]]SN|4259]] are synonyms although the wide variety of features in the same species makes it possible to find plants with certain superficial dissimilarities. Ferocactus corniger has very broad flat central spines that - with their prominent red colouring - have earned this plant the name of Devil's Tongue.
Stem: It is globular and solitary attaining a height of about 30 cm in cultivation, although wild specimens may be considerably larger. The plant bodies is greyish to olive green in colour.
Ribs: About eight or so when young and more, up to twenty in number, as the plant grows older, quite prominent and with deep folds between them with the edges ending in a sharp ridge.
Areoles: Deeply recessed into notches at intervals of about 2,5 cm.
Subspecies, varieties, forms and cultivars of plants belonging to the Ferocactus latispinus group
Bibliography: Major references and further lectures
1) Edward Anderson "The Cactus family" Timber Press, Incorporated, 2001
2) James Cullen, Sabina G. Knees, H. Suzanne Cubey "The European Garden Flora Flowering Plants: A Manual for the Identification of Plants Cultivated in Europe, Both Out-of-Doors and Under Glass" Cambridge University Press, 11/Aug/2011
3) David R Hunt; Nigel P Taylor; Graham Charles; International Cactaceae Systematics Group. "The New Cactus Lexicon" dh books, 2006
4) N. L. Britton, J. N. Rose "The Cactaceae. Descriptions and Illustrations of Plants of the Cactus Family" Volume II, The Carnegie Institution of Washington, Washington 1920
5) George Edmund Lindsay, J. Hugo Cota "The taxonomy and ecology of the genus Ferocactus: explorations in the USA and Mexico" Tireless Termites Press, 1996
6)
7) Curt Backeberg "Die Cactaceae, Handbuch der Kakteenkunde:Volume 5, Cereoideae (Boreocactinae)" 1961
8) Hiroshi Hirao "Colour encyclopaedia of cacti" Seibundo Shinkosha, 1979
9) Willy, Cullmann Erich Götz, Gerhard Gröner: Kakteen: Kultur, Vermehrung und Pflege. Lexikon der Gattungen und Arten. Ulmer, Stuttgart edn 5.1984
10) William Davidson "The illustrated directory of house plants: a practical guide to growing over 500 plants for the home" Salamander, 01/Nov/1990
11) Michael Taborsky, Barbara Taborsky "Advances in Ethology", Volume 32 Parey, 1997
12) Brian Lamb "Letts guide to cacti of the world" Letts, 17/Oct/1991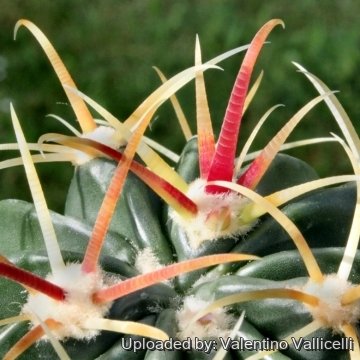 Echinocactus cornigerus
(Ferocactus cornigerus)
Photo by: Valentino Vallicelli
Echinocactus cornigerus
(Ferocactus cornigerus)
Photo by: Valentino Vallicelli
Cultivation and Propagation: Slow growing to start but does well under cultivation. Use very draining soil, water during the aestival growth cycle (this plant need plenty of water) But needs to be avoided wetting the bodies of these plants while they are in sunlight. A wet cactus in the sun light can cause sun burning which can lead to scars or even fungal infections and death.
Needs full sun. Keep dry at 10°C in winter, but can tolerate sporadic light frost.
Propagation: Seeds are the only way of reproducing.
Uses: The "Candy cactus" is used to make sweets. The middle is cored out and soaked in sugar, then chopped up and eaten.