Donate now to support the LLIFLE projects.
Your support is critical to our success.
Since 4 Aug 2013
sponsored link
= Stenocactus anfractuosus (Mart. ex Pfeiff.) A.Berger
Kakteen (Berger) 346. 1929 (A.Berger) Unclear name (Stenocactus crispatus ?)
Accepted Scientific Name: Stenocactus crispatus (DC.) A.Berger
Kakteen (Berger) 346. 1929 (A.Berger)
Echinofossulocactus anfractuosus (Stenocactus anfractuosus) Photo by: Cactus Art
Spines are of variable shape and length, occasionally they are 2.5 cm long.
Origin and Habitat: Mexico (Hidalgo). Between Pachuca and Ixmiquilpan and adjacent areas.
Synonyms:
See all synonyms of Stenocactus crispatus
Accepted name in llifle Database:
Stenocactus crispatus
(DC.) A.Berger
Kakteen (Berger) 346. 1929
Synonymy: 111
Description: Echinofossulocactus (Stenocactus) anfractuosus is a synonym of Stenocactus crispatusSN|3443]]SN|3443]]. The plant found in cultivation are quite variable, and the dissimilarity among seedlings spination may be considerable.
Habit: It is a perennial stem succulent growing solitary (or rarely branching from the base).
Stem: Vimple, somewhat longer than broad, 12.5 cm long, 6 cm in diameter, dull green.
Ribs: Approximately 30, thin, compressed, wavy, each bearing only a few areoles.
Spines. Somewhat curved, straw-colored with brown tips.
Radial spines: 7, the lowermost 4 weaker and smaller, the uppermost 3 (or 2) to 3 cm long, much larger, round or (the central) flattened.
Central spines: Solitary, about 2,5 cm long, light brown.
Flowers: The perianth-segments purple with white margins.
Remarks: Identifying the species of an Echinofossulocactus is as difficult as identifying the genus is easy. For the most part, they tend to look alike, and there are far more names than there are species.
Subspecies, varieties, forms and cultivars of plants belonging to the Stenocactus crispatus group-complex
Bibliography: Major references and further lectures
1) Nathaniel Lord Britton, Joseph Nelson Rose "The Cactaceae: Descriptions and Illustrations of Plants of the Cactus Family" Volume 3, 1922
2) Edward Anderson "The Cactus family" Timber Press, Incorporated, 2001
3) James Cullen, Sabina G. Knees, H. Suzanne Cubey "The European Garden Flora Flowering Plants: A Manual for the Identification of Plants Cultivated in Europe, Both Out-of-Doors and Under Glass" Cambridge University Press, 11/Aug/2011
4) David R Hunt; Nigel P Taylor; Graham Charles; International Cactaceae Systematics Group. "The New Cactus Lexicon" dh books, 2006
5) Hans Hecht "Cacti & succulents" Sterling Pub. Co., 1997
6) Walther Haage "Kakteen von A bis Z" , Quelle & Meyer Verlag: Heidelberg, 1986
7) Urs Eggli "Das große Kakteen-Lexikon" Ulmer, Stuttgart 2005
8) David Hunt "CITES Cactaceae Checklist" Second Edition. 1999
9) Nigel Paul Taylor "A commentary on the genus Echinofossulocactus Lawr." In: Cactus and Succulent Journal of Great Britain. Volume 41, page 35–42 1979
10) Friedrich Ritter "Kakteen in Südamerika Ergebnisse meiner 20jährigen Feldforschungen: Volume 4: Peru" 1981
Stenocactus anfractuosus, Between Gilo and Hualula, Hidalgo.
(Stenocactus anfractuosus)
Photo by: Amante Darmanin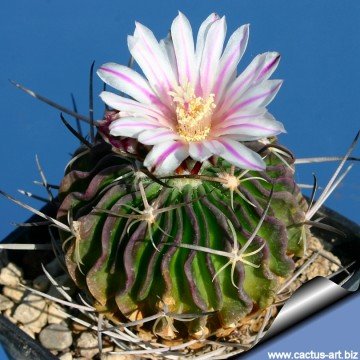 Echinofossulocactus anfractuosus Z194 Ixmiquilpan, Santa Teresa Devotcha, Hidalgo, Mexico
(Stenocactus anfractuosus)
Photo by: Cactus Art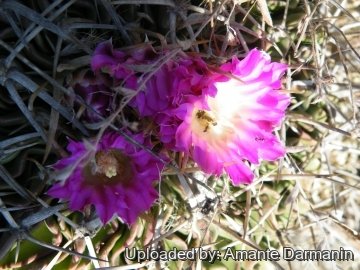 Stenocactus anfractuosus, Between Gilo and Hualula, Hidalgo.
(Stenocactus anfractuosus)
Photo by: Amante Darmanin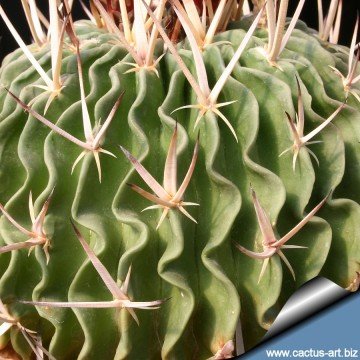 Echinofossulocactus anfractuosus
(Stenocactus anfractuosus)
Photo by: Cactus Art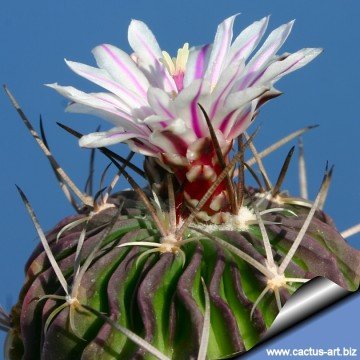 Echinofossulocactus anfractuosus
(Stenocactus anfractuosus)
Photo by: Cactus Art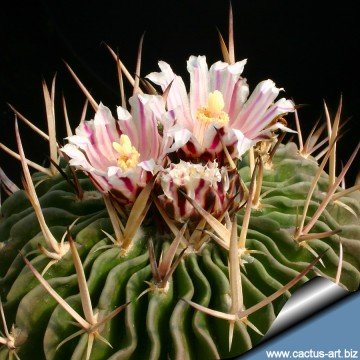 Echinofossulocactus anfractuosus
(Stenocactus anfractuosus)
Photo by: Cactus Art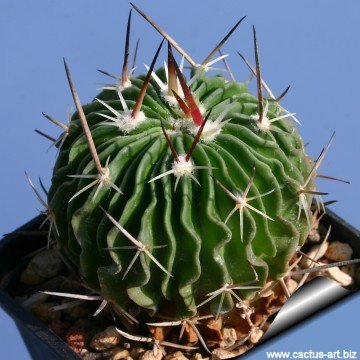 Echinofossulocactus anfractuosus
(Stenocactus anfractuosus)
Photo by: Cactus Art
Send a photo of this plant.
The gallery now contains thousands of pictures, however it is possible to do even more. We are, of course, seeking photos of species not yet shown in the gallery but not only that, we are also looking for better pictures than those already present.
Read More...
Cultivation and Propagation: Stenocactus kellerianusSN|6212]]SN|6212]] is easy to to care cactus, recommended for any collection that needs lots of light with ample airflow.
Growth rate: It is small growing and easy to to care and very willing to flower. Because of it's small size makes a great potted plant specimen, great for beginning collectors.
Soils: It needs regular cacti soil with little organic matter (peat, humus). Good drainage is essential along with good moisture retention properties and adequate nutrients availability.
Repotting: Repotting every other year. As it is especially prone to rot under-pot in a smaller container filled with very porous compost. Use pot with good drainage.
Watering: No absolute schedule can be given for watering as various factors (Soil mixture, containers, drainage, temperature, size of plant) influence water use, so - as a general rule - the soil should be thoroughly wetted at each watering during the active growing season (spring and summer), water when the top 1,5- 2 cm of soil feels dry to the finger. Do not soak the soil during the dormant period. Be careful, excessive watering can make root and/or stem to rots. Make sure there is good air circulation between plants. Care must be taken with watering as they tends to become swollen and untidy in growth habit if given too much water and shade.
Fertilization: During the growing season enrich the soil using a fertilizer rich in potassium and phosphorous, but poor in nitrogen, because this chemical element doesn't help the development of succulent plants, making them too soft and full of water.
Hardiness: Reputedly sensitive to frost , but less so if kept on the dry side prior to, and during, cold weather (hardy to -5° C for short periods). However some warmth throughout the year will increase the grower's success (minimum 5° C during rest season). These cool temperatures develop sturdier plants and encourage the formation of flower buds.
Exposition: Outside bright sun it likes strong sunshine, but is tolerant and do well with light shade during the hot Summer months, inside it needs bright light, and some direct sun. Subject to sunburn if exposed to direct sun for too long. Tends to bronze in strong light, which encourages flowering and heavy wool and spine production.
Uses: It is an excellent plant for container growing. It always looks good and stays small. It look fine in a cold greenhouse and frame.
Pests & diseases: It may be attractive to a variety of insects, but plants in good condition should be nearly pest-free, particularly if they are grown in a mineral potting-mix, with good exposure and ventilation. Nonetheless, there are several pests to watch for:
- Red spiders: Sensitive to red spider mite. Overhead watering is helpful in controlling mites.
- Mealy bugs: Occasionally mealy bugs they develop aerial into the new growth among the wool with disfiguring results, but the worst types develop underground on the roots and are invisible except by their effects.
- Scales: Scales are rarely a problem.
- Rot: Rot it is only a minor problem with cacti if the plants are watered and "aired" correctly. If they are not, fungicides won't help all that much.
Propagation: Seeds (usually) or by the shoots of adult plants (if available). Seeds germinate in 7-14 days at 21-27° C in spring, remove the glass cover gradually as the plants develops and keep ventilated, no full sun for young plants! The seedlings should not be disturbed until they are well rooted, after which they can be planted separately in small pots. Cuttings of healthy shoots can be taken in the spring and summer. Cut the stem with a sharp, sterile knife, leave the cutting in a warm, dry place for a week or weeks (depending on how thick the cutting is). This permits the cut surface to heal, or callus. The callus helps prevent rotting when the cutting is placed in the rooting material. Once the callus forms, the cutting may be inserted in a container filled with firmed cactus potting mix topped with a surface layer of coarse grit. They should be placed in the coarse grit only; this prevents the cut end from becoming too wet and allows the roots to penetrate the rich compost underneath. The cuttings should root in 2 to 6 weeks.