Donate now to support the LLIFLE projects.
Your support is critical to our success.
Pachycereus weberi Photo by: Amante Darmanin
Growing habit, Near san Gabriel Chilac, Oaxaca
Origin and Habitat: Pachycereus weberiSN|7669]]SN|7669]] is endemic to Mexico, where it occurs in the states of Guerrero, Morelos, Oaxaca and Puebla.
Altitude range. It grows at elevations of 600 to 1,500 metres above sea level.
Habitat and ecology: It occurs in tropical deciduous forest. This species can form forests where it is the dominant species, which are known as "cardonales". In the Tehuacán-Cuicatlán Valley, densities of 150 adult individuals/hectare are reported. Pachycereus weberiSN|7669]]SN|7669]] is listed as Least Concern due to a wide distribution, and because it is locally abundant and is not declining at nearly the rate sufficient to qualify for listing in a threatened category. However the species habitat is being destroyed in some areas for cattle ranching and small-scale farming.
Synonyms:
See all synonyms of Pachycereus weberi
Accepted name in llifle Database:
Pachycereus weberi
(J.M.Coult.) Backeb.
Cactaceae (Backeberg) iv. 2152 (1960)
Synonymy: 9
Common Names include:
SPANISH (Español):
Cardón Espinoso, Candelabro, Chico
Description: Pachycereus weberi is a treelike, massive, columnar to candelabra-like cactus, to 11 m (-16) high, much branched from a large trunks to 2 m high.
Derivation of specific name:: The epithet "weberi" honours the botanist Frédéric Albert Constantin Weber.
Stems: Main stem (trunk) up to 1.8(-2) metres tall with persistent areoles and spines. Areoles large (2-2.5 cm in diameter) each with up to 50 spines 1-11 cm long. Branches, numerous, erect, blue-green, glaucous, to 12 cm in diameter (up to 40 cm at base) branching from the middle. Ribs 8-11, rounded, 3.5-4.5 cm in height. Areoles 1-2 cm long, 0.5-1.5 cm wide, elliptical-circular 1.0-4.5 cm apart with a longitudinal groove.
Spines: Acicular, flattened or angular (more needle-like and flexible toward the tip of branches), whitish-grey. Base and apex black
Central spine: One, flattened laterally, blackish, (1.5-)5.5 -6(-10) cm long.
Radial spines: 6-12, reddish brown to black, (0.5-)2-3(3.5) cm long.
Flowers: The flowers open at night and are borne laterally near the apex of the stems (fertile zone undifferentiated, no pseudocephalium evident). They are funnel-shaped, yellowish white, to 7-10(-14) cm long. Pericarpels and floral tubes with small scales and long yellowish brown hairs from their axils. Outer perianth segments, white-yellowish 1-2.5(-3.5) cm long and 1-2.5 (-3) cm wide spatulate, apex slightly cleft or retreat, apiculate. Inner perianth segments yellowish-white-2-3 cm long, 1-1.5 cm wide, lanceolate, apex slightly cleft, apiculate. Stamens white-yellowish 0.5-1(-1.2) cm long, filaments 2-7 mm long. Style 4-5 cm long, light yellow. Stigma lobes 8-12, red-purple c. 1 cm long.
Fruits: Oblong, 3.5-7 cm, 3-6 cm wide, red-purple, semi-fleshy, dehiscing often into four segments, pulp reddish purple, edible, bracts 3-5 mm long, with abundant, but deciduous yellowish bristly spines 0.5-2 (-2.5) cm long.
Seeds: Pyriform 2.5-3.5 mm long.
Chromosome number: 2n = 22.
Bibliography: Major references and further lectures:
1) Edward Anderson "The Cactus family" Timber Press, Incorporated, 2001
2) Hernández, H.M., Gómez-Hinostrosa, C. & Cházaro, M. 2013. Pachycereus weberi. The IUCN Red List of Threatened Species 2013: e.T151785A561187. http://dx.doi.org/10.2305/IUCN.UK.2013-1.RLTS.T151785A561187.en. Downloaded on 14 February 2017.
3) Hunt, D., Taylor, N. and Charles, G. (compilers and editors). "The New Cactus Lexicon." dh Books, Milborne Port, UK. 2006.
4) Curt Backeberg: "Die Cactaceae: Handbuch der Kakteenkunde". 2. Auflage. Band IV. Gustav Fischer Verlag, Stuttgart New York 1984
5) Arias, M.S., Gama, S. and Guzmán, U. "Flora del Valle de Tehuacán-Cuicatlán. Fasículo 14. Cactaceae A.L. Juss." Instituto de Biología, UNAM, Mexico.1997.
6) Casas, A., Caballero, J. and Valiente-Banuet, A. "Use, management and domestication of columnar cacti in south-central Mexico: A historical perspective". Journal of Ethnobiology 19: 71–95. 1999.
7) Guzmán, U., Arias, S. and Dávila, P. "Catálogo de Cactáceas Mexicanas". UNAM-CONABIO, Mexico City. 2003.
8) Jiménez-Ramírez, J., M. Martínez-Gordillo, S. Valencia-Ávalos, R. Cruz-Durán, J.L. Contreras-Jiménez, E. Moreno-Gutiérrez & J. Calónico-Soto. 2003. "Estudio florísitco del municipio Eduardo Neri, Guerrero". Anales del Insituto de Biología. Serie Botánica 74: 79-142.
9) Luna-Morales, C. del C. , J. Rogelio-Aguirre. "Clasificación tradicional, aprovechamiento y distribución ecológica de la pitaya Mixteca en México". Interciencia 26(1): 18-24.2001.
10) Pérez-Negrón, E. & A. Casas. "Use, extraction rates and spatial availability of plant resources in the Tehuacán-Cuicatlán Valley, Mexico: The case of Santiago Quiotepec", Oaxaca. Journal of Arid Environments 70(2): 356-379 2007..
11) Téllez-Valdés, O. and P. Dávila. "Protected areas and climate change: a case study of the cacti of the Tehuacán-Cuicatlán biosphere reserve". Conservation Biology 17(3): 846-853. 2003.
12) Valiente-Banuet, A., A. Casas, A. Alcántara, P. Dávila, N. Flores-Hernández, M.C. Arismendi, J. Ortega-Ramírez and J.A. Soriano. "La vegetación del Valle de Tehuacán-Cuicatlán". Bol. Soc. Bot. Mex. 67: 25-75. 2000.
13) Valiente-Banuet, A., A. Rojas-Martínez, A. Casas, M. del C. Arizmendi & P. Dávila. "Pollination biology of two winter-blooming giant columnar cacti in the Tehuacán Valley, central Mexico". Journal of Arid Environments 37: 331-341. 1997.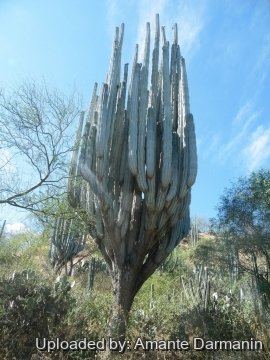 Growing habit, Near Cuicatlan, Oaxaca, Mexico.
Photo by: Amante Darmanin
Pachycereus weberi, Near san Gabriel Chilac, Oaxaca.
Photo by: Amante Darmanin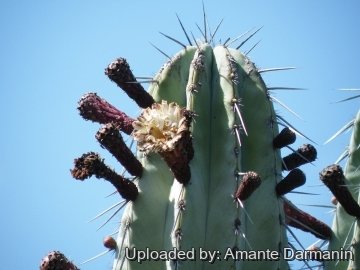 Pachycereus weberi, Near san Gabriel Chilac, Oaxaca.
Photo by: Amante Darmanin
Send a photo of this plant.
The gallery now contains thousands of pictures, however it is possible to do even more. We are, of course, seeking photos of species not yet shown in the gallery but not only that, we are also looking for better pictures than those already present.
Read More...
Cultivation and Propagation: It is a fairly easy plant to grow. During the summer it is best to keep the plants outside where the temperature can rise to over 30 C with no harm to the plant. Furnish good drainage and use a an open and free draining mineral compost that allows therefore roots to breath. They like only a short winter's rest and should be kept almost completely dry during the winter months, If the soil is allowed to be dry for too long root loss could follow but equally the same result would occur if the plants are both wet and cold. From March onwards the plant will begin to grow and watering should be increased gradually until late May when the plant should be in full growth.
Water regularly during the summer so long as the plant pot is allowed to drain and not sit in a tray of water. During hot weather you may need to water the plants more frequently so long as the plant is actively growing. From late September watering should be reduced to force the plant to go in to a state of semi dormancy, by October you should be back in to the winter watering regime.
Need full sun avoiding only the harshest summer sun, if kept too dark they may become overly lush and greener and could be prone to rotting due to over watering.
Feeding may not be necessary at all if the compost is fresh then, feed in summer only if the plant hasn't been repotted recently. Do not feed the plants from September onwards as this can cause lush growth which can be fatal during the darker cold months. Grown specimens resist to -4°C for a short time, but it is best to keep above 0° C to avoid ugly spots on the plant epidermis.
Traditional uses: In the Mixteca Baja and Tehuacán Valley the seeds of Pachycereus weberiSN|7669]]SN|7669]] are used to make tortillas and mole, the fruit pulp is fermented and they make zacateras. The plants are used for shade, this is classified as a silvicultural form of management of wild populations. It is also used as fodder, for house construction and fuel wood. In Santiago Quiotepec, Oaxaca, 88% of households consume fruits of this species harvested from wild populations and it is commercialized in local markets.
Propagation: By seeds or stem cuttings from adult plants.