Donate now to support the LLIFLE projects.
Your support is critical to our success.
Since 4 Aug 2013
sponsored link
Echinocereus rigidissimus Photo by: Valentino Vallicelli
GL501 Peloncillo Mts., NM. A jewel of the Sonoran Desert, this species has a tight lattice of tiny spines that hide the body of the plant.
Origin and Habitat: Echinocereus rigidissimusSN|8509]]SN|8509]] has a very wide range in USA (south-eastern Arizona, south-western New Mexico), and Mexico (northern Sonora, north-western Chihuahua). The species is abundant throughout its range.
Altitude range: 1200-2000 metres above sea level.
Habitat and Ecology: Grows on gravely hills, steep canyon sides, rocky benches in semidesert grasslands, oak woodlands, interior chaparral, mostly on igneous limestone substrates. The reported habitat preference for limestone is erroneous; this species is a calcifuge, preferring soils poor in lime and usually acid. There are no major threats for the species, however, land use change is affecting some subpopulations.
Synonyms:
See all synonyms of Echinocereus rigidissimus
Common Names include:
ENGLISH:
Arizona Rainbow Hedgehog Cactus, Sonorian Rainbow Cactus, Arizona Rainbow Cactus, Rainbow Hedgehog Cactus
SPANISH (Español):
Cabeza de Viejo
Description: Echinocereus rigidissimusSN|8509]]SN|8509]] is a low growing solitary (very rarely few branched) cactus. This species is a great favorite in collections, although it does not last long. Each year's growth is differentiated by differently coloured band of spines, hence the common name "Rainbow Cactus". Two subspecies are recognized, the nominate form and Echinocereus rigidissimusSN|8509]]SN|8509]] subs. rubispinus (G.Frank & A.B.Lau) N.P.Taylor.
Stem: Erect, rigid, short cylindric 6 to 20 (-30) cm tall, 4-11 cm wide, usually hidden by the closely set interlocking spines.
Ribs: 18-23(-26), low, slightly tuberculate, straight to somewhat undulate.
Areoles: Approximate almost touching or up to 2 cm apart, elliptic, 5 to 6 mm long.
Spines: No central spines.
Radial spines: 16 to 22 stiff, rigid, pectinate, lying flat on the surface of the plant, straight or slightly curved toward stem, grey, reddish brown, bright pink or pink-and-white, somewhat translucent, arranged in horizontal alternating bands of colour around stem, 5-10 mm long. Mature plants with a good light will generally have red to deep pink spines that band the stems.
Flowers: Bright pink with much lighter white throat, 6-7 cm long, 6-10 cm in diameter when expanded. Perianth-segments oblong, 3 to 4 cm long, acute. Stamens
numerous, shorter than the style. Stigma lobes approx. 13 green. Areoles on ovary somewhat floccose, very spiny.
Blooming season: It blooms in late spring summer (May-July).
Fruits: Globose, greenish or dark purplish brownish very spiny, 3 cm in diameter, pulp white. Fruiting 3 months after flowering.
Seeds: Black, tuberculate, 1,5 mm in diameter.

Subspecies, varieties, forms and cultivars of plants belonging to the Echinocereus rigidissimus group
Notes: E. rigidissimus, lacking central spines, belongs to the Echinoceeus reichenbachii group, unrelated to the superficially similar Echinocereus pectinatusSN|16478]]SN|8503]] group, which has at least microscopically visible stubs of central spines. It sometimes occurs with Echinocereus pseudopectinatusSN|8503]]SN|16478]] but without evidence of hybridization.
Bibliography: Major references and further lectures
1) James Cullen, Sabina G. Knees, H. Suzanne Cubey "The European Garden Flora Flowering Plants: A Manual for the Identification of Plants Cultivated in Europe, Both Out-of-Doors and Under Glass" Cambridge University Press, 11/Aug./2011
2) David Hunt, Nigel Taylor "The New Cactus Lexicon" DH Books, 2006
3) Edward F. Anderson "The Cactus Family" Timber Press, 2001
4) Nathaniel Lord Britton, Joseph Nelson Rose "Cactaceae: Descriptions and Illustrations of Plants of the Cactus Family" Volume 3, 1922
5) Paul S Martin, Davis Yetman, Mark Fishbein, Phil Jenkins, Thomas R. van Devender, & Rebecca K. Wilson "Gentry's Río Mayo Plants: The Tropical Deciduous Forest & Environs of Northwest Mexico" University of Arizona Press, 1998
6) Natt Noyes Dodge, Jeanne R. Janish "Flowers of the Southwest Deserts" Western National Parks Association, 01/January/1985
7) Del Weniger "Cacti of the Southwest: Texas, New Mexico, Oklahoma, Arkansas, and Louisiana" University of Texas Press, 1969
8) Terry, M. & Heil, K. 2013. Echinocereus rigidissimus. The IUCN Red List of Threatened Species. Version 2015.2. <www.iucnredlist.org>. Downloaded on 25 July 2015.
Echinocereus rigidissimus
Photo by: Valentino Vallicelli
Echinocereus rigidissimus
Photo by: Valentino Vallicelli
Echinocereus rigidissimus
Photo by: Valentino Vallicelli
Echinocereus rigidissimus
Photo by: Valentino Vallicelli
AG60 (Alan Gilmore) Nogales, Santa Cruz County, Arizona, USA
Photo by: Valentino Vallicelli
Growing habit. Mexico.
Photo by: Agócs György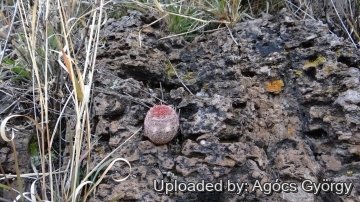 Nestled on the rock. Mexico.
Photo by: Agócs György
Echinocereus rigidissimus
Photo by: Cactus Art
Cultivation and Propagation: Echinocereus rigidissimusSN|8509]]SN|8509]] is not the easiest cactus to grow, but when grown well it is very attractive. Rot easily it is sensitive to overwatering (rot prone), so perfect soil drainage is a must.
Soil: It prefer a neutral to slightly acidic compost with plenty of extra grit.
Watering: Best if watered with rain water and given an occasional tonic of sequestrated iron.
Exposition: In the summer they need an airy location in bright sun; well watered when it's hot. To achieve the best spine colours give these plants lots of sun. In the winter light, cool, and absolutely dry conditions.
Hardiness: Very cold resistant above approx -12° C or less for short periods of time. In mild climate it may grow well when planted freely outside in well-drained soil.
Propagation: Seeds.
Your Photos
---

by Cactus Art
by Valentino Vallicelli
by Cactus Art
by Valentino Vallicelli
by Cactus Art