Donate now to support the LLIFLE projects.
Your support is critical to our success.
Since 4 Aug 2013
Habit at Garden of Eden Keanae, Maui, Hawaii (USA). March 30, 2011.
Origin and Habitat: Endemic to Madagascar. Known with certainty only from a single location in uplands of northwestern Madagascar near between Ambilobe and Maevatanana but there is photographic evidence of occurrence at other sites (extent of occurrence and area of occupancy are both under 4 km²). It is aslo widely cultivated worldwide in the tropics and sub-tropics.
Altitude range: 100-150 metres above sea level.
Habitat: Madagascan rainforest with rainfall ranging from 1200 to 2500 mm per annum. The palm is very rare, only five trees have been recorded in the field, and there is continuing decline in the habitat and in the number of mature individuals due to a variety of threats. The seeds of this species are harvested from the wild for the international horticultural trade. The trees are cut-down to harvest the seeds.
Synonyms:
Common Names include:
ENGLISH:
Teddy bear palm, Red-stemmed triangular palm, Redneck palm
FRENCH (Français):
Palmier à col rouge de Madagascar, Palmier col rouge de Madagascar
GERMAN (Deutsch):
Teddy-Palme, Teddybär Palme, Rotnacken Palme, Rotnackenpalme
Description: Dypsis leiptocheilos is a medium sized palm and should reach a maximum height 7-10 m, it is one of the most beautiful and unusual looking palms of Madagascar with a very distinctive reddish brown tormentum on the crownshaft that resembles a teddy bear's fuzz and a white waxy trunk.
Crownshaft: Covered in dense reddish brown velvet like hair.
Trunk: Single, ringed (bamboo like) green which is at first covered in a white powder substance.
Leaves: Pinnate (feather shape)dark green up to 3 m long ; Leaflets very closely spaced along the rachid, gorgeous drooping, near-vertical, with a wilted aspect.
Flowers: Yellow
Bloom time: Spring, Summer, Autumn.
Fruit: 1,2 cm long, and black at maturity.
Remaks: Often confused with another palm also known as the "teddy bear" or "Redneck " palm Dypsis lastelliana but it is faster and less difficult to grow, with little more horizontal leaflets and with a much longer crownshaft than Dypsis lastelliana, or at least the old leaf bases retain the brown fuzz a lot longer giving the effect of a longer crownshaft. At first glance it may also looks somewhat closer to the Archontophoenix purpurea, but with a lot more drought tolerance once established.
Bibliography: Major references and further lectures
1) Dennis Victor Johnson "Palms: Their Conservation and Sustained Utilization : Status Survey and Conservation Action Plan" IUCN, 1996
2) Forest & Kim Starr Dypsis leptocheilos (Teddy bear palm). Plants of Hawaii. <http://www.starrenvironmental.com>. Downloaded on 21 August 2014.
3) J. Dransfield and H. Beentje. "Palms of Madagascar" 1995
4) Rakotoarinivo, M. & Dransfield, J. 2012. Dypsis decaryi. The IUCN Red List of Threatened Species. Version 2014.2. <www.iucnredlist.org>. Downloaded on 28 August 2014.
5) Don Ellison, Anthony Ellison "Cultivated Palms Of The World" UNSW Press, 01/May/2001
6) Robert Lee Riffle, Paul Craft "An Encyclopedia of Cultivated Palms" Timber Press, Portland 2007
7) Gilman, E. F. "Trees for urban and suburban landscapes." Albany, NY: Delmar Publishers. 1997
8) Palmpedia contributors. "Dypsis decaryi ." Palmpedia, PALM ENCYCLOPEDIA, <http://www.palmpedia.net> Downloaded on 26 Aug. 2014
9) Jones, D. L. "Palms throughout the world." 1994Floridata contributors. "Dypsis cabadae ." Floridata, <http://www.floridata.com> Accessed on 26 Aug. 2014
10) " Dypsis decaryi ." PACSOA Palms and Cycads wiki , <http://www.pacsoa.org.au> Accessed on 26 Aug. 2014
Crown at Iao Tropical Gardens of Maui, Maui, Hawaii (USA). May 22, 2012.
Photo by: Forest Starr & Kim Starr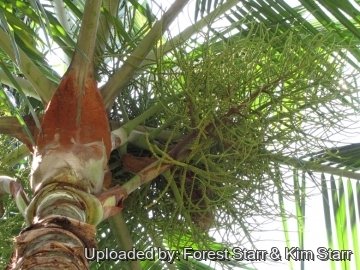 Crown and flower stalk at Iao Tropical Gardens of Maui, Maui, Hawaii (USA). May 22, 2012.
Photo by: Forest Starr & Kim Starr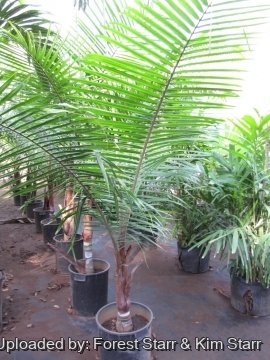 Habit at Resort Management Group Nursery Kihei, Maui, Hawaii (USA). February 09, 2011.
Photo by: Forest Starr & Kim Starr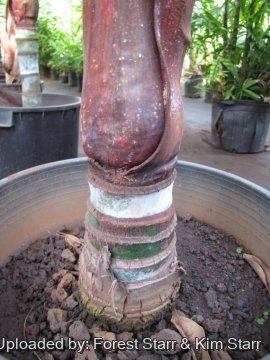 Trunk at Resort Management Group Nursery Kihei, Maui, Hawaii (USA). February 09, 2011.
Photo by: Forest Starr & Kim Starr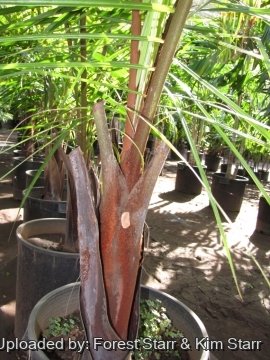 Furry trunk at Resort Management Group Nursery Kihei, Maui, Hawaii (USA). February 09, 2011.
Photo by: Forest Starr & Kim Starr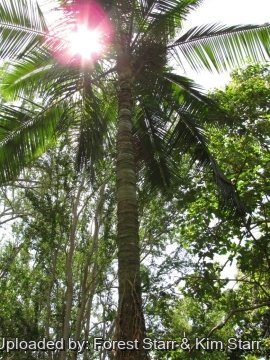 Habit at Iao Tropical Gardens of Maui, Maui, Hawaii (USA). May 22, 2012.
Photo by: Forest Starr & Kim Starr
Cultivation and Propagation: It is easy to grow and best suited to warm subtropical and tropical regions and will truly be an eye-catcher immediately upon planting. It can be grown indoors as a juvenile. It is is a slow to relatively fast grower depending on cultural practices and climate condition. As it is one of the more impressive palm species, it is the one of the more grown ornamental palm in the tropics.
Soil: It is adaptable to many kinds of well drained soils which should be slightly acidic.
Fertilization: Fertilize regularly in spring and summer, mulch well but keep mulch away from the trunk to prevent rot; use a perfect fertilizer diet specifically formulated for palms including all micro nutrients and trace elements or slow release fertilizer applied during the growing season, or according to package directions. In soil with hight pH (alkaline) use an acidifying water soluble product, as well as several treatments of magnesium sulphate.
Water Requirements: This species prefers hot humid summers so give regular and abundant water (Some climates require extra watering and care), do not let dry out between waterings. however it does not want to sit in continually wet, mucky soil. The roots and lower trunk can rot if soil is kept too moist.
Light: It prefers bright sunny locations, but it also does well in low-light conditions.
Aerosol salt tolerance: It is moderately salt tolerant and may be grown near the sea if given some protection (behind a dune, building, etc.)
Wind resistance: It is moderately wind tolerant, but must be protected from strong winds and from drying desert winds. However this palm look it's best if grown out of the wind, it has a lovely green bamboo like trunk which is at first covered in a white powder, the better protected the palm, the longer the white powder will remain giving the trunk almost a white appearance, if planted in the open in the full sun both the white powder and the green bamboo look will soon be lost.
Hardiness: This palm has tolerated temperatures down to -2ºC. However it can be difficult to get it to look its best without a great amount of heat and sun. (USDA Zone 9b-11).
Pot culture: Grows well in deep containers filled with well-draining soil. Water when top cm of soil feels dry.
Ornamental uses: It is used in gardening and landscaping and it is very well suited to line the streets of tropical cities and towns. It is also excellent in containers.
Propagation: By seed that germinate in 2–4 months.