Donate now to support the LLIFLE projects.
Your support is critical to our success.
Since 4 Aug 2013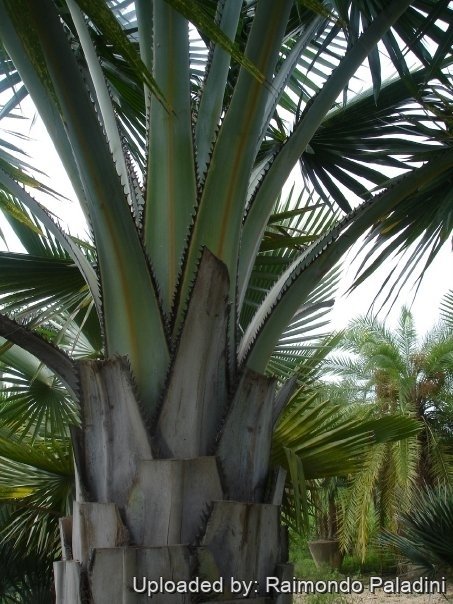 Copernicia fallaensis Photo by: Raimondo Paladini
Origin and Habitat: Cuba (Caribbean, Southern America). It was once widely diffused in the the centre of the island (Camagüey, Ciego de Ávila and Villa Clara provinces), but now only survive a tiny community of less than 100 mature near the town of Falla (Ciego de Ávila province)
Habitat: Semideciduous forest and secondary savannah in low-laying regions on rich, clayey soils at at a few metres over the sea level.
Ecology: Pollination is carried by insects. The fruits are eaten by fruit bats, which disperse the seeds.
Synonyms:
Common Names include:
ENGLISH:
Giant Yarey Palm, Copernicia Palm, Falla Copernicia
FRENCH (Français):
Copernice de Falla
SPANISH (Español):
Yarey macho (Cuba), Yarey de Falla (Cuba), Yarey (Cuba)
Description: Copernicia fallaensis is a huge monoeicious palm and the biggest growing and most magnificent Copernicia, and maybe the fastest growing. It is surely one of the most stately of all palms. Mature plants are a truly awe-inspiring sight that is not easily forgotten. Seen against the bright sky, these form a mesmerizing pattern.
Trunk: Massive, concrete-pole-like, up to 20 m tall, with a diameter of 80-90 cm, smooth, light grey, thickest near the middle.
Crown: Huge, rounded, symmetrical, consisting of many enormous leaves.
Leaves: Symmetrical, very large, costa-palmate, perfect fan-shaped; The hastula is up to 8.5 cm long. Leafblade orbicular to rhomboid-shaped, very evenly divided into about 120 very stiff, rigid, waxy blue green or silvery-blue, segments long, in the central part, up to 2 m, united at the base for about two thirds of the length. Costa up to 30 cm long. Petiole robust, up to 1,7 m long, and 7 cm broad, flat silvery-blue almost white with (or without) a orange tinge on the margins and furnished with thorns at the margins, in particular at the base.
Inflorescences: Produced among the leaves, stretching out a little from the top, up to about 3,6 m long much ramified. The rachillae (flower-bearing branches) are 4 or 5 cm long. Flowers whitish hermaphrodite solitary and very close together.
Blooming season: Flowering occurs in May and June (Cuba), coinciding with the onset of the first rainy season. This palm takes more than 20 years to start fruiting.
Fruits: Globular, blackish brown when ripe, about 2,2 cm long and 1,8 cm in diameter and containing one seed only. The fruits develop in four months, an they are mature in late September and early October, coinciding with a second rainy season.
Remarks: This species is similar to Copernicia baileyana, particularly when young, but it is more robust and distinguish from it for the overall leaf shape more silvery-blue and a Diamond shaped in mature palm and for the petiole much less orange in the petiole (if any). However the overall difference in size between these two species is not apparent unless you see them side by side. Leaf shape also has a lot of overlap. C. baileyana has a more rounded frond and a shorter rachis (3-10 cm long). C. fallaensis has a more diamond shape frond and slightly longer rachis (about 10 cm). Leaf shape differences become more apparent in mature palms similar to differences in rachis length. While Copernicia baileyana is a fantastic palm in its own right, Copernicia fallaensis tops it with ease.
Bibliography: Major references
1) León, Hermano. 1936. "Contribución al estudio de las palmas de Cuba: Género Copernicia II." Mem. Soc. Cub. Hist. Nat. "Felipe Poey" 10: 203–226.
2) Dahlgren B. E. and S. F. Glassman. 1963. "A revision of the genus Copernicia. 2. West Indian species." Gentes Herbarum 9: 42–232.
Cultivation and Propagation: This is an excellent palm adapt to a wide range of conditions in the tropics and subtropicas, and does well in cultivation. It is slow growing, especially as a seedling, but once established will grow quite fast.
Soil requirements: It is not particular for the soil, provided perfectly draining and fertile even if it prefers the alkaline or neutral ones. However it is widely adaptable and can even thrives in poor soils, but do better when grown in nutrient-rich soils with regular watering. Avoid those soils that are soggy.
Watering: It may resist to drought periods, but it profits of regular watering especially in the warmest periods. Don't let sit in water.
Light: It adapts well to full sun or half sun.
Fertilization: Need a perfect fertilizer diet including all micro nutrients and trace elements. It is subject to potassium deficiency.
Aerosol salt tolerance: It is moderately salt tolerant, but does a lot better inland then it does on the coast.
Hardiness: USDA Zones 10-12. Minimum Tolerated Temperature is about 0 °C, or little less, just for a very short time. It may also survive in the warmest Mediterranean micro-climate but growth is very slow.
Wind hardiness: It can tolerate sweltering heat and moderately windy conditions.
Ornamental use: It is the most imposing of all the Copernicia, of particular ornamental and landscape value due to the robust whitish cylindrical stems and the thick top with the rigid leaves; ideal for lining wide avenues, or utilized as isolated specimen or in group, in parks and very wide gardens in the tropical and subtropical climate zones.
Traditional uses: The large leaves of this palm are traditionally used by the farmers to made hats, brushes, baskets and many other articles. The leaves are removing for thatch too. When the palm was abundant, this traditional use was not a threat, but now the largest remaining population in the type locality is only of 84 adult trees, and overexploitation is the principal threat to this species.
Disease & Pests: It is quite resistant to pests but may require regular fertilization to prevent yellowing caused by potassium deficiencies; protect against frost.
Propagation: It reproduces by seed which germinates in 2-3 months; the growth initially is rather slow. The seeds germinate very easily when fresh. If not properly treated, the seed does not have long shelf life.