Donate now to support the LLIFLE projects.
Your support is critical to our success.
Since 4 Aug 2013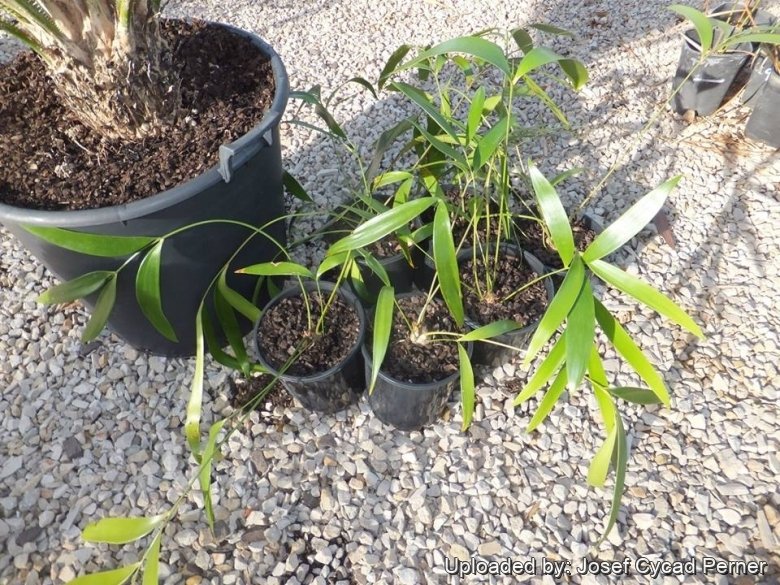 Zamia pseudoparasitica Photo by: Josef Cycad Perner
Zamia pseudoparasitica at Cycad International.
Origin and Habitat: Zamia pseudoparasitica is endemic to Panama where it occurs in the provinces of Bocas del Toro, Coclé, Colon and Veraguas.
Altitude range: Between near sea level and 1000 metres.
Habitat and Ecology: Zamia pseudoparasitica occurs in trees on steep slopes in coastal panamian rainforest and cloudforest on the Atlantic side. It appears to be limited to primary forest, perhaps because it cannot become established in secondary forest. It is the only truly epiphytic cycad and is not found as a terrestrially growing plant. It hangs from branches by the tap and lateral roots and generally is found from 7 to 20 meters above the ground on large trunks and in lower crotches of large canopy trees. This species is known from numerous locations in its distribution range and is affected by habitat destruction as a result or road building, building of habitations and as a result of logging. Seeds are disseminated by bats. The seeds that pass through the bat digestive system are deposited on tree branches where they grow. It is thought that the seeds which land on the ground are quickly eaten by rats.
Synonyms:
See all synonyms of Zamia pseudoparasitica
Accepted name in llifle Database:
Zamia pseudoparasitica
J.Yates
Bot. Voy. Herald [Seemann] 202 (1854)
Synonymy: 4
Description: Zamia pseudoparasitica is one of the two known species of Zamia that are epiphytic, growing on the branches of forest trees (there is said to be another species in Ecuador). It is a real oddity with a short unbranched trunk that holds a crown of up to 10, usually drooping, flat, yellowish-green leaves to 3 m long. Its leaves, cones, and seeds are among the largest among Zamias.
Trunk: Very short, unbranched at first erected but as the plant becomes larger and heavier it begins to hang down, and the stem becomes U-shaped.
Roots: Uniquely among cycads coralloid roots form thick clusters 4-10 cm in diameter.
Leaves: Very large leathery, 1-3 (or more) m long with smooth, sickle-shaped spineless leaflets.
Seeds: The seeds are large and turn yellow or orange upon maturity, and release a very pungent odour.
Bibliography: Major references and further lectures
1) Wikipedia contributors. "Zamia pseudoparasitica." Wikipedia, The Free Encyclopedia. Wikipedia, The Free Encyclopedia, 14 Apr. 2014. Web. 31 Aug. 2014.
2) Taylor, A. 2010. "Zamia pseudoparasitica." The IUCN Red List of Threatened Species. Version 2014.2. <www.iucnredlist.org>. Downloaded on 31 August 2014.
3) Schuster, Julius. "Das Pflanzenreich (Engler)" [Heft 99] 4, Fam. 1: 142, as "Zamia pseudoparasitica var. latifolia" 1932
4) Correa A., M.D., C. Galdames & M. Stapf. "Catálogo de las Plantas Vasculares de Panamá". Smithsonian Tropical Research Institute, Panama 2004
5) Stevenson, D. W.. "The Zamiaceae in Panama with comments on phytogeography and species relationships." Brittonia 45(1): 1–16. 1993
6) Clayton York, "Utopia Palms & Cycads", Palm & Cycad Society of Australia, Zamia pseudoparasitica
7) Stevenson, D. W., R. Osborne & J. Hendricks. "A world list of cycads." in: Memoirs of The New York Botanical Garden 57: 200–206.1990.
Cultivation and Propagation: Zamia pseudoparasitica is very abundant in its native habitat, but very uncommon in cultivation. It is a rarity among rare plants, the only truly epiphytic cycad. In a humid, tropical climate, it will thrive in the garden right on a large, established tree. In all other climates it will do best in a wire or a large orchid basket.
Exposure: It prefers a protected spot out of full sun. In a dark location the plant will gradually weaken and wither. In winter, find a luminous place.
Substrate: Because Zamia pseudoparasitica is epiphytic, it needs a very different potting mix to normal Zamias. It must be rooted in a coarse, very open and freely draining mixture, such as one commonly used for epiphytic orchids containing pine bark, sphagnum, peanut shells, tree fern fibers, cork pieces, charcoal, perlite, pumice or styrofoam, but any material can be used that is not toxic to the plant. Some materials include, peanut shells, cork, wine corks, shredded tires, cypress chips, redwood fibre, coconut fibre, various plastic and foam pieces etc. The important thing is you find a mix that will hold the plant in position and keep moisture and air around the roots.
Repotting: It must be repotted before the mixture breaks down, taking great care of the brittle roots.
Watering: Just like for carnivorous plants, water them with rainwater or demineralized water. You can mist the leaves once a week, and make sure the plant gets dry quickly, whilst in winter with low temperatures it is better to leave it quite dry for avoiding possible rottenness.
Fertilizer: The plant can grow without no fertilizer, because they make use of small traces of nutrients in the air, but you can apply a mild solutions (one-quartet strength) of foliar fertilizer at 3-month intervals to both garden and container plants.
Hardiness: It may tolerate cool periods but not a freeze and benefiting from a tropical or subtropical climate.
Propagation: Seeds are germinated on peat moss. Seeds need light to germinate.