Donate now to support the LLIFLE projects.
Your support is critical to our success.
Agave americana (Century Plant)
With its dramatic powdery blue leaves it is undoubtably the most tolerant of all the Agaves which explains its wide distribution.
Origin and Habitat: This species is probably the Agave most commonly grown as an ornamental plant cultivated worldwide. Because of extensive propagation, its exact origin is uncertain although it probably came from arid areas of Mexico, and the United States in New Mexico, Arizona and Texas. It also has escaped cultivation and become established worldwide in the Mediterranean region of Europe, America, Africa, India, Sri Lanka, Mauritius and Australia.
Synonyms:
See all synonyms of Agave americana
Common Names include:
ENGLISH:
Century plant, American aloe, Blue Agave, Spiked Aloe, Flowering Aloe, American Centaury, American Agave, American Century Plant, Century Plant
ARABIC ( لعربية ):
أغاف أمريكي
ARAGONESE (Aragonés):
Pita, Pino, Captus
ASTURIAN (Asturianu):
Cactus
BASQUE (Euskara):
Zurda, Agabe mexicar
CATALAN (Català):
Pitera, Atzavara, Punyalera, Piterassa, Pitalassa, Pita americana, Maguei, Pita, Etsevara de tancas, Edzebara, Filiagulla, Fil y agulla, Figuerassa, Donarda, Atzavara de tanques, Atzabara, Atsavara, Atsabara, Arxavara, Arcebara, Agave, Adzabara, Adsevara
CHINESE (中文):
龙舌兰, 华严
DUTCH (Nederlands):
Honderdjarige Aloë, Almindelig Agave
ESTONIAN (Eesti):
Ameerika agaav
FINNISH (Suomi):
Jättiagaave
FRENCH (Français):
Agave Américain
GALICIAN (Galego):
Piteira, Pita, Herba dos pelados
ITALIAN (Italiano):
Agave Americana
JAPANESE (日本語):
アオノリュウゼツラン
MAJORCAN:
Platanera bord, Pitra, Pita, Etsevara, Donardera, Adzebara, Adzabara
PERSIAN (فارسی):
خنجری, آگاوه امریکانا
POLISH ( Polski):
Agawa Amerykańska
PORTUGUESE (Português):
Piteira, Pita, Agave, Piteira-de-boi, Piteira-brava
ROMANIAN (Română):
Agavă
RUSSIAN (Русский):
Агава Американская
SICILIAN (Sicilianu):
Centuspati
SPANISH (Español):
Maguey, Pita, agave amarillo, Zabilla, Zábila, Sábila, Pitón, Pitera, Pitacón, Pitaco, Pitaca, Pita común, Javila, Metl, Figarasa, Donarda, Cimbara, Cardón, Cabuyá, Azabara, Atzavara, Atzahara, Arzabarón, Arzabara, Alzavara, Alzabara, Aloe americano, Aloe americana, Aloe, Alcimara, Azabarón, Slcimarón, Alcibarón, Alcibara, Agave, Acíbara, Maguey americano
SWEDISH (Svenska):
Agave
TURKISH (Türkçe):
Amerika sabırı
UKRAINIAN (Українська):
Агава американська
VALENCIAN (Valencià):
Pitera borda, Pitera, Pita, Atzavara
Description: Agave americanaSN|162]]SN|162]], the century plant, is a medium to large, solitary or freely suckering and sometimes seeding agave with a basal rosette up to 3 m wide. Agave americanaSN|162]]SN|162]] is the best-known species. The leaves are often reflexed above the middle, and this is a characteristic feature of the species. It is a very polymorphic species cultivated worldwide in many variants, esp. in winter-rainfall climates. Two subspecies and two varieties of A. americana are recognized by the World Checklist of Selected Plant Families: Agave americanaSN|162]]SN|162]]. subsp. americana, Agave americanaSN|162]]SN|162]] subsp. protamericana Gentry, Agave americana var. expansa (Jacobi) Gentry, and Agave americanaSN|162]]SN|162]] var. oaxacensis Gentry.
Stem: Short and thick.
Rosette: Stout, a height around 1-2 metres and a spread around 1.8–2.7(-3.7) metres.
Leaves: Thick and massive, lanceolate, narrowed above the thickened base frequently covering much of the stem, broadest above midway, usually acuminate, some leaves reflexed above the middle of the lamina, plane or guttered, light grey-green to grey-blue, some-times variegated, smooth to slightly asperous, up to 90-200 cm long and 9-25 (or more) cm wide, and have sharp spines on the margins and tips. The margin undulate to crenate. Marginal teeth variable, larger 5-10 mm, 2 - 6 cm apart, brown to pruinose-grey, recurved like fishhooks. The tip spine, is conical to subulate, scarcely decurrent, shiny brown to pruinose-grey, 2,5-5 cm long and can pierce deeply.
Inflorescences: `Paniculate rather open and spreading'. Near the end of its life, the plant sends up a tall, slender, straight, branched stalk with spine tipped bracts, that can reach epic proportions, soaring 3-9 m or more often bulbiferous within the inflorescence. Inflorescences look like asparagus spears as they grow. Part-inflorescences 15-35, in the upper part of the inflorescence; branches curved, and flattened.
Flowers: Slender, erect, 6-10 cm long, yellow-green usually paired with laterally developing subsidiary bud. Ovary short tapering 3-4.5 cm long, greenish, neck grooved, tapering to the narrower base, shorter than the tepals. Tube 8-20 mm deep, 16-20 mm broad, funnelform, thick-walled, deeply grooved. Tepals yellow, tube funnel-shaped, 8-20 mm long, lobes unequal, 25-35 mm long pale yellow-green to pale-amber coloured. Stamen exerted, filaments 60-90 mm long. Anthers 12-36 mm long, linear, yellow. Pistil stout, elongate with 3-lobed stigma.
Fruits (loculicidal capsules): Oblong-cylindrical, 4-5 cm long, rounded or short-beaked at apex, deishent.
Seeds: Flattened, lunate to lacrimiform, 7-8 mm long, 5-6 mm wide, shiny black.
Chromosome number: 2n = 60, 120, 180, 240.
Remarks: The "Century plant" doesn't really take a century to bloom, but it does take 10 to 30 in warm regions and as much as 60 years in colder climates. It dies after blooming (a condition called monocarpic), but produces offsets or "pups" throughout its life and these remain to continue the lineage.
Subspecies, varieties, forms and cultivars of plants belonging to the Agave americana group
Bibliography: Major references and further lectures
1) Urs Eggli, Leonard E. Newton "Etymological Dictionary of Succulent Plant Names" Springer Science & Business Media, 29 June 2013
2) Irish, Gary "Agaves, Yuccas, and Related Plants: A Gardener's Guide". Timber Press 2000.
3) Howard Scott Gentry "Agaves of Continental North America" University of Arizona Press, 01 February 2004
4) M. D. Dassanayake "A Revised Handbook of the Flora of Ceylon", Volume 14 CRC Press, 01 June 2000
5) Wikipedia contributors. "Agave americana." Wikipedia, The Free Encyclopedia. Wikipedia, The Free Encyclopedia, 4 Jun. 2016. Web. 19 June 2016.
The inflorescence of the Agave americana can reach epic proportions, soaring up to 8 m.
Photo by: Abidin Süleyman Demir
Photo taken at Cervia, Adriatic coast of Emilia Romagna, Italy.
Photo by: Valentino Vallicelli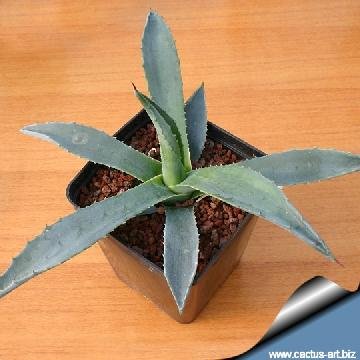 Agave americana
Photo by: Cactus Art
Agave americana
Photo by: Matteo Faggion
Cultivation and Propagation: Specimens even survive in pots or in the ground in the wet winters of the south coast of England. At the other extreme it may be seen planted out in southern Arizona and Texas. They are usually cultivated outdoors in rock gardens, in cactus and succulent gardens, in Mediterranean-style landscapes, in borders, or as a specimen. Need full sun and a very well-drained, slightly acidic, sandy or gravely soil. As an ornamental it is also grown in containers where it stays much smaller than its outdoor brethren. Agave americanaSN|162]]SN|162]] is theoretically hardy to -9° C, particularly when dry and it is best to avoid severe freezing temperatures. Keep it in a cool, frost-free area in winter and put it out on the balcony or patio in summer. The Agave americanaSN|162]]SN|162]] grows fairly fast in summer if provided with copious water but allows to dry thoroughly before watering again. During the winter months, one should only water enough to keep the leaves from shrivelling. They do well in full sun or a lightly shaded area.
Warning: It can get very large, and it is armed with needle-sharp spines. The sap is quite acidic and can be quite painful if it comes in contact with the skin. It can form small blisters.
Propagation: By suckers which often are found growing around the base of the plant, Remove the basal suckers (if available) in spring or summer and let the cuttings dry for a few days before inserting in compost.
Uses:
Scenography: These striking plants are wonderful when used for accent or simply to provide some all year round foliage and often used in a pot as a patio plant, can be moved around to change the scenery or position to give more shelter
Medicine: The sap of century plant is used as a diuretic and a laxative. The juice of the leaves is applied to bruises and taken internally for indigestion, flatulence, constipation, jaundice and dysentery.
Tincture: One glass at bedtime as a relaxing tonic. With any herb, there is the risk of an allergic reaction. Small children and pregnant women should use additional caution when considering the use of herbal remedies.
Food: The flower stalk and heart of century plant are sweet and can be roasted and eaten. The seeds are ground into flour to make bread and to use as a thickener for soups.
Alcoholic drinks: If the flower stem is cut without flowering, a sweet liquid called "agua miel" (honey water) gathers in the heart of the plant. This may be fermented to produce a beer-like drink called "pulque", which may then be distilled to produce "mezcal".
Fibres: The leaves also yield fibres, known as "Pita", which are suitable for making rope, matting, coarse cloth and are used for embroidery of leather in a technique known as "piteado".