Donate now to support the LLIFLE projects.
Your support is critical to our success.
Since 4 Aug 2013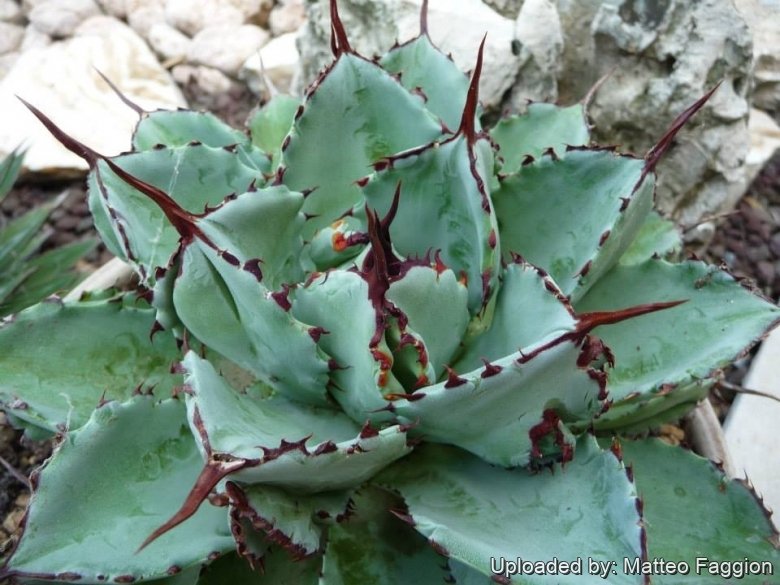 Agave potatorum cv. Cubic Photo by: Matteo Faggion
Origin and Habitat: It seems that Agave potatorum cv. CubicSN|33014]]SN|33014]] sprang up from a tissue culture done in the lab at the Shady Oaks Nursery (but not sure, we need confirmation).
Synonyms:
See all synonyms of Agave potatorum
Description: Agave potatorumSN|540]]SN|540]] cv Cubic is one of the strangest Agave cultivar. This cute little form of Agave potatorumSN|540]]SN|540]] has unique ridges on the backs of the leaves giving it a cube-like appearance, hence the name. It is a very different cultivar that almost seems monstrose.
Rosettes: Compact, open spreading, symmetrical, hemispherical in shape up to 30 tall by 45 wide (but usually smaller).
Leaves: The leaves grow as if 2 leaves are fused together resulting in some of them having a three or four angled appearance and forming a square shape. The edges are a purplish/maroonish colour. The leaves have large rusty coloured teeth and a long sharp terminal spine that contrasts well with the pale leaf colour. Marginal spines can grow on up to all four of the leaf sides.
Flowers stalk: Bloom-stalk size and flower colour, unknown.
Remarks: There is not a lot of information about this cultivar and some of it seems to conflict.
Subspecies, varieties, forms and cultivars of plants belonging to the Agave potatorum group
Bibliography: Major references and further lectures
1) Bruce Moffett "November Succulent of the Month - Agave Cubic" Kaktos Comments (a bimonthly pubblication of the Huston Cactus and Succulent Society to promote the study of cacti and other succulents). Vol. 52, No. 6 November-December 2015 <http://www.hcsstex.org/KK/KK-52-6.pdf>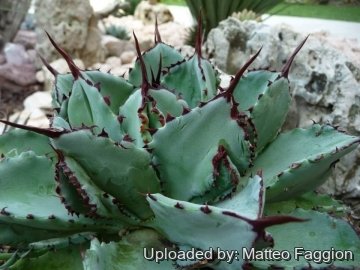 Agave potatorum cv. Cubic
Photo by: Matteo Faggion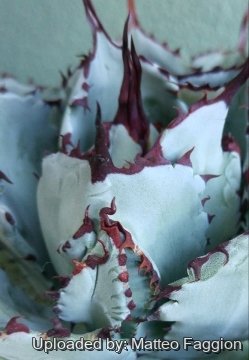 Agave potatorum cv. Cubic
Photo by: Matteo Faggion
Cultivation and Propagation: Agave potatorumSN|540]]SN|540]] cv Cubic is a easy-to-grow species, but isn't a super fast grower. It grows as a solitary symmetrical rosette, but may produces a few plantlets around its perimeter. Makes a great container plant for the patio.
Growth rate: The growth rate is moderate, taking several years to achieve full size.
Soils: Grow it in porous soil with adequate drainage.
Light requirements: It may tolerate full sun, but it grows best in partial shade or morning sun and benefits from filtered shade.
Waterings: Water thoroughly when soil is dry to the touch. In winter watering this plant can be done once every 1-2 months, there is no need to mist the leaves.
Hardiness: It is supposed to be hardy to -3° C, particularly when dry but it is best to avoid severe freezing temperatures.
Heat Tolerance: Good.
Propagation: It can only be grown from offsets. Remove the basal suckers in spring or summer and let the cuttings dry for a few days before inserting in compost. only problem is the logistics of getting to the suckers - very sharp spines and suckers usually right up against, or underneath the mother plant.
Uses: Often used in a pot as a patio plant, they make an eye-catching statement and along with other evergreen plants in pots, can be moved around to change the scenery or position to give more shelter.