Donate now to support the LLIFLE projects.
Your support is critical to our success.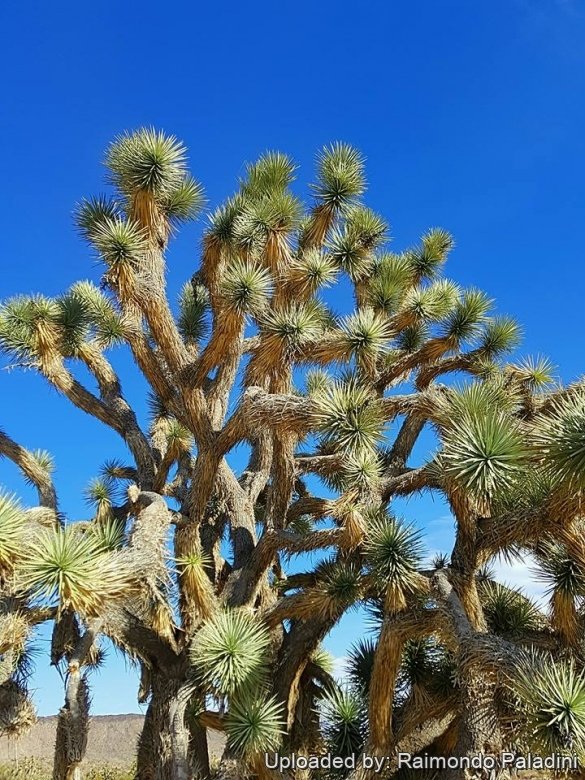 Yucca brevifolia Photo by: Raimondo Paladini
Growing habit at Hualapai reserve, Arizona, Usa.
Origin and Habitat: Yucca brevifolia is native to the arid southwestern United States, specifically California, Arizona, Utah, and Nevada.
Ecology: 400 and 1,800 metres above sea level.
Habitat and ecology. Mojave Desert. Yucca brevifolia thrives in the open grasslands of Queen Valley and Lost Horse Valley in Joshua Tree National Park. A dense Joshua tree forest also exists in Mojave National Preserve, in the Cima Dome, (Cima, California), northeast of Kingman, Arizona in Mohave County, Arizona, as well as along U.S. 93 between the towns of Wickenburg and Wikieup, and designated as the Joshua Tree Parkway of Arizona. This taxon is one of the characteristic elements of the Mohave Desert of the SW USA, where it often dominates the landscape. Joshua trees usually do not branch until after they bloom (though branching may also occur if the growing tip is destroyed by the yucca-boring weevil), and they do not bloom every year. Like most desert plants, their blooming depends on rainfall at the proper time. They also need a winter freeze before they bloom. Once they bloom, the trees are pollinated by the yucca moth, which spreads pollen while laying her eggs inside the flower. The moth larvae feed on the seeds of the tree, but enough seeds are left behind to produce more trees. New plants can grow from seed, but in some populations, new stems grow from underground rhizomes that spread out around the parent tree.
Synonyms:
Common Names include:
ENGLISH:
Joshua tree, yucca palm, tree yucca, palm tree yucca
SPANISH (Español):
izote de desierto
Description: The Joshua Tree (Yucca brevifolia) is a tree-like species, usually solitary, erect, 3-12 tall, but occasionally up to 15 meters and canopy diameters of up to 6 meters. This tree has a top-heavy branch system. The long, pointed, rigid, leaves are borne in a dense spiral arrangement at the ends of branches. Yucca brevifolia, as the name suggests, has shorter leaves than other species of yucca; and it is taller than most. Flowers appear in short, panicles 30–55 cm tall and 30–38 cm broad, the individual flowers are erect, 4–7 cm tall, with six creamy white to green tepals. If it survives the rigours of the desert, it can live for hundreds of years; some specimens survive a thousand years. Three subspecies are recognized, the nominate form Yucca brevifolia subsp. jaegeriana and Yucca brevifolia subsp. herbertii, though both are sometimes treated as varieties or forms.
Stem: Frequently with a single main trunk(occasionally several/many) simple or usually branched distally with a corky bark. Branches usually from 1-3 m above the ground. The trunk consists of thousands of small fibres and lacks annual growth rings, making it difficult to determine the tree's age.
Roots: Root system deep and extensive, with roots reaching up to 11 m.
Rosettes: Broad, flat- or round-topped, 0.3-1(-1.5) x 0.3-0.5 m.
Leaves: Straight, bayonet-shaped, upper face plane and lower face convex, or triquetrous, rigid, 15-35 cm long, 7-15 mm wide at the base, green, base whitish, tip with a stiff apical spine 7-12 mm long, Margins whitish-yellow, entire, thin, horny, minutely denticulate.
Inflorescence: Erect, paniculate, (25-) 30 - 55 cm long, 30-38 broad, about half enclosed in rosettes, densely flowered, with numerous part-inflorescences. Pedicels 7-12(-25) mm.
Flowers: Ellipsoid to globose, erect, (3-)4-7 cm long. Tepals lanceolate to oblong, 2.5-7 mm long, 11–22 mm broad, greenish-white to cream-coloured and fused to the middle, tube at least half of the length of the tepals. Filaments 10–12 mm long; anthers 3–3.2 mm, short-pubescent to papillate. The fused pistils are 2.5-3 cm long, ovary ovoid, 2.5–3 cm, longer than broad, style about 1.6 mm and the stigma cavity is surrounded by lobes.
Fruits (capsules): Semi-fleshy to dry, rather spongy, pendent, indehiscent, deeply furrowed, green-brown, ellipsoid 6-8.5(-10) cm long, 3-5(-6.5) cm.
Blooming season: Late winter to mid spring (February to late April).
Seeds: Flat, thin, smooth, 8-11 mm, dull black.
Notes: The name Joshua tree was given by a group of Mormon settlers crossing the Mojave Desert in the mid-19th century. The tree's unique shape reminded them of a Biblical story in which Joshua reaches his hands up to the sky in prayer. Ranchers and miners who were contemporary with the Mormon immigrants used the trunks and branches as fencing and for fuel for ore-processing steam engines.
Bibliography: Major references and further lectures
1) Urs Eggli, "Illustrated Handbook of Succulent Plants: Monocotyledons", Springer Science & Business Media, 06 December 2012
2) Grandtner, Miroslav M. "Elsevier's Dictionary of Trees - North America", Amsterdam: Elsevier. 2005
3) Magney, David L. (Updated 19 September 2005). "Checklist of Ventura County Rare Plants" (PDF). California National Plant Society, Channel Islands Chapter. 11 Nov. 2017 <http://www.cnpsci.org/html/PlantInfo/ChecklistofVenturaCountyRarePlants-19Sep2005.pdf>
4) Keith, Sandra L "A tree named Joshua". American Forests. 88 (7): 40–42. 1982.
5) Gucker, Corey L. (2006). "Yucca brevifolia". Fire Effects Information System. U.S. Department of Agriculture, Forest Service, Rocky Mountain Research Station, Fire Sciences Laboratory. Retrieved 2008-12-20. web: 11 Nov. 2017 <https://www.fs.fed.us/database/feis/plants/tree/yucbre/all.html>
6) Wikipedia contributors. "Yucca brevifolia." Wikipedia, The Free Encyclopedia. Wikipedia, The Free Encyclopedia, 7 Apr. 2017. Web. 11 Nov. 2017.
7) "Joshua Tree National Park". Nature and Science: Joshua Trees. National Park Service. web: 11 Nov. 2017 - https://www.nps.gov/jotr/learn/nature/jtrees.htm
8) "Joshua Tree National Park". National Geographic Society. web: 11 Nov. 2017 - https://www.nationalgeographic.com/travel/national-parks/joshua-tree-national-park/
9) "Joshua Tree (Yucca brevifolia)". Meet the Species: All Species. The California Phenology Project, USA National Phenology Network.web: 11 Nov. 2017 https://cpp.usanpn.org/YUBR
10) "Flora of North America" Vol. 26 Page 421, 424, 426, 427 . Web: http://www.efloras.org/florataxon.aspx?flora_id=1&taxon_id=220014441
11) Benson, L., and R. A. Darrow. 1981. "Trees and Shrubs of the Southwestern Deserts". Tucson: University of Ari-zona Press.
12) Webber, J. M. 1953. "Yuccas of the Southwest. Department of Agriculture", Agriculture Monograph No. 17. Washington, D.C.: U.S. Government Printing Office.
13) MacMahon, J. A. 1985. "Deserts". New York: Knopf.
14) Rowlands, P, H. Johnson, E. Ritter, and A. Endo. 1982. "The Mojave Desert". In G. L. Bender, ed., "Reference Handbook on the Deserts of North America", 103-162. Westport, Conn.: Greenwood.
15) Weir, K. 1998. "Southern California Handbook: Including Greater Los Angeles, Disneyland, San Diego, Death Valley and other Desert Parks". Emeryville, Calif.: Moon Publications.
16) Michael A. "Mares Encyclopedia of Deserts", University of Oklahoma Press, 19 January 2017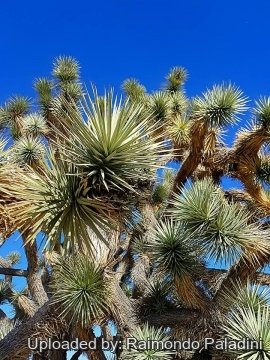 Yucca brevifolia in Hualapai reserve, Arizona, Usa.
Photo by: Raimondo Paladini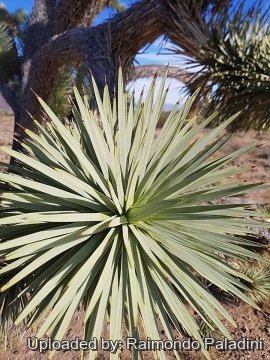 Yucca brevifolia in Hualapai reserve, Arizona, Usa.
Photo by: Raimondo Paladini