Donate now to support the LLIFLE projects.
Your support is critical to our success.
Since 4 Aug 2013
Accepted Scientific Name: Faucaria felina Schwantes
Z. Sukkulentenk. ii. 177 (1926)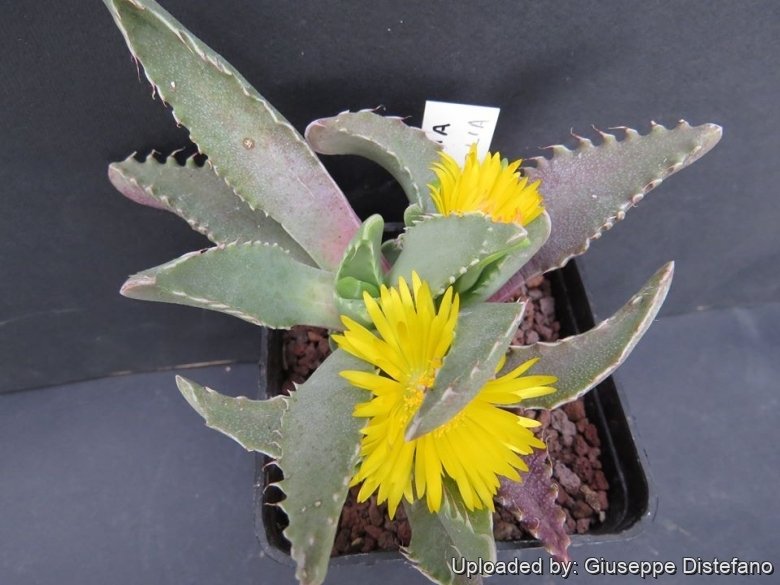 Faucaria longifolia Photo by: Giuseppe Distefano
Origin and Habitat: Cape province, South Africa.
Synonyms:
See all synonyms of Faucaria felina
Description: Faucaria longifolia is a local or morphological form of the very variable Faucaria felina with curious toothed leaves fitting together rather like the jaws of an animal. It is separable from the standard Faucaria felina for the long slender, greener leaves, keeled towards apex and with more numerous teeth.
Habit: It is a compact, little branched, perennial succulents forming compact, slow-growing, almost spherical mounds.
Stem Very reduced, tufted and developing a very short branched rhizomatous trunk with age.
Rosettes: Clumping, 4-6 leafed, each up to 12 cm in diameter.
Leaves: Up to 50 mm long, slender, spreading, rhomboidal, somewhat elongated, triangular in cross-section,tapering gradually, keel sharp, white forming a pronounced chin. Margins with several teeth in the upper half (usually more than ); teeth broad, fleshy, curved, white or pink ending in papillate awns of 0,5 to 3 mm length. Faces of leaves glaucous grey-green, rough, wax cover thin, crystals in the outer walls in certain areas resulting in white dots.
Flowers: Daisy-like 3,5 cm in diameter with yellow petals.
Blooming season: Late autumn to winter.
Fruit: Base broadly bell-shaped, top with the valves often raised in the centre, 10-16 mm long, 9-11 mm in diameter.
Seeds: 1,4-1,5 mm broad.
Subspecies, varieties, forms and cultivars of plants belonging to the Faucaria felina group
Bibliography: Major references and futher lectures
1) Doreen Court "Succulent Flora of Southern Africa" CRC Press, 01/giu/2000
2) Otto A. Leistner "Flora of southern Africa" 14: 194 1985
3) Jacobsen "Lexicon of succulent plants" Littlehampton Book Services Ltd. 1974
4) James Cullen, Sabina G. Knees, H. Suzanne Cubey "The European Garden Flora Flowering Plants: A Manual for the Identification of Plants Cultivated in Europe, Both Out-of-Doors and Under Glass" Cambridge University Press, 11/ago/2011
5) Dr J.P. Roux "Flora of South Africa" 2003
6) Domitilla Raimondo "Red list of South African plants 2009" South African National Biodiversity Institute, 2009
7) Werner Rauh "The Wonderful World of Succulents: Cultivation and Description of Selected Succulent Plants Other Than Cacti" Smithsonian Institution Press, 1984
8) Heidrun E. K. Hartmann "Illustrated Handbook of Succulent Plants: Aizoaceae F-Z" Springer, 2002
9) Ernst Van Jaarsveld, Ben-Erik Van Wyk, Gideon Smith "Succulents of South Africa: A Guide to the Regional Diversity" Tafelberg Publishers, Limited, 01/lug/2000
10) Gordon D. Rowley "The illustrated encyclopedia of succulents" Crown Publishers, 01/ago/1978
11) Clive Innes "Complete Handbook of Cacti and Succulents" Van Nostrand Reinhold Company, 01/dic/1981
12) George Gilbert Green "Cacti and succulents" Pitman Pub. Corp., 1953
Faucaria longifolia
Photo by: Valentino Vallicelli
Faucaria longifolia
Photo by: Valentino Vallicelli
Cultivation and Propagation: Faucarias are the good choice for anyone wanting to start growing succulents. They are quite hardy and can take a short period of light frost and in very dry warm regions these succulents make very impressive out door ground covers. They need full sun to light shade with a well-drained soil mix, but can tolerate a wide variety of soil types and growing locations as long as there is plenty of sun. The plants are well watered during the growing season and allowed to dry thoroughly before watering again and will tolerate some over watering, but the challenge is to help them keep their compact form and prevent elongation of the stem. During the winter months, the plants should be kept very dry, only watering enough to keep the leaves from shrivelling.
As house plants they tend to grow in fair weather and rest when temperatures are too hot or too cool.
Propagation: Faucaria is very easy to start from seed. Seeds germinate in 7-14 days at 21°C. Although they will start from cuttings, it is quite difficult to get them to root. If they start to rot there is usually part of the plant that can be removed and possibly rooted.