Donate now to support the LLIFLE projects.
Your support is critical to our success.
Since 4 Aug 2013
sponsored link
Mesembryanthemum digitatum Photo by: © Plantemania
Origin and Habitat: Cape Province (Distr Vanrhynsdorp, Vredendal, between Olifantsrivier and Bocklandsberg). S outh Africa
Habitat and ecology: Desert Karroo. Mesembryanthemum digitatum is another mimicry plant belonging to the Aizoaceae group, that grows in winter rain-fall areas. It is a very succulent plant forming dense mats on shale covered with quartz pebble near salt pans in the Knersvlakte.
Synonyms:
See all synonyms of Mesembryanthemum digitatum
Description: Mesembryanthemum digitatum also known as Dactylopsis digitata, or Phyllobolus digitatus is a strange stemless or nearly so species, with its fat body looking like a thumb in a glove. It differs from all other mesembs by the thick, finger-shaped, cylindrical, soft, grey-green, waxy leaves up to 10 cm long, which emerge from the sheath of the next-oldest leaf and pointing at odd angles. The sessile, 'bottlebrush' flowers are white and appear singly. During the dry period the leaves completely shrivel.
Derivation of specific name: Dactylopsis digitata, another mimicry plant belonging to the Aizoaceae group, has been named for the succulent finger-like leaves this plant has.
Stems: Old stem decumbent, brown.
Root; Fasciculate.
Leaves: Alternate, 5-10 cm long (or even longer after ample rains), broad at the base, terete, finger-shaped, almost tubular, obtuse, pointing at odd angles (angle between "finger and thumb < 90°), fleshy, greyish-green, smooth, and soft. Bladder cells (water vesicles) exceedingly flattened and thus virtually absent.
Flowers: Small (10-20 mm Ø), sessile or subsessile, remaining open day and night, white appearing near the growing-point. Calyx 5-cleft, lobes obtuse. Petals linear, white to cream, filamentous staminodes absent, reproductive parts concealed.
Blooming season: The flowers appear near the tip of the leaves in late winter.
Fruits: Valve wings reflexed and fused in pairs, 5 locules.
Seeds: narrowly ovate to elliptical, light brown, testa smooth, without a crest.
Subspecies, varieties, forms and cultivars of plants belonging to the Mesembryanthemum digitatum group
Mesembryanthemum digitatum subs. littlewoodii, previously treated as a species of its own, is included in M. digitatus as a subspecies. Although the morphological distinctness between the two subspecies is merely a matter of dimensions, both taxa are geographically well separated. If properly grown, both subspecies will keep their shape and distinction even under cultivation.
Mesembryanthemum digitatum

Aiton

: (subsp. digitatus) Leaves up to 120 mm long, flower to 20 mm in diameter. Leaf angle between "finger and thumb" < 90°. Flowrs to 20 mm Ø. In a good rainy season, the leaves of this sub-species may grow surprisingly long and chubby. Distribution: Cape Province (Distr Vanrhynsdorp, Vredendal).
Mesembryanthemum digitatum subs. littlewoodii

(L. Bolus) Klak

: Leaves less than 50 mm long, flower 10-15 mm in diameter. Leaves angle between "finger and thumb" > 90° This miniature subspecies retains its dwarf habit even after unusually good rains. Distribution: N Vanrhynsdorp, Western Cape.
Bibliography: Major references and further lectures
1) W. Sonder "Flora Capensis", Vol 2, 1894
2) Werner Rauh "The Wonderful World of Succulents: Cultivation and Description of Selected Succulent Plants Other Than Cacti" Smithsonian Institution Press, 1984
3) Veldtrust, National Veld Trust., 1962
4) The Cactus and Succulent Journal of Great Britain, Volume 39 Cactus & Succulent Society of Great Britain., 1977
5) Clive Innes "Complete Handbook of Cacti and Succulents" Van Nostrand Reinhold Company, 01 December 1981
6) Ed Storms "Growing the Mesembs" Tarrant Printing, 1976
7) Heidrun E.K. Hartmann "Illustrated Handbook of Succulent Plants: Aizoaceae F-Z" Springer Science & Business Media, 2002
Mesembryanthemum digitatum
Photo by: © Plantemania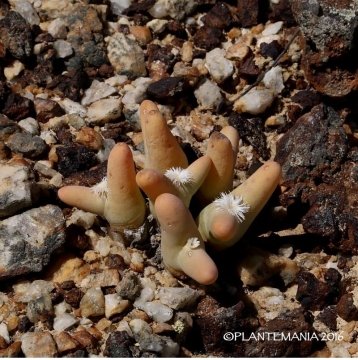 Mesembryanthemum digitatum
Photo by: © Plantemania
Cultivation and Propagation: Mesembryanthemum digitatum (Dactylopsis digitata, or Phyllobolus digitatus) is a rare and difficult species to grow; it requires a sunny location and in the summer requires complete rest. The thick fingerlike leaves dry up at this time, protecting the new leaves forming within. Even during the winter months water should be sparse, but when in active growth the plant needs to be quite moist all the time otherwise it flops. However is difficult to define actual growing periods because the plants of this species have the awkward habit of growing at different times (opportunistic growers). A much higher temperature is required for this species as flowering season is winter.
Soil: This species grows equally well in the regular Mesemb mix and in the same mix plus a feeding of table salt.