Donate now to support the LLIFLE projects.
Your support is critical to our success.
Accepted Scientific Name: Aloe arborescens Mill.
Gard. Dict., ed. 8. n. 3. 1768 [16 Apr 1768] Mill.
Aloe perfoliata var. arborescens (Aloe arborescens) Photo by: Forest Starr & Kim Starr
Flowering habit at Kula, Maui, Hawaii (USA). December 09, 2009.
Origin and Habitat: This species has an extensive natural distribution in southern Africa, from Mozambique, Zimbabwe and Malawi south through eastern South Africa (Botswana, Swaziland, the Northern Province, North-West, Gauteng, Mpumalanga, KwaZulu-Natal, the Western and Eastern Cape), and then westward in a strip along the coast nearly to Cape Town.
Habita and ecology: Aloe arborescens grows in dense bushses in a variety of habitats from down at sea level in coastal forests up to high in the mountains (to ca. 2800 metres), mainly in montane grasslands amongst rocks and in open evergreen forests. Plants on rock faces are much solitary or few-branched. It usually occurs in pockets of rich soil on rocky outcrops in mountains in areas where they receiv high summer or year-round rainfall. The Cape Peninsula populations are also found in rocky places, but here the highest rainfall is in winter. Plants growing on deep soil probably indicate abandoned sites of cultivation. As with all the aloes, the flowers produce nectar and are attractive to many kinds of birds, in particular the small and colourful sunbirds, which flit from flower to flower in search of nectar. The flowers also attract bees. It is the most widespread Aloe in South Africa, and very variable. Natural hybrids with other species have been reported.
Synonyms:
See all synonyms of Aloe arborescens
Common Names include:
ENGLISH:
Shrub aloe, Kidachi aloe, Krans aloe, Krantz aloe (South Africa), Mountain bush aloe, Sword aloe, Barbados aloe, Medicinal aloe, Octopus, , Candelabra aloe, Candelabra plant, Octopus plant, Torch plant, Woody aloe
AFRIKAANS (Afrikaans):
Kransaalwyn
ARABIC ( لعربية ):
ألوي اربورسنس
AZERBAIJAN ( Azərbaycanca):
Ağacşəkilli əzvay
CZECH (Čeština):
Aloe stromovitá
ERZYA (Эрзянь):
Алой
ESTONIAN (Eesti):
Puis-aaloe
FRENCH (Français):
Cornes de bèlier, Aloès candélabre
GERMAN (Deutsch):
Tintenfisch-Aloe
ITALIAN (Italiano):
Aloe a candelabro
LATVIAN (Latviešu):
Kokveida alveja
LITHUANIAN (Lietuvių):
Medėjantis alavijas
PERSIAN (فارسی):
شاخ بزی
POLISH ( Polski):
Aloes drzewiasty
PORTUGUESE (Português):
Foguetes de Natal, Aloé (Brazil), Azebra (Brazil), Erva-babosa (Brazil), Zebra (Brazil), Babosa, Aloe do Natal
RUSSIAN (Русский):
Алоэ древовидное
SOTHO (NORTHERN) (Sesotho sa Leboa / Sepedi):
Sayyan
SPANISH (Español):
Candelabro, Aloe candelabro, Planta pulpo
SWEDISH (Svenska):
Trädaloe
UKRAINIAN (Українська):
Алое деревоподібне
UPPER SORBIAN (Hornjoserbsce):
Wohnjowy alowej
XHOSA (isiXhosa):
uNomavveni, ikalene, iKhala
ZULU (isiZulu):
inHlazi, inKalene encane, inKalane-encane, inkalane, umhlabana, umHlabana, iNhlaba-encane
Description: Aloe arborescensSN|671]]SN|671]] (Torch Aloe) is a very variable, large, densely growing succulent shrub 2-3(-5) metres tall by an equal spread with branching stems holding many wide rosettes of narrow recurved soft-toothed margined leaves that are dull green, yellow-green to sometimes blue-green depending on the location and amount of sunlight received. Coral-red flowers hang tightly on the unbranched flower spikes, inflorescences that rise 60 cm above the foliage in late autumn and early winter. The specific epithet means "becoming a tree" for this plant's large stature, though a bit misleading as this plant is more of a large shrub, rarely a tree with a single trunk.
Stem: Trunk up to 30 cm in diameter, branching at or near the base, much branched above. Branches slender to 2-3(-5) m long, with dead leaves remains persistent for 30-60 cm.
Leaves: Many per rosette at the apex of each branch, triangular, ensiform, acuminate, slightly concave, spreading to slightly reflexed, lamina 25-60 cm long 2-7 cm wide at the base, 6-8(12) mm thick in the centre, dull green, grey-green or blue-green often very glaucous, neither spotted nor striped, tinged reddish in dry conditions. Marginal teeth firm forward-pointing yellow deltoid-cuspidate 3-5 mm long, usually curved towards apex, firm, 5-20 mm apart.
Inflorescence: 1–4 from each rosette, erect, to 60(-80) cm long. Peduncle usually simple, sometimes forked with a few sterile bracts below the raceme. Racemes dense, broadly conical to cylindric-acuminate, 20-40(-80) cm long, 10-12 cm in diameter, very densely flowered, the buds covered by the bracts. Bracts ovate-acute to obtuse, scarious, brown, shorter than the pedicels, 15-20 mm long, 7-12 mm wide, many-nerved.
Flowers: Scarlet throughout, but there are also pure yellow forms, and an unusual bi-coloured form of deep orange (almost red) and yellow. Perianth cylindric-trigonous, bright orange-scarlet, paler towards the mouth, green-tipped in bud, 30-40 mm long, base rounded, ca. 7 mm across,tube very short. Stamens about as long as the perianth, anthers exserted 1-5 mm. Ovary 4-10 mm long, 1.5-3 mm in diameter, green slightly narrowed above, then enlarging towards mouth. Style exserted 3-9 mm. Tepals free to the base, tips scarcely spreading. Pedicels 20-40 mm long.
Fruits (capsules): up to 17-18(-22) mm long, 6-7 mm in diameter, oblong-ovoid, pale grey becoming yellowish-brown.
Booming season: The large colourful flower spikes are borne in profusion during the cold winter months (April to) June to July, depending on locality.
Seeds: 1.75 × 3.5 mm, black with very narrow, whitish wings.
Chromosome number: 2n = 14
Notes: Introduced into cultivation about the year 1700 Aloe arborescensSN|671]] is possibly the most widely cultivated aloe in the world, and is next only to Aloe arborescensSN|671]] in its healing and medicinal qualities.
Bibliography: Major references and further lectures
1) Forest & Kim Starr "Aloe arborescens (Shrub aloe)". Plants of Hawaii. <http://www.starrenvironmental.com>. Web. 27 Sep. 2014.
2) Umberto Quattrocchi "CRC World Dictionary of Medicinal and Poisonous Plants: Common Names, Scientific Names, Eponyms, Synonyms, and Etymology" (5 Volume Set) CRC Press, 03/May/2012
3) Sajeva & Costanzo "Succulents, The Illustrated Dictionary" 1994
4) James Cullen, Sabina G. Knees, H. Suzanne Cubey "The European Garden Flora Flowering Plants:A Manual for the Identification of Plants Cultivated in Europe, Both Out-of-Doors and Under Glass" Cambridge University Press, 11/ago/2011
5) Werner Rauh "The Wonderful World of Succulents: Cultivation and Description of Selected Succulent Plants Other Than Cacti" Smithsonian Institution Press, 1984
6) Hermann Jacobsen "A handbook of succulent plants: descriptions, synonyms, and cultural details for succulents other than Cactaceae, Volume 1" Blandford Press, 1960
7) J.P. Roux "Flora of Southern Africa" 2003
8) S. Kativu "Flora Zambesiaca" FZ, Vol 12 Part 3, page 48 2001
9) J. G. Baker "Flora Capensis", page 253 1897
10) Wikipedia contributors. "Aloe arborescens." Wikipedia, The Free Encyclopedia. Wikipedia, The Free Encyclopedia, 3 Feb. 2014. Web. 24 Oct. 2014.
11) Van Wyk, B.E. & Smith, G. "Guide to the Aloes of South Africa." Briza Publications, Pretoria.1996
12) Jackson, W.P.U. "Origins and Meanings of Names of South African Plant Genera." U.C.T. Printing Dept., Cape Town.1990
13) Hutchings, Anne. "Zulu Medicinal Plants, an inventory." University of Natal Press, Pietermaritzburg 1996
14) Palmer, E. and Pitman, N. "Trees of Southern Africa." A.A. Balkema, Cape Town.1972
15) van Wyk, B.E., Gericke, N. "People's Plants." Briza Publications, Pretoria. 2000
16) Leistner, O.A. (ed.). "Seed plants of southern Africa: families and genera," Strelitzia 10. National Botanical Institute, Pretoria 2000
17) Hankey, Andrew, and Alice Notten. "Aloe Arborescens." PlantZAfrica. Web. 24 Oct. 2014. <http://www.plantzafrica.com/plantab/aloearbor.htm>
18) "Aloe Arborescens." Aloes of the Huntington Gardens. Web. 24 Oct. 2014. <http://www.calflora.net/aloesofthehuntingtongardens/aloe_arborescens.html>.
19) Reynolds, G.W. "The aloes of Southern Africa" Balkema, Cape Town. 1950
20) "RHS A-Z encyclopedia of garden plants." United Kingdom: Dorling Kindersley. 2008
21) "RHS Plant Selector - Aloe arborescens 'Variegata'". <https://www.rhs.org.uk/plants/details?plantid=2114> . Web. 24 Oct. 2014.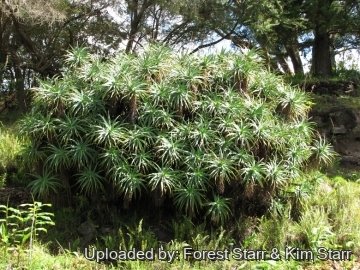 Habit at Kula Botanical Garden, Maui, Hawaii (USA). March 07, 2011.
(Aloe arborescens)
Photo by: Forest Starr & Kim Starr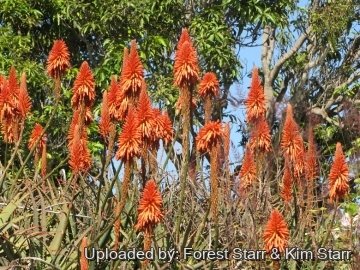 Flowering habit at Kula, Maui. December 09, 2009.
(Aloe arborescens)
Photo by: Forest Starr & Kim Starr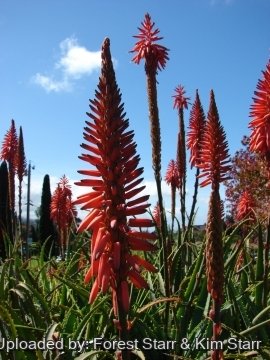 Flowers at Upper Kimo Rd Kula, Maui, Hawaii (USA). December 04, 2006.
(Aloe arborescens)
Photo by: Forest Starr & Kim Starr
Habit at Iao Tropical Gardens of Maui, Maui, Hawaii (USA). May 22, 2012.
(Aloe arborescens)
Photo by: Forest Starr & Kim Starr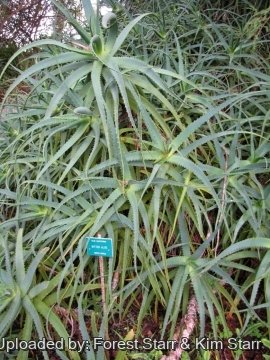 Habit with sign at Kula Botanical Garden, Maui, Hawaii (USA). March 07, 2011.
(Aloe arborescens)
Photo by: Forest Starr & Kim Starr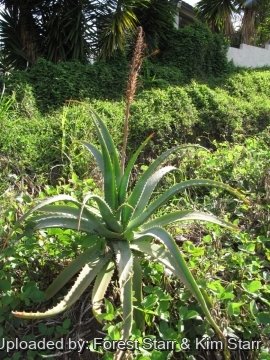 Habit at Kula, Maui, Hawaii (USA). April 03, 2012
(Aloe arborescens)
Photo by: Forest Starr & Kim Starr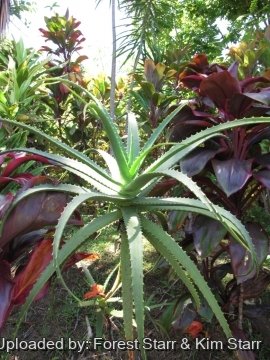 Habit at Garden of Eden Keanae, Maui, Hawaii (USA). March 30, 2011.
(Aloe arborescens)
Photo by: Forest Starr & Kim Starr
Send a photo of this plant.
The gallery now contains thousands of pictures, however it is possible to do even more. We are, of course, seeking photos of species not yet shown in the gallery but not only that, we are also looking for better pictures than those already present.
Read More...
Cultivation and Propagation: Aloe arborescens is an easy and rewarding plant that usually does not give many problems in cultivation. It is grown mainly as an ornamental or as an accent plant, but is also an excellent and impenetrable hedge plant. It grows much better outdoors in spring and summer, it is also perfect for the bright windowsill.
Growth rate: It is fast-growing, and it will tolerate drought and neglect once established.
Soil: Grow it in light, fertile, well-drained, moderate soils, with a slightly acidic pH (5-6).
Exposure: It needs light shade to filtered sun, and grows well in full sun (coast) too, but will redden with more light exposure.
Watering:* Regular water in summer, keep dryer in winter, needs good drainage
Maintenance: Removal of old flower stalks; It is a suckering species, and one plant can eventually cover a large area. Divide the crowded clumps periodically. During the winter months, the plants should be grown cool to initiate flower development (about 5-10°C).
Hardiness: It can tolerate moderate frost but is sensitive to severe frost.
*Medicinal uses: A first-aid treatment for burn wounds and abrasions. Wound healing, stomachic, antibacterial, antihistamine, antiulcer, antiinflammatory, anticarcinogenic, hypoglycemic, purgative. In the Orient, this aloe is grown in domestic gardens as a convenient first-aid treatment for burn wounds and abrasions. Extracts from the leaves have been widely investigated since then and shown significant wound healing, anti-bacterial, anti-ulcer, anti-inflammatory, anti-carcinogenic, hypoglycaemic and also alopoeic activity.
Warnings: Some humans develop allergic contact dermatitis from this plant. Ingesting the plant latex can cause a cathartic action. Excessive doses may cause nephritis.
Tradditional uses: In many parts of South Africa Aloe arborescens is planted around kraals (domestic stock enclosures) as a living fence. It often happens that the position of old kraals can still be seen many years after they have been abandoned because the aloes persist. Leaves dried and pounded into a powder, were used as a protection against storms by the the Zulu people.
Propagation: Seed, suckers, division of older plants. This species is easily propagated from a branch or stem cut off, allowed to dry for a day or so until the wound has sealed, and then planted in well-drained soil or sand. They need not be rooted in any particular place and then transplanted, but can be placed directly into their permanent place in the garden. This aloe can also be grown from seed, sown in spring. Seed should take three to four weeks to germinate, and the seedlings must be protected from frost.