Donate now to support the LLIFLE projects.
Your support is critical to our success.
Since 4 Aug 2013
sponsored link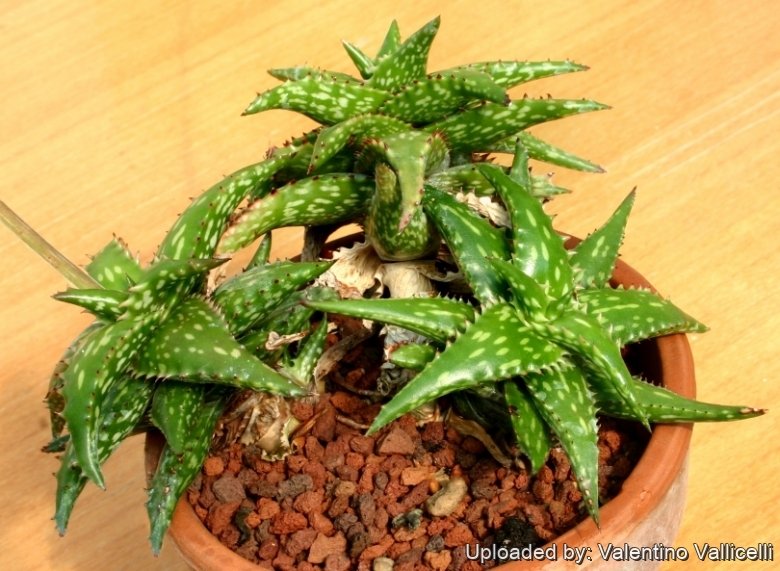 Aloe jucunda Photo by: Valentino Vallicelli
It is one of the most attractive and popular aloes. It has a glossy, clean look, stays relatively small and forms readily groups from suckers at the base of the plants.
Origin and Habitat: Aloe jucunda is a narrow endemic species found only in the Gaan Liba Forest Reserve, Hargeisa Reg, northern Somalia from an area about 30 km across.
Altitude range: 1050-1700 metres above sea level.
Habitat: Aloe jucunda only occurs in dry Juniperus-Buxus forest forest on limestone on shade. The habitat shows extensive signs of degradation. This has been because of the impacts of intensive grazing by livestock, wood-cutting and charcoal burning Considering the low number of collections from only three localities and the deterioration of the forest habitat of A. jucunda, it seems appropriate to assess it as Critically Endangered or nearly extinct.
Synonyms:
Description: Aloe jucunda is a miniature aloe with small flat rosettes and the bright green leaves have small teeth along their edges with the characteristic white spots found in many aloes. Its flowers are pink, and open in springtime. This species clusters freely to form dense groups up to 35 cm tall and 0,5-1 metre in diameter, and the individual heads can be used to start new plants.
Stem: Acaulescent to short branching.
Rosettes: Small up to 5-8 cm in diameter with up to 12 leaves.
Leaves: Densely rosulate, ovate accuminate, 4 cm long and 2-5 cm wide, glossy shiny dark green, and almost 'plastic-like' in consistency, flecked with transparent cream spots, surface smooth. The leaf margins are red-brown with a few pungent teeth up to 2 mm long and 3-4 mm apart. These turgid leaves recurve and look very nice. Exudate yellow. The leaves may take a brownish tinge if grown in strong light and under stress.
Inflorescence (raceme): Simple, stem up to 33 cm long, raceme cylindrical, about 13 long, 5 cm in diameter, sub-dense with about 20 flowers. Bracts ovate-acute, 5 mm long, 3 wide. Pedicels 7 mm long.
Flowers: The flowers are pale pink to coral pink 20-30 mm long and 5-7 mm across. Ovary slightly narrowed above, enlarging slightly to mouth. Tepals free for 7 mm. In Aloe jucunda self-fertilisation can occur under the stimulation of foreign pollen and the resulting seeds produces pure Aloe jucunda seedlings.
Blooming season: The flowers are produced all year round whenever the growing condition are adequate.
Chromosome number: 2n = 14, 21. Brandham (1971) studied meiotic division and found that 83% of the configurations were triploid; he concluded that the plant was an autotriploid and that nonreduction during the formation of gametes in one parent was a possible cause of its origin.
Bibliography: Major references and further lectutres
1) Urs Eggli "Illustrated Handbook of Succulent Plants: Monocotyledons: Monocotyledons" Springer Science & Business Media, 17 July 7 2001
2) Herbert Parkes Riley, Shyamal K. Majumdar "The Aloineae: A Biosystematic Survey" University Press of Kentucky, 05 February 2015
3) Brandham, P. E. 1969. "Chromosome behaviour in the Aloineae. I. The nature and significance of E-type bridges." Chromosoma 27: 201-15.
4) African Succulent Plant Society "The Bulletin of the African Succulent Plant Society" Volumi 3-4 African Succulent Plant Society., 1968
5) Helen Fleet "Indoor plants" Chartwell Books, 1977
6) Weber, O. 2013. "Aloe jucunda." The IUCN Red List of Threatened Species. Version 2015.2. <www.iucnredlist.org>. Downloaded on 02 August 2015.
7) "Somali Range Bulletin," Volumes 12-15 National Range Agency, 1981
8) Wikipedia contributors. "Aloe jucunda." Wikipedia, The Free Encyclopedia. Wikipedia, The Free Encyclopedia, 6 Feb. 2015. Web. 2 Aug. 2015.
9) Marshall Cavendish Corporation "Endangered Wildlife and Plants of the World." Marshall Cavendish, 2001
10) Maurizio Sajeva, Mariangela Costanzo "Succulents: The Illustrated Dictionary." Timber Press, 1997
11) Moran, R. 1992. "Aloe wild in California." Cact. Succ. J. (Los Angeles) 64: 55-56.
Aloe jucunda
Photo by: Cactus Art
Aloe jucunda
Photo by: Valentino Vallicelli
Aloe jucunda
Photo by: Valentino Vallicelli
Aloe jucunda
Photo by: Valentino Vallicelli
Cultivation and Propagation: Aloe jucunda is a very easy species, and easy to find, too (commonly sold at outlet garden centres). It is an aggressive offsetter that fills out small pans to form very attractive small domes, and will eventually take over an area.. To reach this state, however it requires patience and a careful hand with watering. It makes a nice potted specimen or even a hanging basket plant. Given the right conditions they can be grown as a houseplant.
Growth rate: This is the slow to moderate growing aloe, and it will tolerate drought and neglect once established.
Soil: Grow it in light, fertile, well-drained, moderate soils, with a slightly acidic pH (5-6).
Fertilization: It needs a perfect fertilizer diet in summer. Use preferably a cacti and succulents fertilizer with high potassium content including all micro nutrients and trace elements or slow release fertilizer.
Watering: Water regularly in spring and summer, keep drier in winter.
Exposure: Prefer half shade (kept away from direct sun in summer) but it will get nicely redder colour with brighter light (not direct sun).
Hardiness: This plant doesn't like cold weather, therefore in the Spring it is best to set it outside only when the temperatures are above 15°C. Can endure temperatures below 5°C for short period, but only if the soil stays completely dry.
Pests and diseases: This plant is particularly prone to aloe mite damage.
Maintenance: Removal of old flower stalks; It is a suckering species, and one plant can eventually cover a large area. Divide the crowded clumps periodically. During the winter months, the plants should be grown cool to initiate flower development (about 5-10°C).
Traditional uses: There is circumstantial evidence that almost all Aloe species are used medicinally where they exist.
Warning: It has sharp thorns and is one of the more painful aloes to trim without gloves.
Reproduction: Usually by Offsets or (rarely) by seeds, it has to be restarted periodically as the lower leaves shed and it looks bare. Take a branch or stem cut off, allow it to dry for a day or so until the wound has sealed, and then plant it in well-drained soil or sand. They need not be rooted in any particular place and then transplanted, but can be placed directly into their permanent place in the garden. This aloe can also be grown from seed, sown in spring. Seed should take three to four weeks to germinate, and the seedlings must be protected from frost.