Donate now to support the LLIFLE projects.
Your support is critical to our success.
Since 4 Aug 2013
sponsored link
Huernia stapelioides Photo by: Julio C. García
Origin and Habitat: South Africa (Gauteng, Limpopo, Mpumalanga) and Swaziland.
Altitude range: 500 - 1100 metres above sea level.
Habitat and Ecology: Huernia stapelioides occurs in dry conditions, mostly in thorn shrub together with aloe and euphorbia species. It is classified as Vulnerable on the Red Data List, which is probably largely under threat because of current medicinal usage (it is believed to have magical properties and is used as a protective charm) and its narrow distribution.
Synonyms:
See all synonyms of Huernia stapelioides
Accepted name in llifle Database:
Huernia stapelioides
Schltr.
Bot. Jahrb. Syst. 20(Beibl. 51): 55 1895
Synonymy: 2
Description: Hurenia stapeloides is a very variable clump- or carpet-forming species with 4-angled stems. A striking feature of the tubular flowers is the narrow, circular bands of dark red that run the entire length of the tube and the yellow-red, mottled corolla lobes that end in an acute point. The flower opens flat but after two days the lobes curl back.
Distinguishing feature: Corolla lobes 1,5 times long as broad.
Stems: More or less erect, short, square (or five angular) varying in height from 2 to 5(-10) cm and to 1.3 cm thick. Angles with aciculate tubercles and more or less firm spines (rudimentary leaves).
Flowers: Inclined, facing out-wards, on pedicels 10-18 mm long, 3-4 mm in diameter, each with a glabrous, cup-shaped tube wider than long. Sepals 8-10 mm. Corolla almost flat, inside and outside (pale)buff-yellow, inside with irregular broken transverse lines of maroon or brown-red, 30-42 mm across, densely papillose. Lobes acuminate, 1.5 times as long as broad, oblong-triangular, sometimes more or less caudate, outside weakly roughened, inside densely papillose. Papillae 2.5 mm on the average, narrowly conical, strongly compressed, flattened. Outer corona-lobes squarish. Inner corona lobes erect, 2.5-3mm tall, setaceous-verrucose, clavate, capitate with a foot-shaped, obtuse, verrucose base and an expanded fuzzy tip. Pollinia yellow, germination mouth region darker.
Blooming season (in habitat): Flowers are profuse after good rains in summer (December-January).
Fruit: Typical twin seed horns (follicles), fusiform (spindle-shaped), acute and often don't appear until a year later, when opening release many seeds, each attached to its own parachute (pappus) and dispersed by wind.
Bibliography: Major refrerences and further lectures
1) Doreen Court "Succulent Flora of Southern Africa" CRC Press, 01/Jun/2000
2) Focke Albers, Ulrich Meve "Illustrated Handbook of Succulent Plants: Asclepiadaceae: Asclepiadaceae" Volume 4 Springer, 2002
3) James Cullen, Sabina G. Knees, H. Suzanne Cubey "The European Garden Flora Flowering Plants: A Manual for the Identification of Plants Cultivated in Europe, Both Out-of-Doors and Under Glass" Cambridge University Press, 11/Aug/2011
4) Bruyns, P.V. "Stapeliads of southern Africa and Madagascar." Vol. 1. Umdaus Press, Hatfield. 2005
5) Peter Goldblatt "Cape Plants: A Conspectus of the Cape Flora of South Africa" National Botanical Institute of South Africa, 2000
6) Werner Rauh "The Wonderful World of Succulents: Cultivation and Description of Selected Succulent Plants Other Than Cacti" Smithsonian Institution Press, 1984
7) Luckhoff "The Stapelieae of Southern Africa" Capetown, A.A. Balkema 1952
8) White & Sloane "The Stapelieae" edn 2. 3: 879-882, 1170-1176 1937
9) Gunn, M. & Codd, L.E. "Botanical exploration of southern Africa." Balkema, Cape Town. 1981
10) Raimondo, D., von Staden, L., Foden, W., Victor, J.E., Helme, N.A., Turner, R.C., Kamundi, D.A. and Manyama, P.A. "Red List of South African Plants." in: Strelitzia 25. South African National Biodiversity Institute, Pretoria.2009.
11) Leistner, O.A. (ed.). "Seed plants of southern Africa: families and genera." Strelitzia 10. National Botanical Institute, Pretoria. 2000
12) Mucina, L. & Rutherford, M.C. (eds) "The vegetation of South Africa, Lesotho and Swaziland." Strelitzia 19. South African National Biodiversity Institute. Pretoria.2006.
13) Pilbeam, J. "Stapeliads." The British Cactus & Succulent Society. 2010
14) Van Jaarsveld, E.J. "Waterwise gardening in South Africa and Namibia." Struik Cape Town. 2010
15) Victor, J.E. 2005. Huernia stapelioides Schltr. National Assessment: Red List of South African Plants version 2014.1. Accessed on 2014/08/08
16) David Hardy, Anita Fabian, Gerrit Germishuizen "Succulents of the Transvaal" Southern Book Publishers, 1992
17) L. C. Leach "A Revision of Huernia R. Br. (Asclepiadaceae)" Aloe, Cactus and Succulent Society of Zimbabwe, 1988
18) Huernia stapelioides in: Excelsa Taxonomic Series 4: 80 1988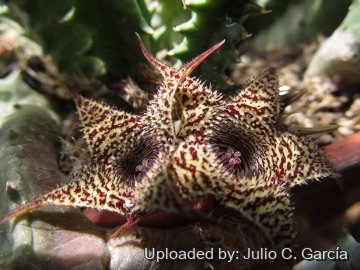 Huernia stapelioides
Photo by: Julio C. García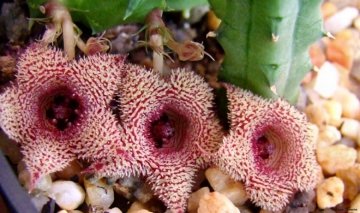 Huernia stapelioides
Photo by: Luiza Ferreira
Cultivation and Propagation: Huernia stapelioides is one of the easiest stapeliad species to gro), it needs light shade for best results (but tolerate full sun and shadow), very resistant to heat will also tolerate quite cold temperatures but avoid frost, best in a ventilated environment. Used mainly as a pot plant or occasionally grown out-of-doors in rockeries. It is ideal for steep embankments, hanging baskets or rockeries.
Spring: When winter ends and they begin to grow again, they will require much water and soaking the pots will no longer put the plants at risk for rot. In the spring they will grow well in partial shade and leaving them out in the rain may provide them with the water they need.
Summer: In the summer months they will tolerate heavy rain, but will be just as happy if the season is dry. It's best to sort out the stems while the plants are resting in the summer before they begin their autumnal growth cycle. They will tolerate very hot weather outdoors as long as they are kept in filtered light and this will encourage them to flower in the Autumn. They also enjoy some fertiliser. Moving the plants as they are developing buds may cause them to spontaneously abort the flowers all together.
Autumn: In the fall keep them outdoors until the night time temperatures drop below the 5°C.
Winter: Winter care presents no problems at 5°-10° C with plenty of light. As soon as they are flowered be sure to take extra precautions to keep them dry, because damp cool conditions when the plants are resting is an invitation to fungal infections, but - according to temperatures –some occasional lit watering may be useful.
Potting medium: Since roots are quite shallow, use a cactus mix or add extra perlite or pumice to regular soil potting soil. A gritty, very free-draining compost is suitable, and clay pots help the plants to dry out between watering. When grown as a pot plant re-pot annually or every other years in fresh soil at the end of the resting season (early spring)..
Pest and diseases: Huernia are generally fairly easy to grow, especially if kept pest-free. They are very susceptible to stem and root mealy bugs, and damage from these may well initiate fungal attack. Any time when there is a dead or dying stem in the pot it is important to remove it immediately and completely before other healthy stems can become ill too, isolate the healthy parts, dry them off, and re-root them in new compost. It is quite resistant to the "Balck spot" disease of Asclepiads.
Propagation: Easiest with stem cuttings. Allow cuttings to dry a day before planting. Stems must be laid (Not buried) on gritty compost and will then root from the underside of the stems. It can also be increased from seeds sowing in spring in moist, sandy peat moss. Barely cover seeds. Seeds germinate quickly.
In any season it's best to lay the stems out for several days before replanting them and then pot them only in dry soil and withhold any water until they begin to shrivel or start growing again.