Donate now to support the LLIFLE projects.
Your support is critical to our success.
Since 4 Aug 2013
Orbea laticorona Photo by: Luiza Ferreira
Origin and Habitat: Sudan, Ethiopia.
Type locality: Green Lake Ethiopia.
Habitat and ecology: Orbea laticorona grows among stunted Acacia and Balanites shrubs. Such spots may harbor a profusion of succulents, and this species has been seen growing with Echidnopsis montana, Caralluma speciosa, and Sarcostemma viminale, as well as other succulents belonging to the genera Cissus, Kalanchoe, and Senecio.
Synonyms:
See all synonyms of Orbea laticorona
Accepted name in llifle Database:
Orbea laticorona
(M.G.Gilbert) Bruyns
Aloe 37: 75 2000
Synonymy: 5
Description: Orbea laticorona is a tufted succulent perennial herb with ascending stems. Flowers appear in inflorescences of 1 to 6 flowers, near the tip of the young shoots; the corolla is about 2.5 cm in diameter, unicolored pale wine-red or light-brown. The corona is pentagonal, red and very glossy.
Stems: Procumbent-ascending, to l0 (or more under cultivation) cm long, c. 8 cm thick, never rhizo-matous nor soboliferous. Tubercles c. 5 mm long, horizontally spreading.
Leaves: Rudiments slightly ascending, with stipular rudiments.
Inflorescences: to 6-flowered, erect. Flowerbuds horizontal to nutant, apically mostly blunt appearing in sucession. Pedicels c. 3 mm long, 2 mm thick. Sepals c. 5 mm long, 2 mm wide. Corolla rotate to somewhat deflexed smooth, inside unicolored pale wine-red or light-brown rarely pale yellow, 2.5 cm across. Corolla lobes lanceolate. Inner corona lobes with connivent tips. Pollinia greenish (some-times orange-yellow or yellow)
Similar species: It seems very close to Caralluma sprengeri.
Bibliography: Major references and further lectures
1) John Hunter Thomas "Systematic Botany Monographs" American Society of Plant Taxonomists, 2002
2) Focke Albers, Ulrich Meve "Illustrated Handbook of Succulent Plants: Asclepiadaceae: Asclepiadaceae" Volume 4 Springer Science & Business Media, 2002
3) Getachew Addis G, Asfaw Z, Singh V, Woldu Z, Baidu-Forson JJ and S Bhattacharya "DIETARY VALUES OF WILD AND SEMI-WILD EDIBLE PLANTS IN SOUTHERN ETHIOPIA" Volume 13 No. 2 April 2013 <www.ajfand.net/Volume13/No2/Addis11125.pdf> web
4) Ocho et al. Journal of Ethnobiology and Ethnomedicine 2012, 8:30 <http://www.ethnobiomed.com/content/8/1/30>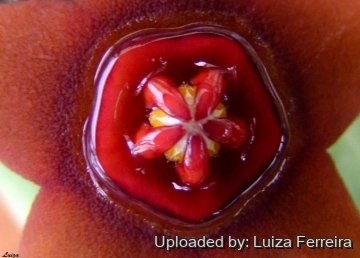 Orbea laticorona
Photo by: Luiza Ferreira
Orbea laticorona
Photo by: Luiza Ferreira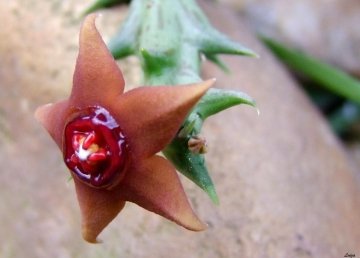 Orbea laticorona
Photo by: Luiza Ferreira
Orbea laticorona
Photo by: Luiza Ferreira
Cultivation and Propagation: Orbea laticorona isn't difficult to grow and flower, but least cold tolerant or more heat demanding than other orbeas, keep dry in winter at a minimum temperature above 10° Celsius.
Spring: When winter ends and they begin to grow again, they will require much water and soaking the pots will no longer put the plants at risk for rot. In the spring they will grow well in partial shade and leaving them out in the rain may provide them with the water they need.
Summer: In the summer months they will tolerate heavy rain, but will be just as happy if the season is dry. It's best to sort out the stems while the plants are resting in the summer before they begin their autumnal growth cycle. They will tolerate very hot weather outdoors as long as they are kept in filtered light and this will encourage them to flower in the Autumn. They also enjoy some fertiliser. Moving the plants as they are developing buds may cause them to spontaneously abort the flowers all together.
Autumn: In the fall keep them outdoors until the night time temperatures drop below the 10°C.
Winter: Winter care presents no problems at 10° C with plenty of light. As soon as they are flowered be sure to take extra precautions to keep them dry, because damp cool conditions when the plants are resting is an invitation to fungal infections, but - according to temperatures –some occasional lit watering may be useful.
Potting medium: Since roots are quite shallow, use a cactus mix or add extra perlite or pumice to regular soil potting soil. A gritty, very free-draining compost is suitable, and clay pots help the plants to dry out between watering. Re-pot every 2 years.
Pest and diseases: Orbeas are generally fairly easy to grow, especially if kept pest-free. They are very susceptible to stem and root mealy bugs, and damage from these may well initiate fungal attack. Any time when there is a dead or dying stem in the pot it is important to remove it immediately and completely before other healthy stems can become ill too, isolate the healthy parts, dry them off, and re-root them in new compost. It should not be exposed to direct sun that make stem turn brown, and stops growth.
Traditional uses: Orbea laticorona is sporadically consumed alongside regular food in the remote parts of southern Ethiopia. The whole plant is eaten except the fine roots, normally mixed with other food items, but under severe food shortage eaten alone. The succulent parts are normally consumed only after adequate desiccation to avoid diarrhea. Frequent consumption of these stuffs is deemed unhealthy.
Propagation: Easiest with stem cuttings. Allow cuttings to dry a day before planting. Stems must be laid (Not buried) on gritty compost and will then root from the underside of the stems. It can also be increased from seeds sowing in spring in moist, sandy peat moss. Barely cover seeds. Seeds germinate quickly.
In any season it's best to lay the stems out for several days before replanting them and then pot them only in dry soil and withhold any water until they begin to shrivel or start growing again.