Donate now to support the LLIFLE projects.
Your support is critical to our success.
Since 4 Aug 2013
Accepted Scientific Name: Diplolepis nummulariifolia (Hook. & Arn.) Liede & Rapini
Syst. Bot. 30: 191 2005.
Diplolepis nummulariifolia var. biflora Photo by: Carolina González
Origin and Habitat: Mountains of the Argentine Patagonia, from the north of Neuquén to Rio Negro, and bordering regions of Chile.
Altitude range: From 1000 to 2300 metres above sea level, according to the latitude.
Habitat and ecology: Diplolepis nummulariifolia var. biflora grows in rock crevices in the shelter of rocks and in high altitude rocky outcrops. It blooms at the beginning of summer.
Synonyms:
See all synonyms of Diplolepis nummulariifolia
Description: Diplolepis nummulariifolia var. biflora (syn: Cynanchum nummulariifolium var. biflorum) is a delicate rhizomatous, perennial herb that form small soft bushes of light green colour, 5 to 15 cm hight. It is recognized by its stems that secrete latex when broken. It blooms at the beginning of summer.
Derivation of names: The epithet nummulariifolium means "with leaves like coins", and biflorum, "with two flowers".
Stems: Thin, tender, decumbent or creeping, finely hairy or glabrous with latex.
Leaves: Opposite, orbicular to ovate, 7-10 mm long, 6-9 mm wide, membranous, glabrous, usually folded. Petiole short finely hairy. Apex obtuse to rounded. Base rounded to cuneate.
Inflorescence: Umbelliform, lateral, extraaxillary, mostly 1-4 flowered. Peduncle less than 3 mm long, finely hairy. Bracteoles narrowly triangular, less than 1 mm long. Pedicels less than 3 mm long.
Flowers: Up to 3 mm long, cream coloured, often with ochraceous or chestnut hues.
Fruits (follicles): Fusiform 2.5-3.5 cm long and approx. 1 cm in diameter, acute.
Seeds: Numerous 5-6 mm long, 3-4 mm wide, with a tuft of white hairs (coma) 1.5 cm long.
Bibliography: Major references and further lectures
1) "Flora Patagonica", Volume 8, Part 6, Instituto Nacional de Technologia Argropecuaría, 1999
2) "Flores de Alta Montaña de los Andes Patagónicos: Guía para el reconocimiento de las principales especies de plantas vasculares altoandinas". 1° Edición – Buenos Aires: L.O.L.A., 2005, 240 p.; 22x12 cm.
3) Ferreyra, Marcela; Ezcurra, Cecilia; Clayton, Sonia, Diplolepis biflora, Sistema de Información sobre Biodiversidad (SIB) web: https://www.sib.gov.ar/ficha/PLANTAE*diplolepis*biflora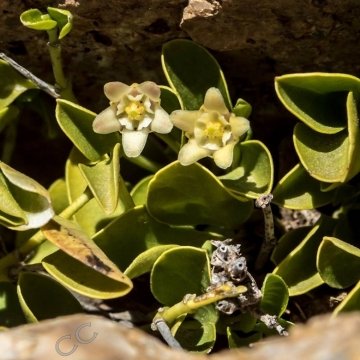 Diplolepis nummulariifolia var. biflora
Photo by: Carolina González
Send a photo of this plant.
The gallery now contains thousands of pictures, however it is possible to do even more. We are, of course, seeking photos of species not yet shown in the gallery but not only that, we are also looking for better pictures than those already present.
Read More...