Donate now to support the LLIFLE projects.
Your support is critical to our success.
Since 4 Aug 2013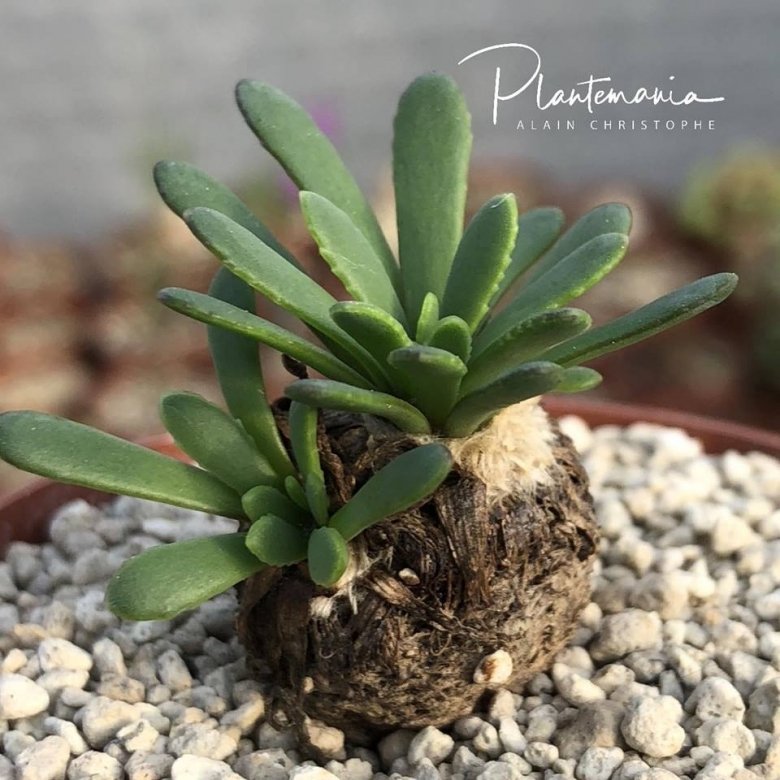 Othonna hallii Photo by: © Plantemania
Origin and Habitat: Othonna hallii is endemic to the Vanrhynsdorp district, between Hol River and Koekenaap and also northwards of this as well, Western Cape (Little Namaqualand), South Africa. It is known from fewer than five locations (EOO <100 km²).
Habitat and Ecology: Knersvlakte Quartz Vygieveld. Quartz patches. Part of a subpopulation was lost to mining in the past, and further habitat loss to mining remains a potential threat. It also appears that the smuggling of wild-collected indigenous plants is threatening the survival of Othonna hallii and other indigenous plants such as Pelargonium rapaceum, Pelargonium karooicum and Ornithogalum species amongst other.
Synonyms:
Description: Othonna hallii and is a small dwarf geophytic succulent species, with a 4-7 cm caudex producing rosettes of linear leaves with rounded tips. One or more, sparsely branched flowering stems up to 25 cm long with small yellow flowers heads are produced from each rosette.
Derivation of specific name: Othonna hallii is named after explorer Harry Hall (1906–1986), curator of the Darrah Collection Manchester before emigrating to RSA in 1947 and taking charge of the succulent plant collection at Kirstenbosch National Botanic Garden.
Caudex: 4-7 cm in diameter with a more or less branched crown and conical taproot, bark leathery, dark brown.
Branches: At most mere humps with only a little bit of hair .
Leaves: In dense rosettes, 2-8 cm long, 3-7 mm wide, linear to oblanceolate with rounded tips, subterete, fleshy, ascending, blue-green, deciduous, occasionally with a few minute marginal teeth.
Inflorescences: 12-25 cm long. Capitula 1-6; phyllaries 5-8; ray florets 5-8 with limbs 5-7 long, 2-3 mm wide, yellow; disc florets numerous, bisexual.
Fruits: Densely villous.
Bibliography: Major references and further lectures
1) Urs Eggli "Illustrated Handbook of Succulent Plants: Dicotyledons" Springer Science & Business Media, 2002
2) Urs Eggli, Leonard E. Newton "Etymological Dictionary of Succulent Plant Names" Springer Science & Business Media, 29 June 2013
3) "Cactus and Succulent Journal", Volume 78 2006
4) Hall, A.V., De Winter, M., De Winter, B. and Van Oosterhout, S.A.M. 1980. "Threatened plants of southern Africa." South African National Scienctific Programmes Report 45. CSIR, Pretoria.
5) Hilton-Taylor, C. 1996. "Red data list of southern African plants". Strelitzia 4. South African National Botanical Institute, Pretoria.
6) Raimondo, D., von Staden, L., Foden, W., Victor, J.E., Helme, N.A., Turner, R.C., Kamundi, D.A. and Manyama, P.A. 2009. "Red List of South African Plants". Strelitzia 25. South African National Biodiversity Institute, Pretoria.
7) Victor, J.E. 2002. South Africa. In: J.S. Golding (ed), "Southern African plant Red Data Lists." Southern African Botanical Diversity Network Report 14 (pp. 93-120), SABONET, Pretoria.
8) Raimondo, D. 2007. Othonna hallii B.Nord. "National Assessment: Red List of South African" Plants version 2017.1. Accessed on 2017/03/16
9) Brian J. Huntley, Caroline Gelderblom, Emsie Du Plessis "Botanical diversity in southern Africa: proceedings of a Conference on the Conservation and Utilization of Southern African Botanical Diversity, Cape Town, September 1993" National Botanical Institute, 31 December 1994
10) Vinay Shah "Succulents from the Winter Rains" British Cactus & Succulent Society Branch Secretary, Southampton & District Branch Newsletter April 2010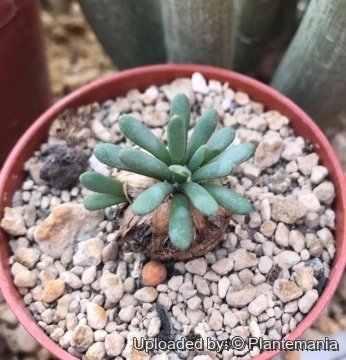 Othonna hallii
Photo by: © Plantemania
Send a photo of this plant.
The gallery now contains thousands of pictures, however it is possible to do even more. We are, of course, seeking photos of species not yet shown in the gallery but not only that, we are also looking for better pictures than those already present.
Read More...
Cultivation and Propagation: Othonna hallii is rare and short-lived in cultivation.
Propagation: Two or more individual plants are needed for seed propagation and this is the most efficient way to obtain plants of characteristic appearance or maintain this short-lived species. Aerial cuttings or root cuttings can also be used.