Donate now to support the LLIFLE projects.
Your support is critical to our success.
Since 4 Aug 2013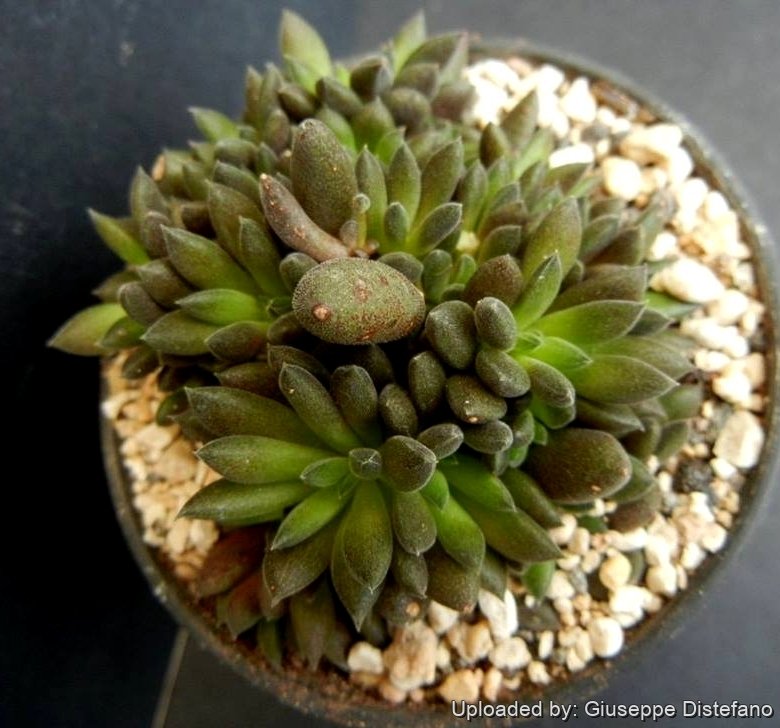 Sinocrassula yunnanensis Photo by: Giuseppe Distefano
Origin and Habitat: Sinocrassula yunnanensis, is native to south western China (Yunnan province), north and south of Burma, north-western India, Sumatra and Bhutan.
Altitude range: This species thrives between 2500 and 2800 metres above sea level.
Habitat and ecology: It occurs in the cracks of rocks where is has good drainage.
Synonyms:
See all synonyms of Sinocrassula yunnanensis
Accepted name in llifle Database:
Sinocrassula yunnanensis
(Franch.) A.Berger
Nat. Pflanzenfam., ed. 2 [Engler & Prantl] xviii a. 463 (1930)
Synonymy: 6
Common Names include:
ENGLISH:
Chinese Jade
CHINESE (中文):
云南石莲, yun nan shi lian
RUSSIAN (Русский):
Синокрассула юннаньская
Description: Sinocrassula yunnanensis or "Chinese Jade", is a small perennial, rosette succulent about 5-10 cm tall that can eventually develops into dense clumps, whose half- round leaves are flattened on the upper side, end in a sharp tip, and have finely papillous hair. At flowering time the rosette lengthen in a richly branched inflorescence about 10 cm long; the flowers are small and white. It is the best-known species and blooms generously. Sinocrassula yunnanensis f. cristata, a monstrous form, is often cultivated as a curiosity.
Root crown. Short and thick
Rosettes: Upright, 2.5 to 3.5 cm in diameter of 50-70 closely set fleshy pointed leaves. The plant is monocarpic, the individual rosette blooms only once, then dies, replaced by the close ones.
Leaves: Small 12-25(-30) long, 4.5-6 mm thick, fleshy, dark bluish green to brownish red colour, kidney-shaped, oblanceolate or spatulate, rounded on the back surface, flattened, almost terete, acuminate, each with a mucro (soft point) at the tip and patterned with purplish brown speckles and covered with minute, soft, white and glandular hairs. The leaves are only loosely attached, will root and grow new plants. Easily plantlets become weeds in the pots of other species.
Inflorescence: The inflorescence, on a densely leafy, minutely hairy, deep red peduncle 3-15 cm long, is a dense, flattish, leafy panicle, more or less dense, about 2.5 cm in diameter with about 50 minute, whitish flowers. Stem-leaves in 3 series lanceolate, tapered, mucronate.
Flowers: Mostly large. Sepals linear-lanceolate, about 1.8 mm long, minutely papillate, apex obtuse. Petals yellowish green, red-tipped oblong-lanceolate, 3-4 mm long, 1 mm wide, minutely papillate on the back. Stamens shorter than petals. Nectar scales quadrate. Carpels lanceolate. Styles short. The flowers scent is of a sweet-sour pungency rather attractive to some but, at any rate, not unpleasant.
Blooming season: Autumn or early winter.
Subspecies, varieties, forms and cultivars of plants belonging to the Sinocassula yunnanensis group
Bibliography: Major references and further lectures
1) Urs Eggli "Illustrated Handbook of Succulent Plants: Crassulaceae: Crassulaceae" Springer Science & Business Media, 01 January 2003
2) Werner Rauh "The Wonderful World of Succulents: Cultivation and Description of Selected Succulent Plants Other Than Cacti" Smithsonian Institution Press, 1984
3) Clive Innes "Complete Handbook of Cacti and Succulents" Van Nostrand Reinhold Company, 01 December 1981
4) R. Ginns "A guide to cactus and succulent plants" (c/o B. C. F. Hill, 10 Downfield Close, Llandough, Penarth, Glam.)], National Cactus and Succulent Society, 1971
5) Jacobsen. "Handbook of succulent plants" 2: 846, 1960
6) Haage, "Cacti & succulents. a practical handbook." 77, 1963
7) Jacobsen, "Lexicon of succulent plants", pl. 133, 1977
8) Lamb & Lamb, "Popular exotic cacti in colour." 159, 1975
9) James Cullen "The European Garden Flora Flowering Plants: A Manual for the Identification of Plants Cultivated in Europe, Both Out-of-Doors and Under Glass"Cambridge University Press, 11 August 2011
10) "Sinocrassula yunnanensis" in Flora of China @ efloras.org <http://www.efloras.org/florataxon.aspx?flora_id=2&taxon_id=200010037> FOC Vol. 8 Page 214
Cultivation and Propagation: These plants like plenty of light and can tolerate full sun, but don't worry if the plants aren't in the sunniest of place; Sinocrassula will also thrive in a less sunny spot and stays relatively small. This species prefers dry conditions and it is best to refrain from watering it until the rootball has dried out completely. The plant can then be immersed in water and well drained and left until it has completely dried out again. Its succulent leaves will store enough water to survive for long time
They can be grown outdoors on rock crevices with favourable water regime, eastern slopes alpine house, poor, drained soil, shading in summer.
Propagation: This is a tough plant which spreads aggressively, both vegetatively by dropped leaves that root easily and by seed. Sow the seeds in winter (13-18°C) uncovered, they will germ in about 1-3 months, division of old plant can be made in spring and late summer; cuttings in summer.
The crested variations can be propagated only by vegetative means, from the crested parts, but seed of such a plant is likely to produce normal progeny.