Donate now to support the LLIFLE projects.
Your support is critical to our success.
Since 4 Aug 2013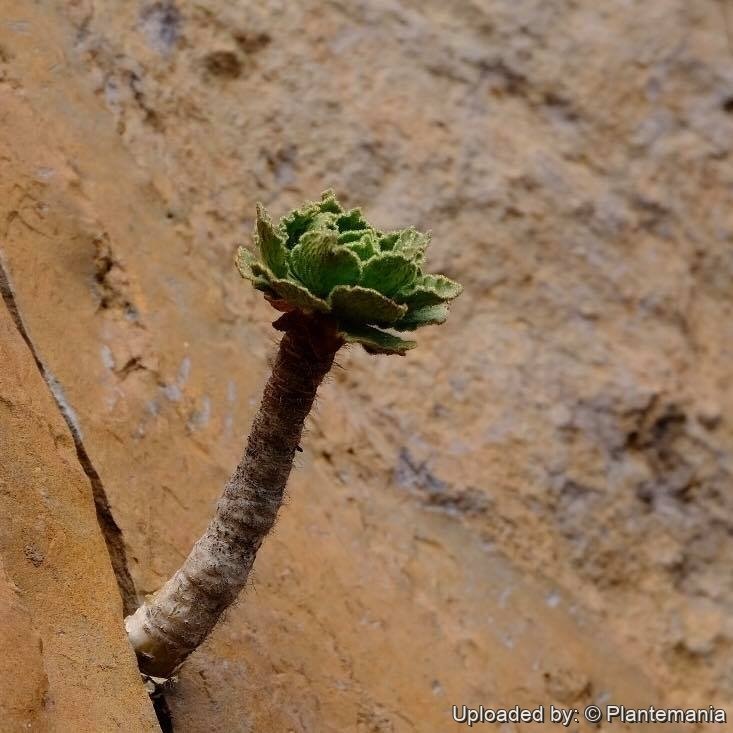 Aeonium smithii Photo by: © Plantemania
Growing habit, Tenerife, Canary Islands, Spain, 14 February 2018.
Origin and Habitat: Canary Islands (Tenerife).
Habitat and ecology: Aeonium smithii grows from 150 to near 2150 metres above sea level in the subalpine zone in rocky habitat often clinging to the sheer rock. The yellow flowers do not produce nectar and bloom between March and October.
Synonyms:
See all synonyms of Aeonium smithii
Accepted name in llifle Database:
Aeonium smithii
(Sims) Webb & Berthel.
Hist. Nat. Iles Canaries (Phytogr.). 2(1): 187 1840.
Synonymy: 4
Common Names include:
ENGLISH:
Smith's Giant Houseleek
SPANISH (Español):
bejequillo peludo de Tenerife
Description: Canary Islands (Tenerife).
Sempervivum smithii is a perennial deciduous, succulent shrublets to 60 cm high. It has rather untypical characteristics that distinguish it from other aeoniums. The leaves are spotted on the underside only, and when these fall off, there remains along the lower edge of the cicatrices a row of stiff hairs. After the falling of the leaves the hairiness increases and the stem becomes generally hispid (shaggy), though older stems tend to lose these hair. The leaves are spoon-shaped, undulated with many soft hairs, deep green with red stripes on both sides velvety to the touch and glossy on the upper surface. It is extremely prolific in blossoms, the flower stalks are up 15 cm tall above the rosettes of leaves. The flower are yellow 2.5 cm across, have usually 10-12 petals, eighteen stamens, and 10-12 pistils.
Derivation of specific name: "smithii" for Professor Christen Smith (1785-1816), Norwegian botanist.
Stem: Unbranched or with very divaricate branches 7-30 mm in diameter, densely covered by whitish or brownish hairs 3-8 mm long, smooth, without reticulations.
Rosettes: During the winter-spring growing season, the rosettes of leaves are 6-15 cm in diameter, rather flattish with 3 to 7 leaves.
Leaves: 13-30 mm long, 1-1.5 mm thick, spoon-shaped or paddle-shaped, apically acuminate, basally cuneate, glossy above, puberulent, with conspicuous longitudinal brownish tannic stripes especially on the lower face. They have wavy margins, with the waviness varying from slight to pronounced, with conical cilia (less than 0.3 mm long) and some additional hairs (0.1 - 0.5 mm long). The leaves also have lengthwise purple or brownish dashes, especially on the undersides, and these are thickened water-storing structures.
Inflorescence: Floriferous part 4-15 long, 4-9 cm broad. Peduncle 4 -40 cm tall.
Flowers: 8- to 12- merous. Pedicels 1-9 mm long, puberulent. Sepals puberulent. Petatls 7-9 mm long, 2-2.5 mm wide, lanceolate, acute, yellow, with reddish lines; Filaments glabrous.
Chromosome number: 2n = 36.
Bibliography: Major references and further lectures
1) Urs Eggli "Illustrated Handbook of Succulent Plants: Crassulaceae" Springer Berlin Heidelberg, 05/Nov/2012
2) D. Gledhill "The Names of Plants" Cambridge University Press, 6 March 2008
3) Clive Innes "Complete Handbook of Cacti and Succulents" Van Nostrand Reinhold Company, 1 December 1981
4) Aeonium smithii in World of Succulents, web: https://worldofsucculents.com/aeonium-smithii/
5) Aeonium smithii in Curtis's Botanical Magazine. Band 45, 1818, Tafel 1980 web: https://www.biodiversitylibrary.org/page/483400#page/110/mode/1up
6) Aeonium smithii in Tropicos.org. In: IPCN Chromosome Reports. Missouri Botanical Garden, St. Louis web: http://www.tropicos.org/Name/8902636?projectid=9
Aeonium smithii. Growing habit, Tenerife, Canary Islands, Spain, 14 February 2018.
Photo by: © Plantemania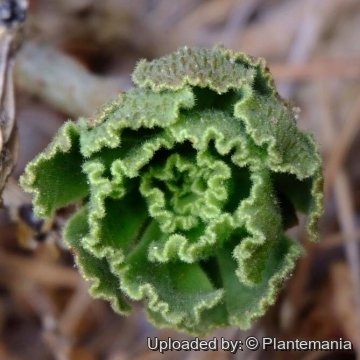 Aeonium smithii. Rosette, Tenerife, Canary Islands, Spain, 14 February 2018.
Photo by: © Plantemania
Cultivation and Propagation: Aeonium smithii is not often seen in cultivation, but is a rare species with distinctive characteristic ornate leaves and hairy stems catch the eye of visitors. It makes a great border or pot plant in any garden, and is a particularly good accent plant. Requires to be protected from frost and damp in a greenhouse.