Donate now to support the LLIFLE projects.
Your support is critical to our success.
Since 4 Aug 2013
sponsored link
Momordica boivinii
Hist. Pl. (Baillon) 8: 407, t. 289-291. 1885 [dt. 1886; issued in Nov 1885]
Family: CUCURBITACEAE
Momordica boivinii Photo by: Sándor Horváth
Origin and Habitat: Eastern Africa: Kenya, Angola, Tanzania, Uganda, Botswana, Malawi, Zambia, Mocambique, Zimbabwe and S. Africa (KwaZulu-Natal, Limpopo, Mpumalanga). Type from Kenya, Mombasa.
Altitude range: 0–1650 metres above sea level.
Habitat and ecology: Acacia-Commiphora deciduous woodland, wooded grassland and riverine fringes, mostly on sandy soils but also on on rocky substrates. Momordica boivinii is a climber that usually forms individual mats on top of the other plants, without forming a major vegetation component. The fruits are eaten by cammels.
Synonyms:
See all synonyms of Momordica boivinii
Accepted name in llifle Database:
Momordica boivinii
Baill.
Hist. Pl. (Baillon) 8: 407, t. 289-291. 1885 [dt. 1886; issued in Nov 1885]
Synonymy: 7
Common Names include:
VENDA (Tshivenḓa / Luvenḓa):
Tshifhafhe
Description: Momordica boivinii is a climber with prostrate or scandent stems 2-7.5 m long, growing from a perennial tuberous rootstock (caudex). The stems are annual and herbaceous. The leaves are variable in shape, unlobed or shallowly 3-5 lobed with sinuate teeth on the margin. The flowers are yellow to deep orange, unisexual on the same plant; male flowers in clusters; female flowers solitary. The fruit is spindle-shaped to 10 cm long green with cream stripes, yellow when ripe and constricted between theseeds.
Derivation of specific name: This species was named after L.H. Boivin (1808-1852), a French botanist and plant collector in East Africa and on the islands in the Indian Ocean. His specimens are at Paris Herbarium. They include the type of Momordica boivinii from Mombasa (1848) and that of Opilia umbellulata, collected in Zanzibar in 1847.
Rootstock (caudex): Napiform, globose, usually underground except on rocky substrates.
Stems: Annual stems, herbaceous, climbing or trailing, 2-7.5 m long, glabrous or pubescent.
Leaves: Petiolate,1.5-7.5 cm long, 2-4.7 cm wide, narrowly to very broadly ovate in outline, unlobed or with 3-5 shallow triangular lobes, the central lobe largest, shortly acuminate, acute to obtuse, apiculate, the lateral shorter, more rounded, deeply cordate at the base. Surface somewhat roughly hairy, sometimes densely so on the lower face. Margin with sinuate teeth. Tendrils simple. Petiole 0.9 - 5 cm long.
Flowers: Monoecious (Male and female separate on the same plant).
Male flowers: In short, bracteate, 1-8-flowered racemes. Peduncles 1.1-10 cm long, subtended by a bract, running parallel to the petiole and passing through the sinus of the leaf, bract 3–8 mm long, narrowly lanceolate to linear. Pedicels 5–20 mm. long. Flowers: Receptacle-tube 2–5 mm long, lobes 6–17 mm. long, acutely-acuminate, dark-coloured. Hypanthium shallow, 3-4.5 mm long, petals 13-15(-28) mm long, 6-9 mm wide, orange-yellow or bright orange, paler beneath, dark at the base. Stamens in 2 clusters.
Female flowers: Solitary or occasionally 1–2 accompanying male in mixed inflorescence; Peduncles 1.7–6.4 mm long and bract 4–7 mm long. Pedicel 2–6 mm long; ovary 4.5–12 long, 1–15 mm in diameter, fusiform, ribbed, finely pubescent on ribs; receptacle-tube 0.5 mm long, lobes 2–5 mm long, narrowly lanceolate, green. Petals 0.8–16 cm long, obovate yellow to deep orange, paler on the outside.
Fruits: Fleshy, narrowly spindle-shaped, 2.5 - 10 cm long, 4 - 9 mm wide, slightly angled or ribbed, green with cream stripes, yellow to red when ripe, subglabrous to densely hairy 3–4-seeded, somewhat constricted between the seeds, and irregularly splitting. Fruit-stalk 1.8–11 cm long long.
Seeds: 9–17 mm long, 3–5 wide, 2–5 mm thick, ellipsoid, tumid, with terminal verrucose appendices; testa smooth, obscurely sculptured in very low relief.
Bibliography: Major references and further lectures
1) C. Jeffrey "Flora Zambesiaca" FZ, Vol 4, 1978
2) C. Jeffrey "Flora of Tropical East Africa" 1967
3) Urs Eggli "Illustrated Handbook of Succulent Plants: Monocotyledons" Springer Science & Business Media, 06 December 2012
4) CSJA 68: 88-90, 1996.
5) J. O. Kokwaro "Flowering Plant Families of East Africa: An Introduction to Plant Taxonomy" East African Publishers, 1994
6) Association pour l'étude taxonomique de la flore d'Afrique tropicale, Abílio Fernandes "Comptes Rendus de la IVe [i. E. Quatrième] Réunion Plénière de L'Association Pour L'étude Taxonomique de la Flore D'Afrique Tropicale: Lisbonne Et Coïmbre, 16-23 Septembre, 1960" Junta de Investigações do Ultramar, 1962
7) Urs Eggli, Leonard E. Newton "Etymological Dictionary of Succulent Plant Names" Springer Science & Business Media, 29 June 2013
8) Hyde, M.A., Wursten, B.T., Ballings, P. & Coates Palgrave, M. (2016). "Flora of Zimbabwe: Species information: Momordica boivinii."
http://www.zimbabweflora.co.zw/speciesdata/species.php?species_id=157170, retrieved 10 January 2016
9) Raimondo, D., von Staden, L., Foden, W., Victor, J.E., Helme, N.A., Turner, R.C., Kamundi, D.A. and Manyama, P.A. 2009. "Red List of South African Plants." Strelitzia 25. South African National Biodiversity Institute, Pretoria.
10) Foden, W. & Potter, L. 2005. "Momordica boivinii Baill." National Assessment: Red List of South African Plants version 2015.1. Accessed on 2016/01/10
11) Baumann, G. "Photographic Guide to Wildflowers of Malawi Wildlife and Environmental Society of Malawi" Pages 90 - 91. 2005.
12) Grace Njeri Njoroge and Leonard E. Newton "Edible and Poisonous Species of Cucurbitaceae in the Central Highlands of Kenya" Journal of East African Natural History, 83(2):101-115. (1994) Published By: Nature Kenya/East African Natural History Society
13) "Plant genetic resources newsletter" No. 132, 2002 IPGRI <https://www.bioversityinternational.org/fileadmin/_migrated/uploads/tx_news/Plant_Genetic_Resources_Newsletter_No_132.pdf#page=10&zoom=auto,-131,610> web 08 January 2016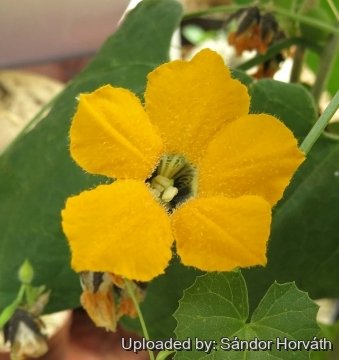 Momordica boivinii
Photo by: Sándor Horváth
Send a photo of this plant.
The gallery now contains thousands of pictures, however it is possible to do even more. We are, of course, seeking photos of species not yet shown in the gallery but not only that, we are also looking for better pictures than those already present.
Read More...
Cultivation and Propagation: This plant can take a good deal of water during active growth, and should be watered only when not dormant. Keep dryish in winter. This plant should be over-wintered in the greenhouse at temperatures over 12°C (avoid letting temperatures drop lower than 5° C). Use a very draining but rich soil, and not too much sun. Errors in cultivation may produce unsightly holes in the tuber.
Traditional uses: The roots were used to induces menstruations.
Reproduction: Can be reproduced by seeds.