Donate now to support the LLIFLE projects.
Your support is critical to our success.
Since 4 Aug 2013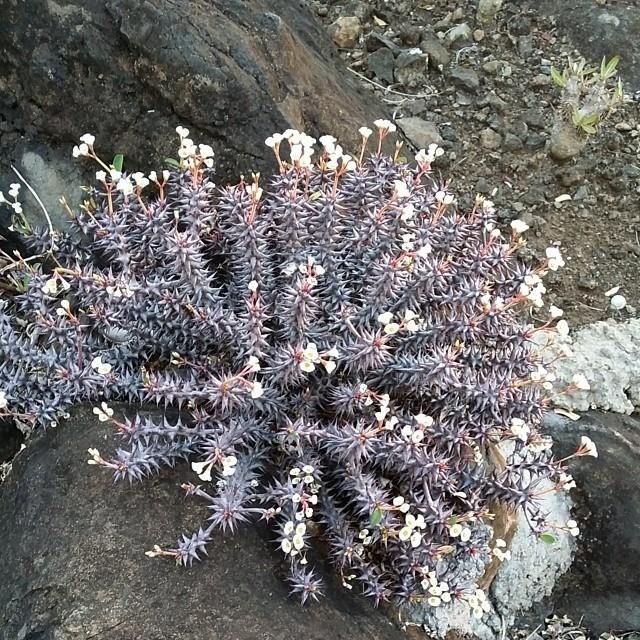 Euphorbia bulbispina Photo by: © Plantemania
Origin and Habitat: Northern Madagascar (Antsiranana district). Euphorbia bulbispina is known only from the summit of Windsor Castle (Bobaomby) and surroundings rocks, although it may also be present on the rocks of the Montagne des Francais, further South. The exact extent of occurrence and area of occupancy is not known but it is likely to be restricted to a very small area, outside any protected areas.
Habitat and Ecology: Euphorbia bulbispina is found in rock cracks on inland cliffs, and mountain peaks. As a point of interest some other succulent plants sharing the limestone cliff faces of Windsor Castle are Pachypodium windsori, Euphorbia aureoviridiflora, Euphorbia viguieri, Aloe suaresensis and others. It is threatened by habitat degradation, fire, collection for the horticultural trade.
Synonyms:
Description: Euphorbia bulbispina is a dwarf shrublets to 30 (or more) cm, much branched and spreading to 1 metre and more in diameter. E. bulbispina is part of the large and variable Euphorbia milii group, but it differs from all other varieties by its dwarf growth form and its peculiar branching. While many E. milii forms shows a shrubby or treelike habit, which is to say that they are branched from the base and no main stem can be discerned, E. bulbispina possesses a prominent main stem just in the juvenile stages. Therefore E. bulbispina has the same growth form as the large arborescent coralliform euphorbias of southern Madagascar, only smaller. It was described by Rauh & Razafindratsira. in Euphorbia Journal 7: 31. 1991
Stem: Main stem bulbous, up to 3 cm (or more) in diameter at base with knot of spines where stems branch from. From this axis arise many side branches; the lower ones die off, while the upper ones form a crown and branch in a acrocaulous manner (At or very near the stem tip). These branches are tapered at the base ascending and surpass the apex of the main stem. They are covered whith a thick, dark-brown wax-layer.
*Leaves: Deciduous, mostly arranged to 5 in terminal rosettes, ovate, 17 mm long, 15 mm wide, dull-green, margins reddish, petiole to 3 mm, purplish.
Stipular spine: Single, 5 mm, purplish when young, grey-brown with age, base large, bulbous (hence the specific name).
Inflorescences (cymes). Solitary, simple subterminal each with 2 cyathia, with spreading, cyathophylls that are ovate in shape, 4 x 4 mm, creamy yellow to white. Nectar-gland green.
Flowers (cyathia). Small, 3 mm in diameter. Nectar-gland yellow-green. Ovaries with a short pedicel.
Bibliography: Major references and further lectures
1) Urs Eggli "Illustrated Handbook of Succulent Plants: Dicotyledons" Volume 2. Springer, 2002
2) Haevermans, T. 2004. Euphorbia bulbispina. The IUCN Red List of Threatened Species 2004: e.T44313A10889250. http://dx.doi.org/10.2305/IUCN.UK.2004.RLTS.T44313A10889250.en. Downloaded on 28 December 2016.
3) Rauh, W. "New and little known euphorbias from Madagascar", Euphorbia Journal, 7: 21--35 1991
4) Rauh, W. "Succulent Euphorbias of northern Madagascar" Collectanea Botanica a Barcinonensi Botanico Instituto Edita, 21: 197—210, 1992
5) Rauh, W. "Succulent and Xerophytic plants of Madagascar". Vol I. Strawberry Press, Mill Valley. 1995.
6) Russo, L "Euphorbia bulbispina Rauh & Razafindratsira, a fascinating species from Madagascar" Cactus & Co, 4(5): 229—230, 2001
7) Cactus and Succulent Journal, Volume 80, 2008
Euphorbia bulbispina
Photo by: © Plantemania
Send a photo of this plant.
The gallery now contains thousands of pictures, however it is possible to do even more. We are, of course, seeking photos of species not yet shown in the gallery but not only that, we are also looking for better pictures than those already present.
Read More...
Cultivation and Propagation: Euphorbia bulbispina is difficult to transplant, contrary to most of the species of the E. milli group it is also difficult to propagate by cuttings.