Donate now to support the LLIFLE projects.
Your support is critical to our success.
Since 4 Aug 2013
Pelargonium boranense Photo by: © Plantemania
Origin and Habitat: Pelargonium boranense is endemic to the province of Sidamo in Ethiopia.
Habitat and ecology: This species grows on substrata rich in limestone in a widely spaced Acacia bushland. A number of very distinctive and apparently rather local endemics are to be found in this area, most notably, Wellstaedia filtuensis, Euphorbia gymnocalycioides and a number of other succulents.
Synonyms:
Description: Pelargonium boranense is a perennial, shrubby, stems succulent, up to 25 cm tall with a short, upright, swollen stem bearing the remains of persistent leaf bases. P. boranense with its huge bright scarlet flowers up to 7 cm across is one of the loveliest in the entire genus. Its red flowers are rather an anomaly in Pelargonium (there are only 4 red-flowered species namely Pelargonium) making it one of the most exciting species in cultivation. It usually has a single stem. It has a brownish-red smooth peeling bark which becomes greyish on drying. The leaves deep green, thin, palmate shallowly 3 lobed.
Derivation of specific name: The specific name "boranense" comes after the place where this species was first found, Borana Awraja in Ethiopia.
Stem: Short erect, thickened, succulent, and swollen at the base, usually unbranched, less frequently it is two to four branched, glabrous, 1-3 cm in diameter, with brownish-red to greyish peeling bark, b bearing the remains of prominently swollen persistent leaf bases.
Leaves: The leaves are from five to ten in number usually in the form of a rosette borne towards the top of stem, with very small triangular deciduous stipules and persistent light-brown to grey leaf bases amongst which are often the persistent bases of previous flowering stalks. Blade, succulent, pale green, shortly ciliate, to 15 cm across, broader than long, base cordate to reniform, mostly three lobed, the lateral lobes sometimes further divided, the central lobe stalked, or further divided and the leaflets irregularly toothed. Tip acute. Petiole red tinged, rather long (to 20 mm) with swollen persistent base.
Inflorescence: Umbels of 4-8 bright red flowers, part-inflorescence each with 2 - 6 flowers.
Flowers: 50-70 mm across, bright red. Sepals 5, green, upper sepal larger than the lower 4; petals mostly 4, (rarely 5) bright orange, upper 2 larger than the lower 2, upper petals broadly spatulate with cuneate base, tips broad, somewhat emarginate, markings darker, lower 2 petals of similar shape but tips rounded. Fertile stamens 7. Filamenets pink.
Bibliography: Major references and further lectures
1) Urs Eggli "Illustrated Handbook of Succulent Plants: Dicotyledons" Springer, 2002
2) William J. Webb, "The Pelargonium Family: The Species of Pelargonium, Monsonia, and Sarcocaulon", Croom Helm, 1984
3) "Flora of Ethiopia: pt. 1. Magnoliaceae to Flacourtiaceae" National Herbarium, Biology Department, Science Faculty, Addis Ababa University, 2000
4) Geraniaceae Group, "Superseded Genera of Pelargonium" Geraniaceae Group, 23 April 2004
5) Diana Miller, "Pelargoniums: A Gardener's Guide to the Species and Their Cultivars and Hybrids" Timber Press, 1996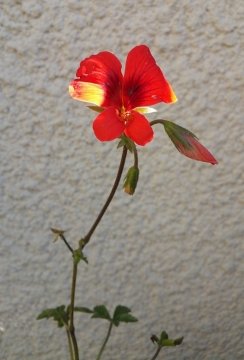 Pelargonium boranense
Photo by: © Plantemania
Send a photo of this plant.
The gallery now contains thousands of pictures, however it is possible to do even more. We are, of course, seeking photos of species not yet shown in the gallery but not only that, we are also looking for better pictures than those already present.
Read More...