Donate now to support the LLIFLE projects.
Your support is critical to our success.
Since 4 Aug 2013
Accepted Scientific Name: Dorstenia hildebrandtii
Bot. Jahrb. Syst. 20: 146 1894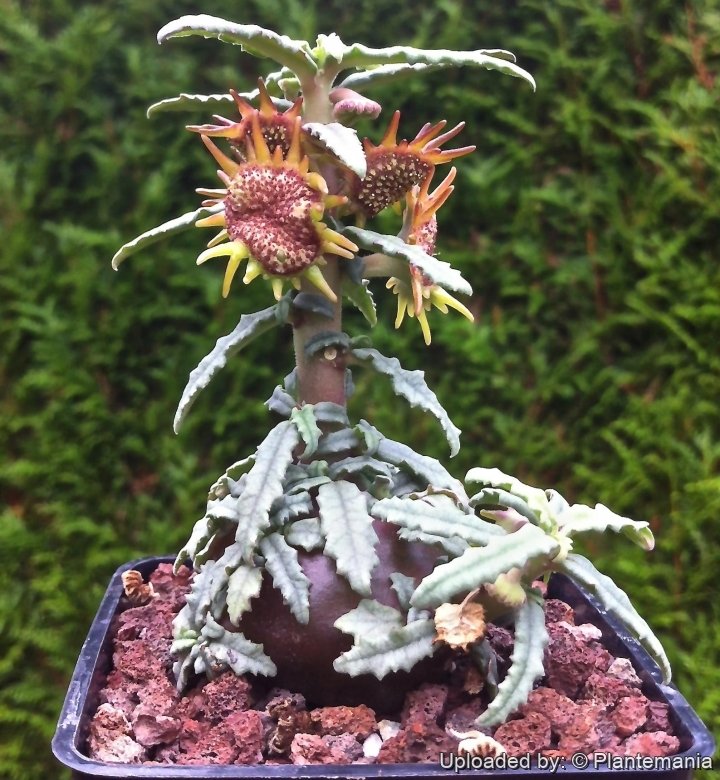 Dorstenia hildebrandtii f. crispa Photo by: © Plantemania
Origin and Habitat: Tanzania.
Synonyms:
See all synonyms of Dorstenia hildebrandtii
Description: Dorstenia hildebrandtii f. crispa is one of the geographical or morphological form of the very variable Dorstenia hildebrandtii. It seems originally cultivated by Specks from Tanzanian collected material (but never know for sure). It has indubitable horticultural merit and is rapidly becoming popular in specialist collections of succulents. It has a fleshy, globose to pear-shaped, reddish brown, swollen caudiciform base, whose top elongates into a branched, shoot crowned by pale greyish-bluish leaves. Depending on exposure and irrigation caudex is either green or purplish-maroon.
Caudex (base of the stem): Above-ground, bulbous, swollen, juicy, up to 5 cm in diameter.
Stem (leafy part): Ascending to erect, branched or unbranched (the branches often arrested, with minute leaves), fleshy to sometimes thickly succulent, , about 5-10 mm thick above, reddish-flecked, glabrous. Scars of leaves, stipules and inflorescences conspicuous and prominent.
Leaves: Sessile or almost stalkless, spirally arranged, fleshy, oblong to elliptic, acute, narrowing cuneately to the base, 1-12 cm long, 3-16 mm wide, pale greyish-green or bluish with darker ribs. Margin irregularly coarsely crenate to toothed, lateral nerves not prominent. Stipules subulate, 1-2 mm long.
Inflorescence: Solitary (or in pairs) lateral, round almost starry or narrowly elliptic in outline. Receptacle green to dark purple 12 or more mm across, suborbicular to funnel-shaped, appendages about 5–12, triangular, linear-tapering, to band-shaped or filiform, very unequal, 4-25 mm long, with intervening unequal triangular teeth, forming a crenate to dentate rim, minutely downy.
Female flowers: Numerous, scattered; style bifid. Endocarp body ovate to tetrahedral, about 1-1.5 mm long, verruculose except on the ventral aspect.
Male flowers: Crowded; perianth lobes (2)3(4); stamens (2)3(4).
Fruit: Ovoid, warty.
Blooming season: Spring to late Autumn.
Subspecies, varieties, forms and cultivars of plants belonging to the Dorstenia hildebrandtii group
Bibliography: Major references and further lectures
1) J. Hutchinson and A. B. Rendle "Flora of Tropical Africa" Vol 6 Part 2, page 17 1916
2) C. C. Berg "Flora Zambesiaca" Vol 9 Part 6, page 13 1991
3) Urs Eggli "Illustrated Handbook of Succulent Plants: Dicotyledons" Springer Science & Business Media, 2002
4) Werner Rauh "The Wonderful World of Succulents: Cultivation and Description of Selected Succulent Plants Other Than Cacti" Smithsonian Institution Press, 1984
5) Stuart Max Walters "The European Garden Flora: Dicotyledons (Part I)" Cambridge University Press, 1989
6) Jacobsen "Lexicon of succulent plants" Littlehampton Book Services Ltd. 1974
7) Edgar Lamb, Brian Lamb "The Illustrated Reference on Cacti & Other Succulents" Volume 5 Blandford Press, 1978
8) Alfred Byrd Graf "Exotica, series 4 international: pictorial cyclopedia of exotic plants from tropical and near-tropic regions" Roehrs Co. Publishers, 1982
9) IUCN SSC East African Plants Red List Authority 2013. "Dorstenia hildebrandtii." The IUCN Red List of Threatened Species. Version 2014.2. <www.iucnredlist.org>. Downloaded on 27 October 2014
10) Berg, Cornelis C. "Moreae, Artocarpeae, and Dorstenia (Moraceae), with Introductions to the Family and Ficus and with Additions and Corrections to Flora Neotropica Monograph 7". Flora Neotropica 83: 1–346. 2001
Dorstenia hildebrandtii f. crispa
Photo by: Giuseppe Distefano
Dorstenia hildebrandtii f. crispa
Photo by: © Plantemania
Dorstenia hildebrandtii f. crispa
Photo by: © Plantemania
Dorstenia hildebrandtii f. crispa
Photo by: © Plantemania
Dorstenia hildebrandtii f. crispa
Photo by: © Plantemania
Send a photo of this plant.
The gallery now contains thousands of pictures, however it is possible to do even more. We are, of course, seeking photos of species not yet shown in the gallery but not only that, we are also looking for better pictures than those already present.
Read More...
Cultivation and Propagation: Beloved by collectors, Dorstenia hildebrandtii is an excellent pot plant and it should make an interesting addition to a collection. Dorstenia hildebrandtii reproduces easily and is certainly a weed - it pops up in neighbouring pots all the time.
Growth rate: It grows well, though very slowly, but it possible to increase the speed of growth to some extent by providing adequate amount of water, warmth, and fertilizer during the active growing season, but it's susceptible to rotting if too wet.
Exposure: It needs light shade, but the caudex should be in the shade, while the leaves prefer some sun. Avoid direct blasting sun in summer. Bright light if grown indoors.
Soil: It needs a very porous potting medium (add pumice, vulcanite, and perlite). It does better in a rather acidic soil.
Waterings: During the growing season, the plants appreciate a fair amount of water but allow the soil to dry slightly between watering, making sure that they never dry out completely, but keep dry during the winter after the leaves have died back. It rot easily and do NOT like a lot of water when it has no leaves. They have to be kept in a rather high air humidity.
Fertilizer: They are fertilized once during the growing season with a balanced fertilizer diluted to ½ the strength recommended on the label.
Frost tolerance: Due to its African origin keep warm in winter, the minimum safe average temperature is 15°C, although it can go lower for short periods. It can be grown outdoors in frost-free climates, need anyway to kept above 10°C and dry in winter. It is very prone to rot in cool, wet conditions. USDA Zone 12, but does very well in containers.
Maintenance: Repot every two years. It like pots with generous drain holes.
Propagation: Dorstenias are usually propagated by seed. Seed germinate readily at 21° C. They can also be propagated by cuttings.