Donate now to support the LLIFLE projects.
Your support is critical to our success.
Since 4 Aug 2013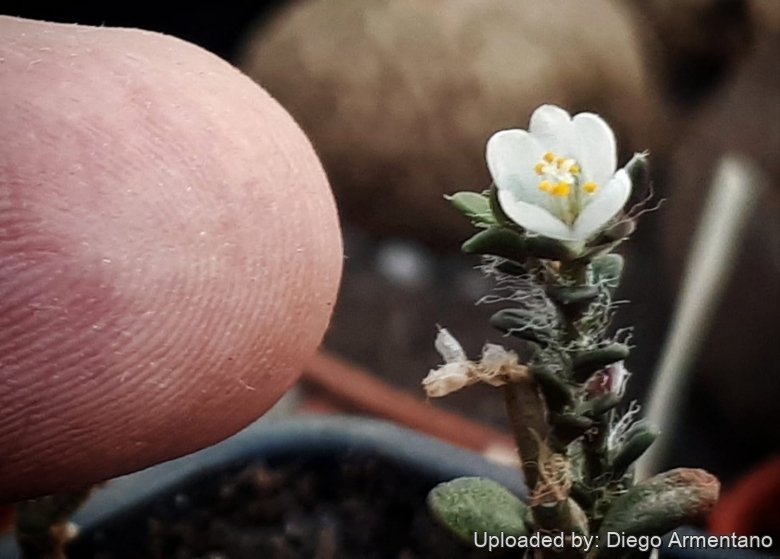 Anacampseros kurtzii Photo by: Diego Armentano
Origin and Habitat: Anacampseros kurtzii is endemic to northern Argentina.
Habitat and ecology: This species grows on stony slopes in the Puna. A. kurtzii is too insignificant to attract attention from collectors and not threatened. Other succulents from this habitat, such as Parodia maassii and Oreocereus trollii are very common too. The rare Yavia crytocarpa from the border of Argentina with Bolivia also grows together with A. kurtzii.
Synonyms:
Common Names include:
RUSSIAN (Русский):
Граxамия Куртца
Description: Anacampseros kurtzii (syn: Grahamia kurtzii) is a dwarf sparingly branched perennial succulent herb with small white flowers.
Stem: Branches slender, smooth, weak 1-8 cm long.
Root system: Simple or branched, fusiform or moniliform (with tuber-like swellings that cluster all along the root like beads).
Leaves: 4-14 mm long, 3-4 mm wide, flat, fleshy, narrowly elliptic, opposite or alternate. Axils with 2-3 mm long hairs.
Flowers: 2-4(-6), subsessile, in cymes clustered at the branches tips above papery bracts. Sepals 3-5 mm long, ovate, green, fleshy. Petals 4-5, 3-4 mm long, obovate to elliptic, white. Stamens: 6-8.
Fruits (Capsules): 3-4.5 mm long, with caducous exocarp.
Seeds: Buff to brownish, obliquely pear-shaped, 1.7 mm long.
Bibliography: Major references and further lectures
1) Urs Eggli "Illustrated Handbook of Succulent Plants: Dicotyledons" Springer, 2002
2) Sara Oldfield, "Status Survey and Conservation Action Plan, Cactus and Succulent Plants" IUCN/SSC Cactus and Succulent Specialist Group 1997
3) Roberto Kiesling und Jörg Piltz "Eine neue Kakteengattung aus Argentinien: Yavia cryptocarpa R. Kiesling & Piltz, gen. & spec. nov." Kakteen und andere Sukkulenten 52 (3) 2001
4) Bacigalupo, N. M. (1990): "El genero Anacampseros (Portulacaceae) en la Flora Argentina." - Bol. Soc. Arg. Bot. 26(3-4): 197-203.