Donate now to support the LLIFLE projects.
Your support is critical to our success.
Since 4 Aug 2013
Xanthorrhoea preissii Photo by: K.k. Agrawal
Origin and Habitat: Xanthorrhoea preissii grows in Southwest Australia in a range extending from Geraldton to Albany and in the Avon Wheatbelt.
Habitat and ecology: It is found throughout coastal plains, near watercourses, and inland forest regions. It occurs on a wide variety of soil types grey to black sands, grey-brown loam, brown gravelly sandy clay, and is sometimes associated with laterite and granite. Plants are rarely killed by fire and are fertilised by nutrients in the ash from the burned skirt. Although a few plants may flower in years when there has been no fire, fewer seeds survive to maturity than in the synchronous post-fire flowering because of damage by moth larvae.
Synonyms:
See all synonyms of Xanthorrhoea preissii
Accepted name in llifle Database:
Xanthorrhoea preissii
Endl.
Pl. Preiss. [J.G.C.Lehmann] 2(1): 39. 1846 [26-28 Nov 1846]
Synonymy: 3
Common Names include:
ENGLISH:
Balga, Grass-tree, Grass tree, Blackboy, Boro Blackboy, Balga grasstree, Western Australian Grass Tree
ARABIC ( لعربية ):
مصفورة بريسية
SWEDISH (Svenska):
Grästrädsläktet
Description: Xanthorrhoea preissii is a perennial monocot that resembles a tree to 5 m high, with very long and bunched, grass-like, leaves that emerge from a central base. The plant grows as a basal rosette for up to 30 years before the above-ground trunk becomes visible. Another distinctive feature of Xanthorrhoea is their copious production of resin, filling gaps between the leaf bases and forming a tough sheath. The tall erect stalk, called a scape, of Xanthorrhoea preissii holds a small white star shaped flowers in a spike over half the length of the scape, the inflorescence emerge from the crown of grass-like leaves giving it an unusual profile. This plant is hard to classify and is often put it with succulents as it seems to fit best with them in the gardens but it is really an evergreen woody perennial.
Trunk: Up to 3 metres tall, upright, occasionally branching, woody, the often blackened appearance is evidence of its ability to withstand fire. The remains of the flammable leaves and the annual regrowth produce banding, allowing the age of the plant to be determined, and giving a record of previous fires in its habitat. When the outer burned surface of the stem is ground off, the cut surfaces of the leaf bases are seen to be in alternating bands of cream (from growth in spring and summer) and brown (from growth in autumn and winter).
Leaves: 0.6-1.2 m long, blue-green stiff grass-like radiating from the center of the trunk.
Root: The roots of Xanthorrhoea are fibrous and arise from the base of the stem and are contractile, so the apex of young plants can be 10 cm below the ground surface.
Inflorescence: Scape 0.6-1.0 m long appearing on an upright spike, 1.5m to 2.5m long. The spike of flowers can elongate at up to 7-10 cm per day —fast for an otherwise slow-growing species and the plant will hold the flower stalk, which turns dark brown, long after the plant finishes flowering.
Flowers: Sessile, creamy or white, appearing more profusely when stimulated by bushfire. The flowers are very attractive to bees.
Blooming season: When plants mature (7-10 or more years) they begin blooming. Flowering most often occurs between June and December, often after fire, but it can be at other times as well and it is often several years between flowering.
Bibliography: Major references and further lectures
1) Wikipedia contributors. "Xanthorrhoea preissii." Wikipedia, The Free Encyclopedia. Wikipedia, The Free Encyclopedia, 20 Nov. 2014. Web. 2 Feb. 2015.
2) "Xanthorrhoea preissii". FloraBase. Department of Environment and Conservation, Government of Western Australia. <http://florabase.dpaw.wa.gov.au>. Web. 2 Feb. 2015.
3) Ward, D J; Lamont, B B. "Probability of grasstrees (Xanthorrhoea preissii) flowering after fire". Journal of the Royal Society of Western Australia (83): 13–16.
4) Gardner, C.A. "Wildflowers of Western Australia." Perth: St George Books. 1981
5) Mike Calver, Alan Lymbery, Jennifer McComb, Mike Bamford "Environmental Biology" Cambridge University Press, 18 May 2009
6) San Marcos Growers contributors "Xanthorrhoea preissii - Western Australian Grass Tree". San Marcos Growers <http://www.smgrowers.com>. Web. 2 Feb. 2015.
7) Wrigley, J.W. & Fagg, M. "Australian Native Plant Cultivation, use in landscaping and propagation" 5 th edition. Reed New Holland Publishing 2003.
8) Spencer, R. "Grassing on the trees." Australian Horticulture 101(12): 18 2003.
9) Forest & Kim Starr "Xanthorrhoea preissii (Grasstree)". Plants of Hawaii. <http://www.starrenvironmental.com>. Web. 2 Feb. 2015.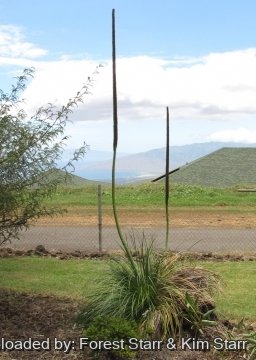 Flowering habit at Kula Experimental Station, Maui, Hawaii, USA. September 08, 2009.
Photo by: Forest Starr & Kim Starr
Send a photo of this plant.
The gallery now contains thousands of pictures, however it is possible to do even more. We are, of course, seeking photos of species not yet shown in the gallery but not only that, we are also looking for better pictures than those already present.
Read More...
Cultivation and Propagation: Xanthorrhoea preissii is a slow growing, carefree and durable plant admired for its spherical form and fine texture and makes it a perfect garden specimen. It is among the Xanthorrhoea species that form a trunk with age and won't be passed over by anyone with an appreciation for sculptural plants. This species is highly tolerant of drought and heat, thrives in well drained, aerated soils that have a low nutrient content, making it an easy plant to include in any garden.
Growth rate: This plant is seldom seen in cultivation due to its slow growth rate. In its natural environment Xanthorrhoea preissii is expected to only grow one to two centimetres a year, though it has been suggested that growth rates are greatly increased when grown by seed. Although the slow growth rate has hindered interest in the past this plant gives the gardener satisfaction for decades.
Soil: Plant in very fast draining soil. It is adapted to a hot, dry environment, but has some tolerance to moisture and humidity when planted in a very well-draining soil.
Transplant: This practice is risky as all Xanthorrhoea species are infamous for having sensitive roots. In order to reduce the chance of death a sunny position should be chosen and the soil should be well aerated for best results. When planting into a pot, sand or gravel should be added to improve drainage. When placing out into the garden best results are achieved by planting on top of a mound. All precautions should be taken to reduce the amount of disturbance to roots. Many horticulturalists recommend cutting and slowly pulling away the plastic pot and carefully placing into a pre dug hole that is double the width and depth of the pot. The first few months after planting are a critical time and daily watering should maintained for the first month before being slowly reduced. It can take up to two years for a grass tree to die so any fungal infections should be treated, and any flower spikes should be removed to ensure resources are used to establish new roots.
Waterings: After establishment provide little or no water in winter. Treat like a succulent. However, they grow faster if watered well (don't water the crown, though they rot easily). In the garden they should be placed in a sunny, well-drained area with additional summer water in dry climates.
Exposure: They thrive best in full sun.
Uses: These make great specimen plants for xeriscape gardens and blend well in either tropical or arid gardens. Small plants are relatively inexpensive, but larger ones are a fortune. These make excellent potted specimens, and their symmetrical form provides a striking focal point, ans display wonderful shadows when illuminated by night lighting. In cooler climates they thrive well in gravel garden, as they have proven quite hardy because of the excellent drainage.
Hardiness. Best where winter temperatures stay above 0° C, but is hardy to around -9° C if very dry. Plants in containers can be moved inside during longer cold spells.
Pest and diseases: This plant is not susceptible to many insect infestations.
Maintenance: The leaf bases can be trimmed to expose the trunk or even burnt away depending on the gardener. When the trunk is pruned of the older, lower leaves, the remaining leaf bases create a beautiful symmetrical spiral leaf-base pattern.
Garden uses: The species are attractive for horticulture and are transplanted successfully to parks and gardens from areas being cleared for development.
Traditional uses: Aboriginals used the resin for waterproofing and attaching stone blades to wooden handles. This tree was reported to produce more resin than any other Western Australian species and was used to manufacture an 'illuminating gas', tar and coke.
Propagation: Easy to propagate from seeds(If available).