Donate now to support the LLIFLE projects.
Your support is critical to our success.
Echinocactus platyacanthus
Verh. Vereins Beford. Gartenbaues Konigl. Preuss. Staaten 3: 423. T. 14. 1826 (1827)
Family: CACTACEAE
Echinocactus platyacanthus Photo by: Raimondo Paladini
This is one of the largest cactus, nearly globular, broadly columnar, or barrel shaped, often very massive stems 0.5-2.5(-3) metres high, 40-80(-100 or more) cm broad, but much smaller in cultivation, light green to yellowish green, sometimes glaucous and very woolly at apex.
Origin and Habitat: Echinocactus platyacanthusSN|10367]]SN|10367]] is endemic to Mexico, is widely distributed in the southern half of the Chihuahuan Desert within Coahuila, Guanajuato, Hidalgo, Nuevo León, Querétaro, San Luis Potosí, Tamaulipas and Zacatecas. It is also distributed in the southern Tehuacán Valley in Puebla and Oaxaca, where it is relatively common. The north and southern subpopulations are geographically isolated by the Transverse Neovolcanic Axis. It is known from 240 localities.
Altitude range: It is found from 1,100 to 2,400 metres above sea level.
Habitat and Ecology: The species occurs in xerophyllous scrub and prefers calcareous soils. Together with Ferocactus histrixSN|4300]]SN|4300]] this is the most abundant and widespread barrel cactus in Mexico. This species is quite common, but is a slow growing species which makes it particularly vulnerable to the removal of adult individuals. Few young individuals are found suggesting future population declines. Generation time may be 100 years or longer. Seedling establishment of Echinocactus platyacanthusSN|10367]]SN|10367]] is very low in habitat, because initial growth in the field is slow, two-years-old seedlings may be only 2.5 cm tall. Nurse plants or other shaded microhabitats that reduces local soil and air temperatures, such as those provided by rocks, are also important for seedling establishment. Most of unshaded seedlings of E. platyacanthus in the field succumbs to high-temperature damage. This species is threatened by the collection for use in traditional candy known as acitrón or biznaga, but it is mainly used as live forage for goats and donkeys that feed on both the reproductive structures (flowers and fruits) and on the stems without spines. Livestock also disturb the fragile soil causing a loss of suitable microhabitat for the establishment of new individuals.
Synonyms:
See all synonyms of Echinocactus platyacanthus
Accepted name in llifle Database:
Echinocactus platyacanthus
Link & Otto
Verh. Vereins Beford. Gartenbaues Konigl. Preuss. Staaten 3: 423. T. 14. 1826 (1827)
Synonymy: 22
Common Names include:
ENGLISH:
Giant Barrel Cactus, Giant Biznaga, Large Barrel Cactus
LITHUANIAN (Lietuvių):
Plačiadyglis ežiakaktusis
SPANISH (Español):
Biznaga Gigante, Biznaga de Dulce, Biznaga burra, Biznaga de Acitrón
SWEDISH (Svenska):
Igelkottskaktus
Description: Echinocactus platyacanthus is a slowly growing barrel cactus known under popular name visnaga, it is usually solitary and grows huge in habitat. It could live more than a hundred years and is easily recognized because of its massive size, by far the largest of all barrel cacti. The stem is grey-blue somewhat tuberculate and nice when small, whilst large plants are heavily ribbed with numerous areoles forming a continuous line. They are day-flowering plants with vivid yellow flowers produced in spring and summer-autumn.
Stems: Nearly globular, broadly columnar, or barrel shaped, often very massive 0.5-2.5(-3) metres high, 40-80(-100 or more) cm broad, but much smaller in cultivation, light green to yellowish green, sometimes glaucous, very woolly at apex. Sometimes purple banded when juvenile.
Ribs: Ribs extremely variable in number, 5-20 in young plants, later increasing to 30-60 or more, acute, vertically oriented, more or less tuberculate and nice when small, later hight and even-edged.
Areoles: Round, but becoming elliptical to linear and continuous in mature plants.
Spines: Variable with age, large, stiff, somewhat flattened, with transverse striations, brownish, yellowish to reddish, at first, greyish or blackish in age
Radial spines: (3-)4-8(-10), spreading, 1.2-4 cm long often in an upper and lower series.
Central spines: 3 or 4, spreading, often forming a cross, lower one often larger than the others, somewhat curved 3-10 cm long.
Flowers: The flowers appear from the end of spring to summer and also in autumn, only on larger mature specimens receiving enough full sun, but rarely flowering in cultivation. They are numerous, diurnal, self-compatible, about 2 cm in height and opening fairly wide, 3-6 cm long, 3-8 cm wide, long-woolly, vivid yellow. Mature specimens often have a somewhat sway-backed, saddle-shaped apex, densely covered in white wool, where their flowers emerge. Outer perianth-segments lanceolate, mucronate; inner perianth-segments broad, obtuse, yellow, the outer ones tappering to narrow brownish points. Stigma-lobes 10 open, spreading. Plants that flower in the spring and autumn, produce fruits in summer and winter respectively.
Fruits: Dry at maturity, oblong to narrowly club-shaped, yellowish, 3-8 cm long, c. 2.5 cm wide, with numerous thin, dry, membranous scales, wool, and hairs; perianth parts persistent.
Seeds: Each fruit contains numerous black seeds approximately 1.3 mm long and 0.9 mm wide.
Remarks: E. platyacanthus (and all the barrel cacti) consists almost entirely of a very wide cortex - the pith is narrow and the wood (vascular bundle) is very thin. Many non-cactus succulents have very broad shoots like this, but those are invariably due to a large amount of parenchymatous wood.
Subspecies, varieties, forms and cultivars of plants belonging to the Echinocactus platyacanthus group
Notes: The juvenile Echinocactus look very different from the mature specimens. In fact like the other Echinocactus and Ferocactus seedlings, the rib structure is not yet apparent, and they have pronounced tubercles. Older specimens take on an oblong shape with age and can dominate a landscape because of their large size and impressive bulk. They also tend to lean to the south or southwest so that the spines can better protect the body of the plant from the harsh desert sun. In fact, desert travellers can use the plant as a compass.
Bibliography: Major references and further lectures
1) Edward Anderson "The Cactus family" Timber Press, Incorporated, 2001
2) James Cullen, Sabina G. Knees, H. Suzanne Cubey "The European Garden Flora Flowering Plants: A Manual for the Identification of Plants Cultivated in Europe, Both Out-of-Doors and Under Glass" Cambridge University Press, 11/Aug/2011
3) David R Hunt; Nigel P Taylor; Graham Charles; International Cactaceae Systematics Group. "The New Cactus Lexicon" dh books, 2006
4) N. L. Britton, J. N. Rose "The Cactaceae. Descriptions and Illustrations of Plants of the Cactus Family." Volume 4, The Carnegie Institution of Washington, Washington 1923
5) Curt Backeberg "Die Cactaceae: Handbuch der Kakteenkunde" Gustav Fischer Verlag, Stuttgart New York 1982–1985
6) Hernández, H.M., Cházaro, M. & Gómez-Hinostrosa, C. 2013. Echinocactus platyacanthus. The IUCN Red List of Threatened Species. Version 2014.3. <www.iucnredlist.org>. Downloaded on 31 May 2015.
7) F. Baluska, Milada Ciamporová, Otília Gasparíková, Peter W. Barlow "Structure and Function of Roots: Proceedings of the Fourth International Symposium on Structure and Function of Roots", June 20–26, 1993, Stará Lesná, Slovakia Springer Science & Business Media, 11 Nov 2013
8) Kishan Gopal Ramawat "Desert Plants: Biology and Biotechnology" Springer Science & Business Media, 16 Dec 2009
9) Park S. Nobel "Environmental Biology of Agaves and Cacti" Cambridge University Press, 16 October 2003
10) Hiroshi Hirao "Colour encyclopaedia of cacti" Japan 1979 (Japanese language and script)
11) Willy Cullmann; Gerhard Groner; Erich Gotz "The Encyclopedia of Cacti" Alpha Books 1986
12) Del Castillo, R., and S. Trujillo. 1991 "Ethnobotany of Ferocactus histrix and Echinocactus platyacanthus(Cactaceae) in the semiarid Central Mexico: Past, present and future." Economic Botany 41: 495-502.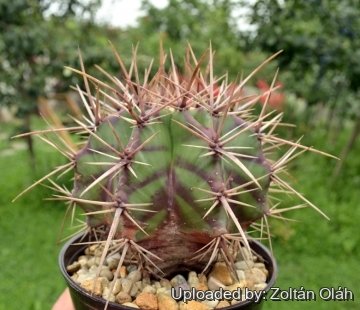 Sometimes the plants body is purple banded when juvenile.
Photo by: Zoltán Oláh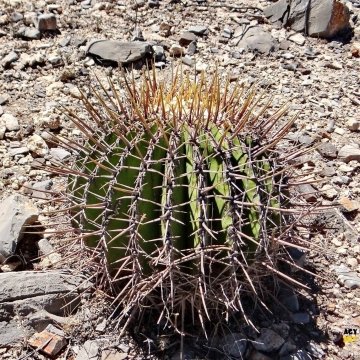 It is grey-blue and nice when small, but areoles merge and forms a continuous line when it became large.
Photo by: Agócs György
Echinocactus platyacanthus
Photo by: Cactus Art
Echinocactus platyacanthus
Photo by: Raimondo Paladini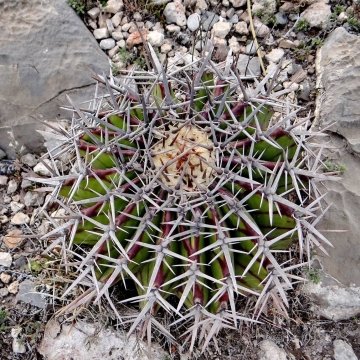 A purple banded specimen. Mexico.
Photo by: Agócs György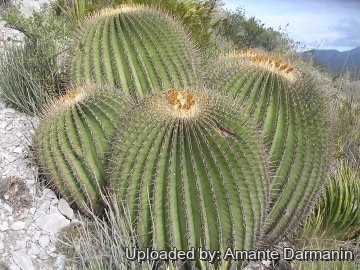 Echinocactus platyacanthus, Miquihuana, Tamaulipas
Photo by: Amante Darmanin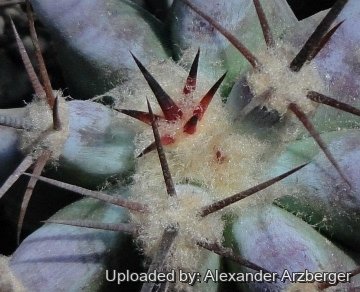 Echinocactus platyacanthus
Photo by: Alexander Arzberger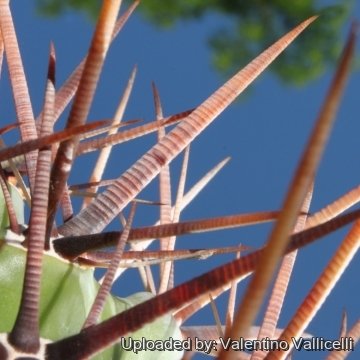 Echinocactus platyacanthus
Photo by: Valentino Vallicelli
Cultivation and Propagation: frost tender but resistant to -4°C for short periods; Cold hardiness increases with improved drainage, so keep plants as dry as possible in winter. They grow best in well-drained soil and a position in full sun, which will help to maintain the lustre of the spines and longevity of the flowers. Provide the plant with extremely well-drained soils, as the plant are subject to crown and soft rot if it remains too moist. Besides, it performs wonderfully in containers, Container media should be coarse as well. Young plants are prone to mealy bug and red spider mite. Propagate from seed.
Uses: The "biznagas" Ferocactus histrixSN|4300]]SN|4300]] and Echinocactus platyacanthusSN|10367]]SN|10367]] Link & Otto are two common barrel cacti of the semiarid highlands of Central Mexico. In pre-Columbian (pre-Hispanic) times, these plants were regarded as being sacred and used for sacrifices, food and medicine. Today, these cacti are used in the candy industry ("dulces de acitrón" or "dulce de biznaga"), as medicine, as a source of food and water for goats and as ornamental plants. They are probably the most economically important barrel cacti in Mexico. The importance of these species increases with the aridity of the land and its inadequacy for agriculture (Del Castillo and Trujillo 1991). This plants is used to prepare a traditional candy, the pith is boiled with sugar to produce a popular sweet called "dulce de biznaga" or "acitrón". During the dry season when other plants are not available, herders remove the spines and use the stem of this species for forage for goats. Both of these uses are a threat to this slow-growing species. This plants were also used by indigenous peoples of Mexico in many manner, for example the woolly hairs this plant produces have been used as filling fibres and weaving.
Your Photos
---
by Valentino Vallicelli
by Valentino Vallicelli
by Cactus Art

by Cactus Art
by Valentino Vallicelli