Donate now to support the LLIFLE projects.
Your support is critical to our success.
= Thelocactus hexaedrophorus var. labouretianus (K.Schum.) Pilbeam
Thelocactus (Cactus File Handbook, 1) 30 (1996) Basionym not stated. (K.Schum.)
Accepted Scientific Name: Thelocactus hexaedrophorus (Lem.) Britton & Rose
Bull. Torrey Bot. Club 1922, xlix. 251
Echinocactus labouretianus (Thelocactus hexaedrophorus var. labouretianus) Photo by: Peiffer Clement
Origin and Habitat: Mexico (?). Cultivated form?.
Synonyms:
See all synonyms of Thelocactus hexaedrophorus
Description: Echinocactus labouretianusSN|10835]] (Thelocactus hexaedrophorusSN|10830]] var. labouretianus) is an undescribed name (nomen nudum - Abbreviation n. n. A title lacking valid description). It was first named by Schumann (Gesamtb. Kakteen 438. 1898) on the basis of a plant shown in the Cels's Catalogue, probably it was never described, and it should be included within (as a synonym of) Thelocactus hexaedrophorusSN|10830]]. In cultivation plants labelled Echinocactus labouretianusSN|10835]] or Thelocactus hexaedrophorusSN|10830]] var. labouretianus are distinguished by grey stems, beautiful white pink flowers, and nice spination. At first the plants have larger tubercles that may become closely packaged as the plant gets older.
Subspecies, varieties, forms and cultivars of plants belonging to the Thelocactus exaedrophorus group
Bibliography: Major references and further lectures
1) Nathaniel Lord Britton, Joseph Nelson Rose "Cactaceae: Descriptions and Illustrations of Plants of the Cactus Family" volume 4, 1923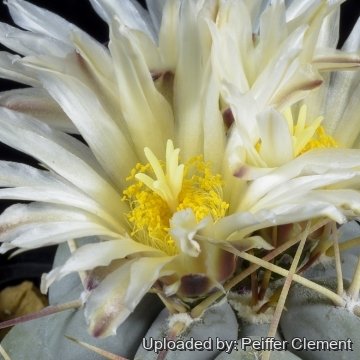 Echinocactus labouretianus
(Thelocactus hexaedrophorus var. labouretianus)
Photo by: Peiffer Clement
Echinocactus labouretianus
(Thelocactus hexaedrophorus var. labouretianus)
Photo by: Peiffer Clement
Cultivation and Propagation: This cactus is easy to cultivate and recommended for any collection that needs lots of light with ample airflow.
Growth rate: It is a small growing, but easily flowering species. It offset from the base and can fill a 25 cm pot in just a few years given the best conditions.
Soils: It likes very porous standard cactus mix soil with little organic matter (peat, humus).
Repotting: Repotting every 2-3 years. It will need a pot with sufficient depth to allow the tap root. As it is especially prone to rot under-pot in a smaller container filled with very porous compost. Use pot with good drainage.
Watering: Water regularly in summer, but do not overwater (very wet-sensitively, especially in light of its succulent root system). Its roots are easily lost in pots that stay damp for any length of time. Keep dry with ample airflow in winter. In the rest period no high atmospheric humidity!! Care must be taken with watering as they tends to become swollen and untidy in growth habit if given too much water and shade.
Fertilization: During the growing season enrich the soil using a fertilizer rich in potassium and phosphorous, but poor in nitrogen, because this chemical element doesn't help the development of succulent plants, making them too soft and full of water.
Hardiness: Reputedly sensitive to frost , but less so if kept on the dry side prior to, and during, cold weather (hardy to -7° C for short periods). However some warmth throughout the year will increase the grower's success (minimum 5° to 8°C during rest season).
Exposition: Outside bright sun, filtered sunlight or afternoon shade, inside it needs bright light, and some direct sun. Subject to sunburn if exposed to direct sun for too long. Tends to bronze in strong light, which encourages flowering and heavy wool and spine production.
Uses: It is an excellent plant for container growing. It always looks good and stays small. It look fine in a cold greenhouse and frame.
Pests & diseases: It may be attractive to a variety of insects, but plants in good condition should be nearly pest-free, particularly if they are grown in a mineral potting-mix, with good exposure and ventilation. Nonetheless, there are several pests to watch for:
- Red spiders: Sensitive to red spider mite. Overhead watering is helpful in controlling mites.
- Mealy bugs: Occasionally mealy bugs they develop aerial into the new growth among the wool with disfiguring results, but the worst types develop underground on the roots and are invisible except by their effects.
- Scales: Scales are rarely a problem.
- Rot: Rot it is only a minor problem with cacti if the plants are watered and "aired" correctly. If they are not, fungicides won't help all that much.
Reproduction: Nearly always from seed, since the plant rarely produces plantlets.