Donate now to support the LLIFLE projects.
Your support is critical to our success.
Since 4 Aug 2013
sponsored link
Gymnocalycium mihanovichii var. friedrichii
Repert. Spec. Nov. Regni Veg. Sonderbeih. C Bd. 4, Mappe 29, tab. 113. 1936 Werd. Bluh. Kakt. & suk. Pflanzen
Family: CACTACEAE
= Gymnocalycium friedrichii (Werderm.) Pazout
Friciana Rada IV xxiii. 3-19 (1964); cf. Regn. Veg. xli. (Repert. Pl. Succ.xv.) 13 (1966)
Accepted Scientific Name: Gymnocalycium stenopleurum F.Ritter
Kakteen Südamerika 1: 265 (266), figs. 1979
Gymnocalycium mihanovichii var. friedrichii (Gymnocalycium friedrichii) Photo by: Valentino Vallicelli
Origin and Habitat: From south to North-Western Paraguay (Chaco -Department Boquerón)

Habitat: Grows among scrubs in high-savannah.
Synonyms:
See all synonyms of Gymnocalycium stenopleurum
Description: Gymnocalycium friedrichii is a an invalid name used to indicate the pink flowered form of Gymnocalycium stenopleurum. It is a small solitary cactus with banded body that has perianth-segments pinkish-red with white margins (but also pale pink or almost pure white). This species is sometimes combined with Gymnocalycium mihanovichii, and sometimes kept as a separate species.
Stem: Flattened globose to elongated globose, grey green, olive green, greenish-purple, reddish brown to a dark grape colour 10-12 cm tall (or more), 6-12 cm in diameter.
Ribs: 8-14, very prominent, and sharp banded whit strong dark brown markings especially when young, and these sometimes have crossbands of lighter colors.
Radial spines: 3-6, acicular, to awl shaped, light to dark brown, somewhat twisted, 0,7-4 cm long.
Central spines: Usually absent.
Flowers: Pale-pink to purplish-pink, 6-7 cm long.
Fruit: Gray-green up to 4 cm long, diameter 1 cm.
Remaks: Gymnocalycium friedrichii and Gymnocalycium stenopleurum are sometimes combined with Gymnocalycium mihanovichii, and sometimes kept as separate species. Gymnocalycium friedrichii and Gymnocalycium stenopleurum are quite distinct from Gymnocalycium mihanovichii, but many intermediate forms are also known and nowadays it is suggested that all should be combined into only one variable species.
Subspecies, varieties, forms and cultivars of plants belonging to the Gymnocalycium mihanovichii/stenopleurum group
The name Gymnocalycium mihanovichii v. friedrichii was introduced by Werdermann in 1936. Pazout suggested the name G. friedrichii nom. inval. in 1964 but it has not been officially approved. In 1979 Ritter made a description of Gymnocalycium stenopleurum that sometimes can be found under the incorrect name G. mihanovichii v. stenopleurum n. n. (don't confuse it with v. stenogonum). Thus we have 3 taxa: "mihanovichii", "friedrichii" and "stenopleurum". Not taking into account their taxonomic definition they are basic points of the complex with many transitional forms between. These three taxa spread from south to north (North-Western Paraguay): The typical "mihanovichii" inhabits the very south of the area – south and south-east of province Boqueron; "stenopleurum" inhabits a limited area on the very north – in Cerro Leon region and has characteristic recognizable habitus; for "friedrichii" all the area between two mentioned points is indicated.
Notes: The "HIBOTAN"
Gymnocalycium mihanovichiiSN|11929]]SN|11929]] friedrichii "Rubra" (cv. Hibotan) are popular mutant, red or orange bodied cactus often known as the "Red Cap Cactus", or "Ruby Ball". There are also pure yellow or pink-white forms, "Blondie" or "Moon Cactus". They are red, orange, yellow or even white because they contains no chlorophyll, much like the red we see in the fall foliage of trees when their chlorophyll breaks down and disappears. Without chlorophyll the mutant gymnocalyciums can not produce sugar and without sugar they will die. The only way to keep them alive is to graft them onto another cactus which has chlorophyll and which will provide sugar to the mutant scion. The chlorophyll containing bottom part of the graft, called the stock, can be any number of different cactus species. In the case of the gymnoclyciums it is usually Hylocereus, a tropical cactus.
Story: The first two red plants were produced by E. Watanabe in Japan. Sowing of some thousands of seeds of G. friedrichii yielded two bright red freak seedlings which would have died quickly had they not been grafted at once. From these have been produced literally millions of plants, distributed all over the world, by repeated grafting and cutting." Furthermore a number of readily distinguished multicoloured and variegated cultivars (only partially de-coloured) are now available. Some of this plants can be grown on their own roots and are very beautiful.
Bibliography: Major references and further lectures
1) Edward Anderson "The Cactus family" Timber Press, Incorporated, 2001
2) James Cullen, Sabina G. Knees, H. Suzanne Cubey "The European Garden Flora Flowering Plants: A Manual for the Identification of Plants Cultivated in Europe, Both Out-of-Doors and Under Glass" Cambridge University Press, 11/Aug/2011
3) David R Hunt; Nigel P Taylor; Graham Charles; International Cactaceae Systematics Group. "The New Cactus Lexicon" dh books, 2006
4) N. L. Britton, J. N. Rose "The Cactaceae. Descriptions and Illustrations of Plants of the Cactus Family." Volume 4, The Carnegie Institution of Washington, Washington 1923
5) Curt Backeberg "Die Cactaceae: Handbuch der Kakteenkunde" Gustav Fischer Verlag, Stuttgart New York 1982–1985
6) Dmitriy Rogatskin "Controversial point" Cultivar e-magazin ISSUE 3 (25): 4 <http://www.lapshin.org/cultivar/N25/index-e.htm>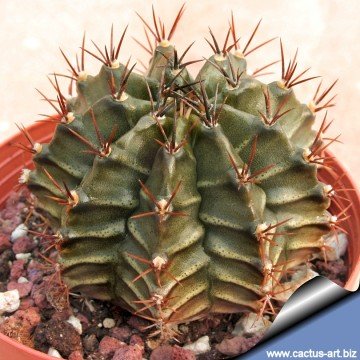 Gymnocalycium mihanovichii var. friedrichii
(Gymnocalycium friedrichii)
Photo by: Cactus Art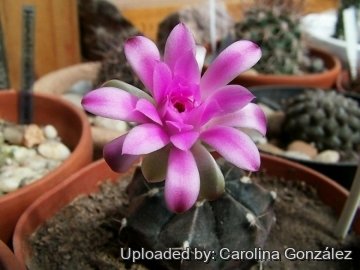 Gymnocalycium mihanovichii var. friedrichii
(Gymnocalycium friedrichii)
Photo by: Carolina González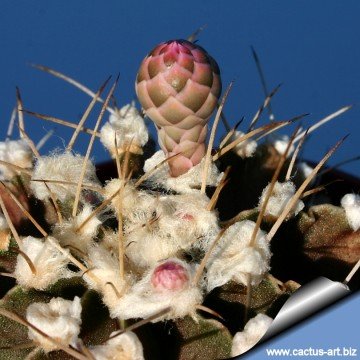 Gymnocalycium mihanovichii var. friedrichii
(Gymnocalycium friedrichii)
Photo by: Cactus Art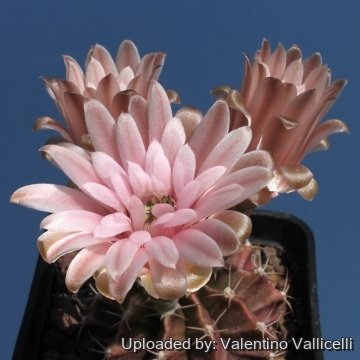 Gymnocalycium mihanovichii var. friedrichii
(Gymnocalycium friedrichii)
Photo by: Valentino Vallicelli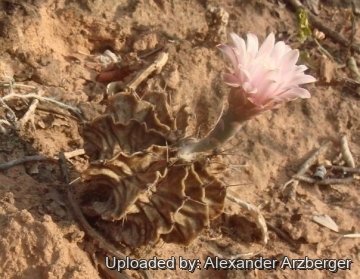 Gymnocalycium mihanovichii var. friedrichii
(Gymnocalycium friedrichii)
Photo by: Alexander Arzberger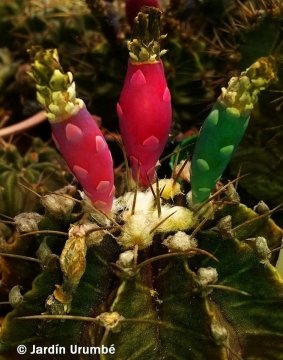 Gymnocalycium mihanovichii var. friedrichii
(Gymnocalycium friedrichii)
Photo by: Alexander Arzberger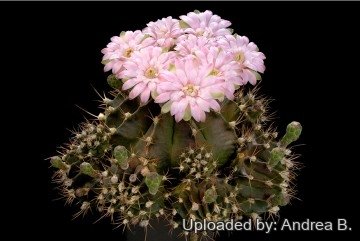 Gymnocalycium mihanovichii var. friedrichii
(Gymnocalycium friedrichii)
Photo by: Andrea B.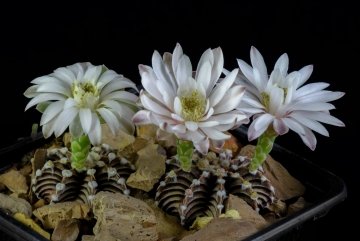 Gymnocalycium friedrichii VOS 12-1241 (Collector Volker Schädlich), South-West of Agua Dulce, Alto Paraguay, Paraguay, 130m.
(Gymnocalycium friedrichii)
Photo by: Peiffer Clement
Cultivation and Propagation: Gymnocalycium friedrichiiSN|11932]]SN|11932]] is a summer grower species that is easy to cultivate.
Growth rate: It is a relatively rapidly growing and easily flowering species.
Soils: It likes very porous standard cactus mix soil. Prefer a low pH compost, avoid substrata rich in limestone; otherwise growth will stop altogether.
Repotting: This plant needs plenty of space for its roots, repotting should be done every other year or when the it has outgrown its pot. Use pot with good drainage.
Watering: Needs moderate to copious waterings in summer, but do not overwater (Rot prone), keep dry in winter at a minimum temperature of 0°C.
Fertilization: Feed with a high potassium fertilizer in summer.
Hardiness: Quite frost resistant if kept dry -10° C (Temperature Zone USDA 8-10), but for safe cultivation it is best to avoid freezing temperatures.
Exposition: The plant tolerates extremely bright situations but enjoys filtered sunlight or afternoon shade, inside it needs bright light, and some direct sun. Tends to bronze in strong light, which encourages flowering and heavy spine production, but is likely to suffer from sun scorch or stunted growth if over exposed to direct sunlight during the hottest part of the day in summer.
Uses: It is an excellent plant for container growing. It always looks good and stays small. It look fine in a cold greenhouse and frame or outdoor in a rockery.
Pests & diseases: It may be attractive to a variety of insects, but plants in good condition should be nearly pest-free, particularly if they are grown in a mineral potting-mix, with good exposure and ventilation. Nonetheless, there are several pests to watch for:
- Red spiders: Red spiders may be effectively rubbed up by watering the plants from above.
- Mealy bugs: Mealy bugs occasionally develop aerial into the new growth among the wool with disfiguring results, but the worst types develop underground on the roots and are invisible except by their effects.
- Scales: Scales are rarely a problem.
- Rot: This species is particularly easy and accommodating, seldom suffer of cryptogamic diseases. Rot it is only a minor problem with gymnocalyciums if the plants are watered and "aired" correctly. If they are not, fungicides won't help all that much.
Propagation: Seeds (seldom produces offsets). Seeds germinate in 7-14 days at 21-27° C in spring, remove gradually the glass cover as soon the plants will be well rooted (ca 1-2 weeks) and keep ventilated, no full sun for young plants!