Donate now to support the LLIFLE projects.
Your support is critical to our success.
Since 4 Aug 2013
Gymnocalycium friedrichii var. moserianum
Succulenta (Netherlands) 45:97, 1966. Norn, inval. (Art. 37.1, 43.1 Cultivated form).
Family: CACTACEAE
Accepted Scientific Name: Gymnocalycium stenopleurum F.Ritter
Kakteen Südamerika 1: 265 (266), figs. 1979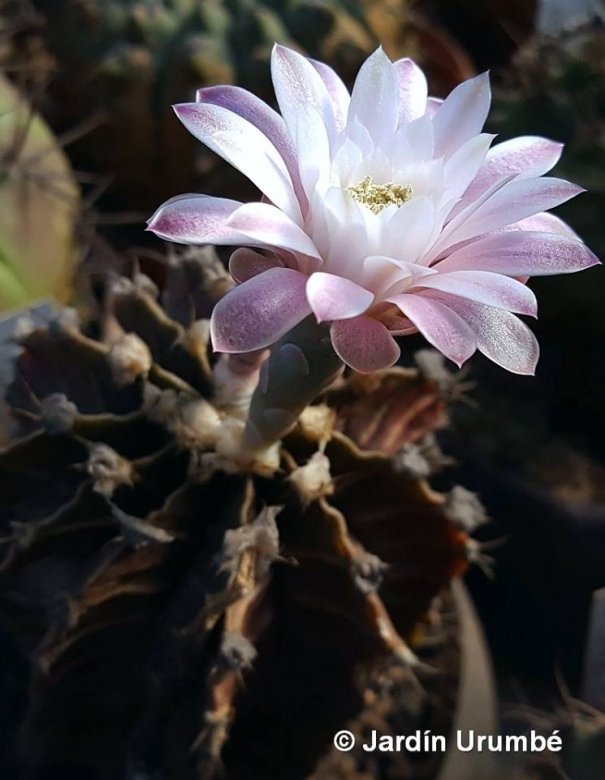 Gymnocalycium friedrichii var. moserianum Photo by: Alexander Arzberger
Origin and Habitat: Gymnocalycium friedrichiiSN|11932]]SN|11932]] var. moserianum was described from cultivated plants supposedly growing in Yrebdaque - north-west of Nueva Asunción, Boquerón department, Paraguay.
Altitude range: 150-750.
Synonyms:
See all synonyms of Gymnocalycium stenopleurum
Description: Gymnocalycium friedrichiiSN|21403]]SN|11932]] v moserianum is a controversial variety that, broadly speaking, belongs to the G. mihanovichii/stenopleurum group. It differs from Gymnocalycium friedrichiiSN|16383]]SN|11932]] by the size of the stem 2 times larger. It is an attractive plant with a reddish brown body with pointed ribs striped with white cross at the areoles. The areoles are very wooly and (usually) with only 3 spines. The spines are weak and fall over time. The flowers are pale pink (or white), appear freely and open up entirely.
Derivation of specific name: It is named for Gunther Moser, the well-known Austrian Gymnocalycium specialist.
Remarks: This plant is sometimes confused with Gymnocalycium moserianum, a member of the Gymnocalycium quehlianumSN|11932]]SN|16383]] complex of species which shows a good deal of similarity to Gymnocalycium triacanthumSN|11932]]SN|21403]].
Subspecies, varieties, forms and cultivars of plants belonging to the Gymnocalycium mihanovichii/stenopleurum group
The name Gymnocalycium mihanovichii v. friedrichii was introduced by Werdermann in 1936. Pazout suggested the name G. friedrichii nom. inval. in 1964 but it has not been officially approved. In 1979 Ritter made a description of Gymnocalycium stenopleurum that sometimes can be found under the incorrect name G. mihanovichii v. stenopleurum n. n. (don't confuse it with v. stenogonum). Thus we have 3 taxa: "mihanovichii", "friedrichii" and "stenopleurum". Not taking into account their taxonomic definition they are basic points of the complex with many transitional forms between. These three taxa spread from south to north (North-Western Paraguay): The typical "mihanovichii" inhabits the very south of the area – south and south-east of province Boqueron; "stenopleurum" inhabits a limited area on the very north – in Cerro Leon region and has characteristic recognizable habitus; for "friedrichii" all the area between two mentioned points is indicated.
Bibliography: Major references and further lectures
1) "Cactus and Succulent Journal of Great Britain" 1973
2) "Gymnocalycium friedrichii var. moserianum Pazout" <http://www.gymnocalycium.fr/gymnocalycium-friedrichii/gymnocalycium-friedrichii-v-moserianum/>
3) "Gymnocalycium friedrichii" <http://www.gymnocalycium.org/gatunki/friedrichii.html>
4) E. W Putnam "GYMNOCALYCIUMS" Handbook No. 5. Published by the National Cactus & Succulent Society. 1978.
Cultivation and Propagation: Gymnocalycium friedrichiiSN|11932]]SN|11932]] var. moserianum is a summer grower species that is easy to cultivate.
Growth rate: It is a slow growing but easily flowering species.
Soils: It likes very porous standard cactus mix soil. Prefer a low pH compost, avoid substrata rich in limestone; otherwise growth will stop altogether.
Repotting: This plant needs plenty of space for its roots, repotting should be done every other year or when the it has outgrown its pot. Use pot with good drainage.
Watering: Needs moderate to copious waterings in summer, but do not overwater (Rot prone), keep dry in winter at a minimum temperature of 0°C.
Fertilization: Feed with a high potassium fertilizer in summer.
Hardiness: Reputedly resistant to frost if kept on the dry side prior to, and during, cold weather (hardy to -5 C ° C, or less for short periods).
Exposition: The plant tolerates extremely bright situations but enjoys filtered sunlight or afternoon shade, inside it needs bright light, and some direct sun. Tends to bronze in strong light, which encourages flowering and heavy spine production, but is likely to suffer from sun scorch or stunted growth if over exposed to direct sunlight during the hottest part of the day in summer.
Propagation: Division, direct sow after last frost. Seeds germinate in 7-14 days at 21-27° C in spring, remove gradually the glass cover as soon the plants will be well rooted (ca 1-2 weeks) and keep ventilated, no full sun for young plants! To make a cutting twist off a branch and permit it to dry out a couple of weeks, lay it on the soil and insert the stem end partially into the soil. Try to keep the cutting somewhat upright so that the roots are able to grow downward.