Donate now to support the LLIFLE projects.
Your support is critical to our success.
Since 4 Aug 2013
sponsored link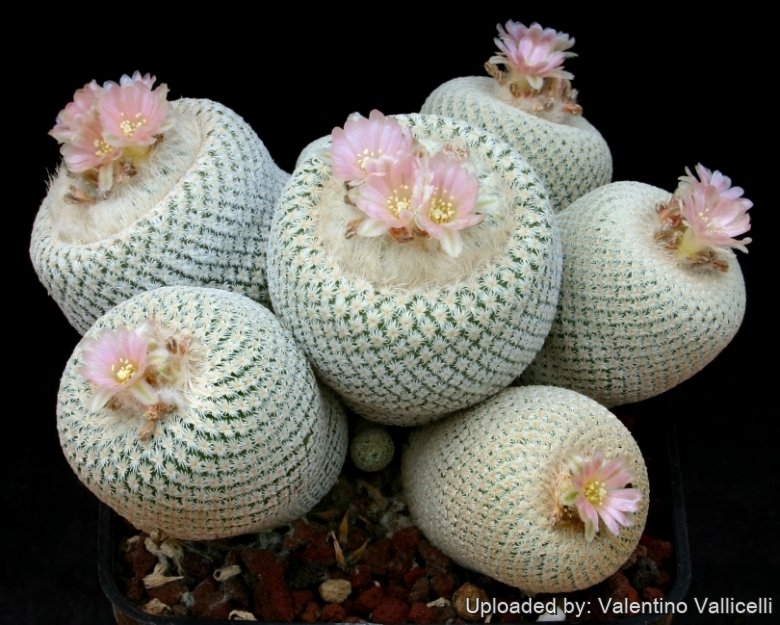 Epithelantha bokei Photo by: Valentino Vallicelli
SB416 Brewster Co TX (The Button cactus) appears completely white and smooth to the touch. The flowers are very delicate, and pale pink or yellowish. This is considered by many to be the best Epithelantha of all.
Origin and Habitat: Chihuahuan Desert of South Texas, in Brewster/Sanderson County and northern Mexico in Coahuila and Chihuahua.
Altitude: 700-1500 metres above sea level.
Habitat: Epithelantha bokeiSN|12641]]SN|12641]] is an edaphic specialist growing in dense groups on very specific calcareous strata on raised limestone hills, mountain top and ledges in xerophyllous scrub. It also grows on plains, on gravel mixed with earth containing a big amount of organic compounds from decayed leaves. It is locally abundant and it grows in many inaccessible areas, however some subpopulations are threatened by illegal collection.
Associated species: Coryphantha difficilisSN|10197]]SN|10197]], Ariocarpus fissuratusSN|2114]]SN|2114]] subsp. lloydii, Echinocereus pectinatusSN|8503]]SN|8503]], Sclerocactus scheeriSN|788]]SN|788]], Mammillaria heyderiSN|20805]]SN|20805]], etc.
Synonyms:
See all synonyms of Epithelantha bokei
Accepted name in llifle Database:
Epithelantha bokei
L.D.Benson
Cact. Succ. J. (Los Angeles) 41: 185, fig. 1969
Synonymy: 4
Common Names include:
ENGLISH:
Smooth Button Cactus, Boke's Button Cactus
SPANISH (Español):
Biznaga-blanca de Boquillas
Description: Epithelantha bokeiSN|12641]]SN|12641]]is a slow-growing mini cactus (usually solitary), with only 2-3 cm of stem height, covered so densely with closely appressed tiny white spines that the plants appear to be completely white and smooth to the touch.
Flower: Flowers are pale pink or yellowish, very delicate, appearing in July.
Fruits: Fruits are smooth, approximately 1 cm long, bright red, edible and enjoyed by birds.
Remarks: In periods when water is available it is an almost completely rounded cactus. In drought periods, and during winter rest, plants shrinks and draw back down to ground level, to conserve moisture.
Subspecies, varieties, forms and cultivars of plants belonging to the Epithelantha bokei group
Bibliography: Major references and further lectures
1) Heil, K., Terry, M. & Corral-D?az, R. 2013. Epithelantha bokei. In: IUCN 2013. IUCN Red List of Threatened Species. Version 2013.2. <www.iucnredlist.org>. Downloaded on 26 January 2014
2) Edward Anderson "The Cactus family" Timber Press, Incorporated, 2001
3) James Cullen, Sabina G. Knees, H. Suzanne Cubey "The European Garden Flora Flowering Plants: A Manual for the Identification of Plants Cultivated in Europe, Both Out-of-Doors and Under Glass" Cambridge University Press, 11/Aug/2011
4) David R Hunt; Nigel P Taylor; Graham Charles; International Cactaceae Systematics Group. "The New Cactus Lexicon" dh books, 2006
5) Benjamin Catarino Morales, "Epithelantha of Coahuila ? part 1" Xerophilia Volume 3, No. 1(8): 31-40 March 2014
Epithelantha bokei
Photo by: Peiffer Clement
In abitat among calcareous rocks in northern Mexico.
Photo by: Agócs György
Epithelantha bokei
Photo by: Valentino Vallicelli
The plants are very well camouflaged in their habitat, and quite difficult to spot, even when flowering.
Photo by: Agócs György
Epithelantha bokei
Photo by: Prof. Ilham Alakbarov
Epithelantha bokei
Photo by: Valentino Vallicelli
Epithelantha bokei RS 522 Plan de Ayala, Mpo.General Cepeda, Coah. (pink spines)
Photo by: Valentino Vallicelli
Epithelantha bokei
Photo by: Valentino Vallicelli
Cultivation and Propagation: Although regarded as a choice and difficult plant, in cultivation it is relatively easy, but very slow growing.. These plants need very coarse potting soil that drains well (rot prone). Waterings should be rather infrequent, to keep the plant compact and not become excessively elongated or unnatural in appearance.
Frost Tolerance: Depending on the variety, it will take -5? C (or less) (Temperature Zone: USDA 8-11).

Sun Exposure: It requires strong sun to part sun to develop good spinal growth, but some summer shade in the hottest hours of the day is beneficial. Assure a good ventilation.
Propagation: It can be reproduced both by seeds and cuttings, but it is often grafted because difficult and slow to grow on its own roots. Older specimens shoot tillers from under tubercles, so they can be grafted, which is a much easier way of propagation than sowing. Young seedlings are tiny and they need several years to reach adult size, and require careful watering.
Your Photos
---

by Valentino Vallicelli
by Valentino Vallicelli
by Valentino Vallicelli
by Valentino Vallicelli
by Valentino Vallicelli