Donate now to support the LLIFLE projects.
Your support is critical to our success.
Ariocarpus fissuratus
Nat. Pflanzenfam. Nachtr. [Engler & Prantl] 3, Abt. 6a: 195. 1894
Family: CACTACEAE
Ariocarpus fissuratus Photo by: Agócs György
Commonly called ''living rocks'' these cacti usually blend in well with the terrain and limestone chips around them. Sought by collectors, they can take up to 50 years to reach their full growth of 15cm in diameter.
Origin and Habitat: Ariocarpus fissuratusSN|2114]]SN|2114]] is distributed in the Mexican states of Chihuahua, Coahuila, Durango, and Zacatecas, and in the United States in Texas (Hernández et al. 2004). It occurs from Presidio County, Texas southeast along the Rio Grande and near the lower Pecos River. In Mexico, it occurs near the Rio Grande in the adjacent states of Chihuahua and Coahuila.
Altitude range: This cactus grows at altitudes between 500 and 1,170 (1500?) metres above sea level.
Habitat and Ecology: These plants are characteristic of dry limestone plains (and areas of gentle slopes), ridges and low, rocky hills of limestone chips among the Chihuahuan desert scrub (xerophyllous scrub), rarely occurring in gypseous soils. The stems are normally flush and well camouflaged with the soil surface resembling limestone chips in shape, colour, and texture, rendering the plants extremely cryptic. They are greyish-green in colour, sometimes taking on a yellowish tint with age. These cacti are difficult to spot in their natural habitat. When they are found, it is usually due to their pinkish flowers. In times of severe drought, the whole above-ground portion of these plants can shrink and be covered by rock fragments, but the taproot remains alive. Many exist as only small, isolated populations, and they were in danger of extinction because they were sought by plant collectors, up to date there is some illegal collection of the species from the wild but at a diminishing rate. For this reason they are protected plants in the regions where they occur. This species is still locally abundant in its appropriate habitat.


Synonyms:
See all synonyms of Ariocarpus fissuratus
Accepted name in llifle Database:
Ariocarpus fissuratus
K.Schum. in Engl. & Prantl
Nat. Pflanzenfam. Nachtr. [Engler & Prantl] 3, Abt. 6a: 195. 1894
Synonymy: 22
Cultivars (8):
Common Names include:
ENGLISH:
Chautle Living Rock, False Peyote, Living rock cactus, Living Rock, Star Rock
CHINESE (中文):
龜甲牡丹, 岩牡丹屬
FINNISH (Suomi):
Kivikaktukset
LITHUANIAN (Lietuvių):
Akmeninis ariokarpas
ROMANIAN (Română):
Sunami
RUSSIAN (Русский):
Ариокарпус, Ариокарпус растрескивающийся
SPANISH (Español):
Chaute, Peyote Cimarrón, Peyotillo, Biznaga, Chautle
SWEDISH (Svenska):
Myrkottskaktussläktet, Rynkig myrkottskaktus
TARAHUMARA:
Híkuri sunami
UKRAINIAN (Українська):
Аріокарпус, Аріокарпус тріщинуватий
VIETNAMESE (Tiếng Việt):
Xương rồng đá
Description: Ariocarpus fissuratusSN|2073]]SN|2114]] is a geophyte plant that produces a star-shaped rosette of fleshy, deltoid to hemispheric tubercles, which have no spines and lie almost flat on the soil surface. They are usually solitary, rarely giving rise to side shoots from old areoles, they grow extremely slowly, to 20 cm in diameter. This species is considered a separate entity from Ariocarpus bravoanusSN|2073]]SN|2073]] (including Ariocarpus bravoanusSN|2114]]SN|2073]] subsp. hintonii) following Hunt et al. (2006).
Tubercles: The tubercles, about as long as wide, are closely packed and form a coarse mosaic. Exposed faces of tubercles, deeply fissured on either side of the central areolar groove, are coarsely rugose, and are often sharply angled apically; and with a lateral longitudinal furrow on each side of the tubercle, along the edge.
Areoles: The areoles are up to 3 mm wide, sometimes confined to middle of tubercle faces instead of extending to tips.
Roots: Each plant has a large turnip-like taproot, which lies below the soil surface and serves for water storage.
Flowers: These plants have a woolly crown, from which emerge bright pink-violet flowers up to 2,5-5 cm, 2 times wider than long when fully expanded. Flowers last for 3 to 4 days.
Blooming season: October, November.
Fruits: white or green, with lots of seed.
Subspecies, varieties, forms and cultivars of plants belonging to the Ariocarpus fissuratus group
Bibliography: Major references and further lectures
1) Edward Anderson "The Cactus family" Timber Press, Incorporated, 2001
2) James Cullen, Sabina G. Knees, H. Suzanne Cubey "The European Garden Flora Flowering Plants: A Manual for the Identification of Plants Cultivated in Europe, Both Out-of-Doors and Under Glass" Cambridge University Press, 11/Aug/2011
3) David R Hunt; Nigel P Taylor; Graham Charles; International Cactaceae Systematics Group. "The New Cactus Lexicon" dh books, 2006.
4) Fitz Maurice, B, Sotomayor, M., Terry, M., Heil, K., Fitz Maurice, W.A., Hernández, H.M. & Corral-Díaz, R. 2013. Ariocarpus fissuratus. The IUCN Red List of Threatened Species. Version 2015.1. <www.iucnredlist.org>. Downloaded on 21 June 2015.
Cultivated specimen, about 25 years old.
Photo by: Cactus Art
In times of severe drought, the whole above-ground portion of these plants can shrink and be covered by rock fragments.
Photo by: Agócs György
Ariocarpus fissuratus
Photo by: Cactus Art
Ariocarpus fissuratus
Photo by: Cactus Art
Ariocarpus fissuratus
Photo by: Valentino Vallicelli
Ariocarpus fissuratus
Photo by: Cactus Art
Ariocarpus fissuratus
Photo by: Valentino Vallicelli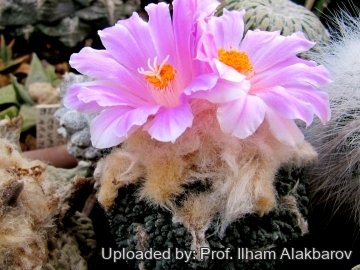 Ariocarpus fissuratus
Photo by: Prof. Ilham Alakbarov
Cultivation and Propagation: Ariocarpus fissuratusSN|2114]]SN|2114]] is not too difficult in a greenhouse, although it grows extremely slowly (it starts blooming at the age of 8-12 years).
Soil: Use a loose mineral cactus mix with extra perlite or pumice and clay pots help the plants to dry out between watering.
Repotting: The plants need deep pots to accommodate the napiform unit formed by the stem base and the rootstock (or they will often simply crack your pots). Generally, they should be repotted frequently at least every other year in order to provide fresh soil. However, old plants become senile and have a tendency to succumb to disease and a weak root system. At this stage, as is well known, they die suddenly. So, after they reach 20 cm in diameter grow them slowly, and adopt a new repotting period, using intervals of every 3 years. Additionally grow them under drier conditions or with stronger sunlight. However, repotting doesn't necessarily mean they'll need larger containers.
Sun Exposure: Partial sun or light shade. They need a good amount of light, a place near the roof of the greenhouse helps drying the pot after watering.
Watering: They require moderately watering through the growing season. This can be done weekly during the summertime, if the weather is sunny enough, with a little fertilizer added. Kept this way, plants will show a healthy, although slow growth. Keep dry as soon as the temperature starts dropping in October and keep it perfectly dry in winter at temperatures from 5 to 15 degrees centigrade.
Hardiness: Winter care presents no problems at 5°C with plenty of light., but frost hardy to -10°C.
Pest and diseases: They are generally fairly easy to grow, especially if kept pest-free. They are susceptible to stem and root mealy bugs, and damage from these may well initiate fungal attack.
Propagation: By seeds, remembering that seedlings dislike strong light and dry conditions, but the grafted plants are typically rather tall- growing, compared with plants on their own roots, that are usually flatter to the ground.
Your Photos
---
by Cactus Art

by Valentino Vallicelli
by Valentino Vallicelli

by Valentino Vallicelli
by Cactus Art