Donate now to support the LLIFLE projects.
Your support is critical to our success.
Since 4 Aug 2013
sponsored link
Ariocarpus fissuratus cv. Godzilla variegata Photo by: Flavio Agrosi
Synonyms:
See all synonyms of Ariocarpus fissuratus
Accepted name in llifle Database:
Ariocarpus fissuratus
K.Schum. in Engl. & Prantl
Nat. Pflanzenfam. Nachtr. [Engler & Prantl] 3, Abt. 6a: 195. 1894
Synonymy: 22
Cultivars (8):
Description: Ariocarpus fissuratusSN|2114]]SN|2114]] cv. Godzilla variegata is an odd plant with strongly structured surface that have sectors, patches or stripes with yellow, orange and deep green.
Subspecies, varieties, forms and cultivars of plants belonging to the Ariocarpus fissuratus group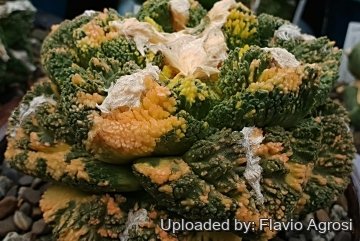 Ariocarpus fissuratus cv. Godzilla variegata
Photo by: Flavio Agrosi
Send a photo of this plant.
The gallery now contains thousands of pictures, however it is possible to do even more. We are, of course, seeking photos of species not yet shown in the gallery but not only that, we are also looking for better pictures than those already present.
Read More...