Donate now to support the LLIFLE projects.
Your support is critical to our success.
Accepted Scientific Name: Rebutia heliosa Rausch
Kakteen Sukk. 21: 30, figs. 1970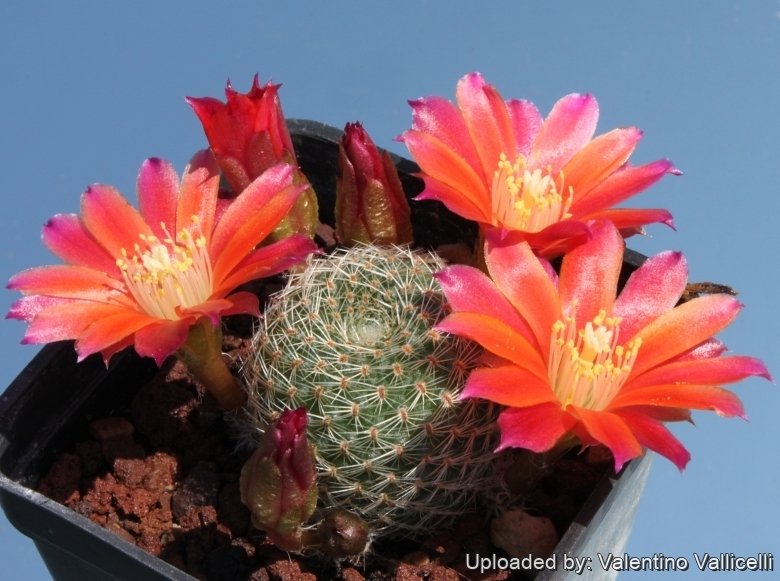 Rebutia heliosa subs. teresae Photo by: Valentino Vallicelli
Origin and Habitat: Cajas Pass, near Nogales, about 35 km North West of Tarija, Bolivia (Western South America, Southern America).
Altitude: 2200-2800 metres elevation.
Type locality: Las Cajas, about 35 km north east of Tarija, about 2280 metres above sea level.
Synonyms:
See all synonyms of Rebutia heliosa
Accepted name in llifle Database:
Rebutia heliosa
Rausch
Kakteen Sukk. 21: 30, figs. 1970
Synonymy: 31
Cultivars (4):
Description: Rebutia heliosaSN|4932]]SN|5204]] subs. teresae|SN|16312]] (a.k.a. Rebutia teresaeSN|5204]]SN|16314]]) is merely a long-spined form of Rebutia heliosaSN|16314]]SN|5204]] (somewhat intermediate with respect to certain traits with Rebutia fiebrigiiSN|5204]]SN|4932]]?). The spines are not quite as appressed as in the typical subspecies and the areoles are not as elongated, but the broader bodies are nevertheless covered in glassy, pectinate spination emerging from brown to coppery-coloured areoles. The flowers are more intensely red-orange with a pinkish blush to the outer tepals. White spines & brown areoles make this plant very attractive even when not in bloom.
Habit: It is a dwarf, low-growing cactus, usually solitary in nature, but in cultivation it offsets rapidly to form a clump with many heads densely covered in brown areoles with white pectinate spines, giving it a silvery appearance.
Habit:It is essentially a miniature plant simple at first, that readily forms a clustering mound of tiny heads.
Stem: Heads compressed spherical to shortly cylindrical 2,5 cm wide, rarely higher than 3 cm or more.
Areoles: Small, brown and elongated 1-2 mm long, forming 35-40 spirals.
Spines: 24-26 all radials, about 5 mm long, distinctively silvery-white, dense, spreading and somewhat pectinate, covering almost completely the small stems in a spiral pattern.
Roots: Fleshy tap root.
Flower: Large, funnel-shaped, long-necked, 4 cm in diameter, 4,5-5,5 cm long, orange-red. Tube up to 3 cm long 2-3 mm across, solid for more than half its length, red-orange with a pinkish or lilac blush to the outer tepals.
Phenology: It flowers profusely in spring.
Fruit: 4 mm in diameter, deep crimson to purple.
Seeds: Hemispheric to helmet-shaped. black, papillate.
Subspecies, varieties, forms and cultivars of plants belonging to the Rebutia heliosa group
Notes: Fied numbers:
colls. Kníže: KK 1724 (teresae n. n., v. flavida), KK 1925 (teresae n. n.);
colls. Hillmann: RH 259 (?, heliosa v. theresae n. n.), RH 1021 (?, heliosa v. theresae), RH 1028 (?, heliosa v. theresae);
colls. Šeda: SE 227 (teresae typ);
colls. Kasperski: KAS 332 (?, heliosa v. theresae);
colls. Blaczkowski: TB 204.3 (?, heliosa v. theresae), TB 206.3 (?, heliosa v. theresae);
Bibliography: Major references and further lectures
1) James Cullen, Sabina G. Knees, H. Suzanne Cubey "The European Garden Flora Flowering Plants: A Manual for the Identification of Plants Cultivated in Europe, Both Out-of-Doors and Under Glass" Cambridge University Press, 11/Aug./2011
2) David Hunt, Nigel Taylor "The New Cactus Lexicon" DH Books, 2006
3) Edward F. Anderson "The Cactus Family" Timber Press, 2001
4) Cactus and Succulent Journal, Vol. 81 (2), March - April, 2010
Rebutia heliosa subs. teresae
Photo by: Peiffer Clement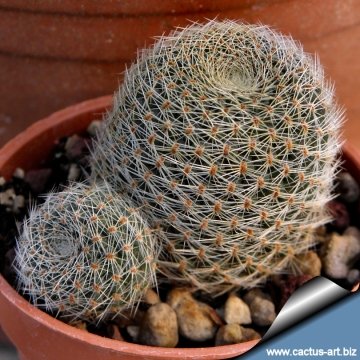 Rebutia heliosa subs. teresae
Photo by: Cactus Art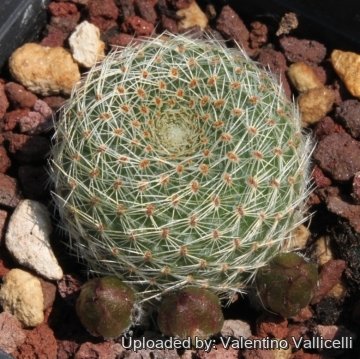 Rebutia heliosa subs. teresae
Photo by: Valentino Vallicelli
Rebutia heliosa subs. teresae
Photo by: Valentino Vallicelli
Rebutia heliosa subs. teresae
Photo by: Valentino Vallicelli
Send a photo of this plant.
The gallery now contains thousands of pictures, however it is possible to do even more. We are, of course, seeking photos of species not yet shown in the gallery but not only that, we are also looking for better pictures than those already present.
Read More...
Cultivation and Propagation: These plants come from mountainous areas, so like bright light, cool and dry conditions in the winter; this is important for the flowers as well as for their health. Without this cool winter period (0-10° C) they normally won't get many buds. They have a thick taproot and are of difficult cultivation and rot prone because of a great sensitivity to the excess of watering, not easy to get to any large size on their own roots really a challenge to grow into a large clump. They are commonly grafted to avoid root problems and to make easier to grow. Sun Exposure: Suited for sunny-brightly exposure; can tolerate light shade.
Cultural Practices: Suited for airy exposures. Needs deep pot and good drainage to accommodate its tap root.
It is very cold resistant as low as to -10° C or less for short periods of time. It is a fine plant for a rock garden or container, contrasts well with agaves, yuccas, and low-growing flowering plants.
Pests & diseases: Rebutia heliosaSN|5204]]SN|5204]] is especially prone to root rot, therefore, underpot in a smaller container filled with very porous compost.
Propagation: Cutting as it branches freely from the base; Also can be grown from seeds or graft. Seeds can be sown in the spring or summer. The seedlings should not be disturbed until they are well rooted, after which they can be planted separately in small pots.