Donate now to support the LLIFLE projects.
Your support is critical to our success.
Since 4 Aug 2013
sponsored link
Accepted Scientific Name: Sclerocactus parviflorus Clover & Jotter
Bull. Torrey Bot. Club 68: 419, fig. 1941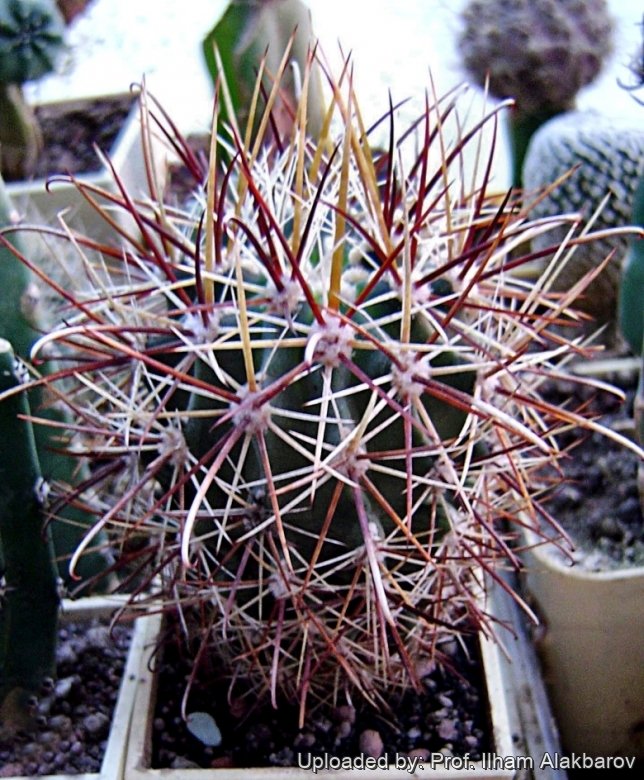 Sclerocactus contortus Photo by: Prof. Ilham Alakbarov
Origin and Habitat: United States, Utah.
Synonyms:
See all synonyms of Sclerocactus parviflorus
Common Names include:
ENGLISH:
Canyonland Fishhook Cactus
RUSSIAN (Русский):
Склерокактус скрученный
Description: Sclerocactus contortus, is generally included within (as a synonym of) Sclerocactus parviflorus ssp. parviflorus, suggesting that there is not really a fundamental difference between the two.
Derivation of specific name: "Contortus, -a, -um", twisted, in reference to the usually spirally arranged ribs, (and/or spines?).
Stems: Usually solitary, depressed-hemispheric to shortly cylindrical, 3-9.5 cm tall, 2-8 cm wide.
Ribs: Often arranged in a spiral or curved obliquely mostly clockwise. Tubercles distinct, especially at the top of the stem, 12-15 mm apart.
Root: A single taproot, branching repeatedly within 2.5-5 cm from the base of the stem
Areoles: Woolly especially near the stem apex.
Central spines. 2 hooked, 3.9-8.2 cm long, usually 1-2 mm wide at base, white, pink, grey, or dark red moderately twisted or straight, one straight (rarely contorted) central 2-5.2 cm long, flattened or angular white to grey often twisted commonly 1-1. 5 mm wide, and (usually) 4 lateral centrals the the upper two 2.5-4.2 cm long and the lower two 2.2-3 cm, and 0.5- 1 mm wide, white or whitish to grey or rose, tinged with red or even the black, straight to very contorted.
Radial spines: usually 6-8 (but varying from 5 to 11) 9-28 mm long, white to pink or grey or whitish.
Flowers: Near the apex of stem, funnelshaped, 4-5.5 cm long, 3-4 cm in diameter, dark pink
Outer perianth segments narrowly spatulate, translucent, inner segments pink, spatulate, with a dark pink midline. Stigma lobes 8-10, purple.
Fruits: Dry 1.2-1.3 cm long, c. 1 cm in diameter, deihishing from a transverse incision in the ovary wall beyond the spines. Flower remnants persistent.
Seeds: Pear shaped, 3-3.5 mm long, 2 mm wide and 1 mm thick, black, papillate, with a deep, with a deep, elliptical hilum, c.1 mm in diameter. The seeds of Sclerocactus contortus are larger than Sclerocactus parviflorus and Sclerocactus whipplei.
Subspecies, varieties, forms and cultivars of plants belonging to the Sclerocactus parviflorus group
Bibliography: Major references and further lectures
1) Heil, K. and S. Welsh. "New Sclerocactus (Cactaceae) from Nevada". Great Basin Naturalist 46: 677-678. 1987.
2) Heil, K. D. and J. M. Porter. "Sclerocactus (Cactaceae): a revision". Haseltonia 2: 20-46. 1994.
3) Fritz Hochstätter "Tribe Cacteae, Family Cactaceae: The genera Pediocactus Navajoa Toumeya" Hochstätter, 2005
4) Fritz Hochstätter "Tribe Cacteae, Family Cactaceae: The genus Sclerocactus" Fritz Hochstätter, 2005
Cultivation and Propagation: Rarely seen in cultivation, it needs perfect drainage to flourish. It is quite difficult to grow on its own roots and to propagate (only 2-3 percent of seeds germinate). Mature individuals easily rot and die.
It is indispensable to provide a greenhouse with good ventilation and full sun exposure. Keep totally dry during winter. It can tolerate temperature below zero (-20° C). Plants grafted on hardy Opuntia humifusa stock are quite easy to grow, and no special skill is required.
Propagation: Seeds are extremely difficult to germinate (only 2-3 percent of seeds germinate). Grafting is often used to speed growth rate and to create a back-up for plants in collection.